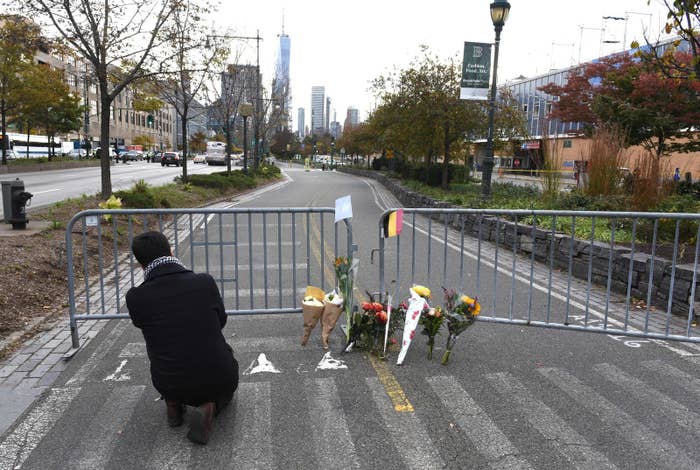 A day after a 29-year-old man from Uzbekistan drove a truck into a crowded bike path in New York City, killing eight people and wounding at least 11 more, members of the city's large Uzbek community are worried about potential backlash, and wondering what can be done to prevent young people in their community from becoming radicalized in the United States.
The alleged attacker, Sayfullo Saipov, arrived in the U.S. in 2010, and lived in Ohio, Florida and most recently Paterson, New Jersey. Worshippers at the local mosque in his neighborhood told local media they did not remember him, and an acquaintance from Ohio said that he could be verbally aggressive.
Uzbek Americans from New York and New Jersey condemned the attack, and at the same time questioned how it could have come about. For the roughly 23,000 Uzbek Americans living in New York City, primarily in Brooklyn and Queens, Saipov's attack raises questions about how he came came to embrace an extremist ideology, and what it might mean for other Uzbeks in the community.

"I gathered my kids and my grandkids and I said, this is not us," said Anvar Nazirov, a retired electrical technician from Uzbekistan who has lived in New Jersey for years. "I think now, with this case, we have another problem, we need to find out what to do. Nobody talks in mosques about doing things like this. It's very hard to figure out how that happened."
None of the Uzbek Americans BuzzFeed News spoke to in New Jersey and New York Wednesday had seen or heard of Saipov before yesterday's attacks. Nazirov said nobody in the Turkestanian American Association, a South Jersey-based group he belongs to, had known the alleged attacker.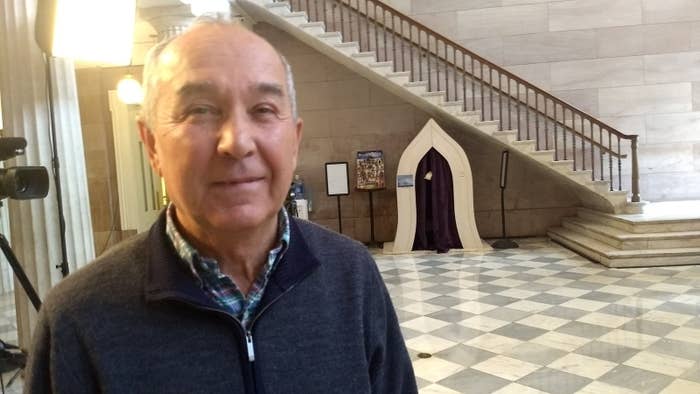 "It's terrible, all this situation," said Sukhrob Sobirov, 28, at his family's Uzbek restaurant, Emir Palace, in Kensington, just south of Brooklyn's Prospect Park.
"It makes me feel more bad when I know that the person is from my country. Usually my country is not really strong religious people," he said, adding that it surprised him to see photos of Sayfullo with a full beard, which is not the usual Uzbek custom.

Sobirov said that in the seven or eight years he's lived in Brooklyn — since moving from the southern Uzbek city of Samarkand to help his uncle's family run their restaurant — the Uzbek community has grown noticeably. He knows this, he said, because wedding receptions at Emir Palace have doubled or tripled in size, from about 50 guests a few years ago to closer to 150 guests now.

The latest census estimates show that around 62,713 people born in Uzbekistan currently live in the US. That includes some 33,000 living in New York as of 2015, a number that has more than doubled over the last decade.
But, Sobirov and others told BuzzFeed News, that in the absence of more robust community organizations, the experience of moving to the U.S. can be isolating. "It feels like in our community, everybody's on their own," he said.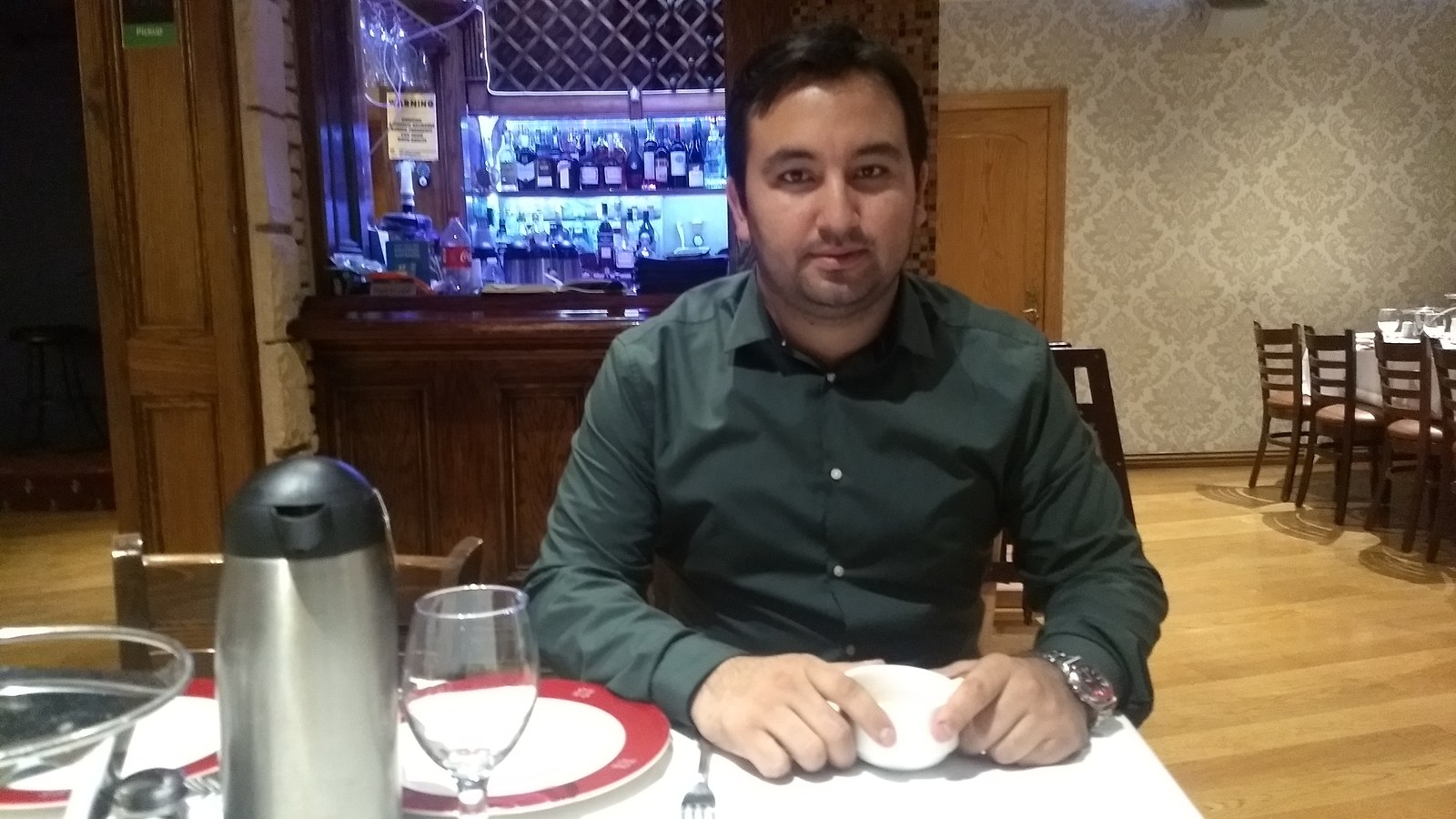 He said he doesn't know of an Uzbek community organization in New York—and the there is no Uzbek mosque in New York City. Muslim Uzbeks living in New York instead attend services at other local mosques that hold services in Turkish or Arabic, instead of Uzbek, Tajik, or Russian.

Further south, in Bensonhurst, stands a building that is still listed online as the Uzbek American Community Center. On Wednesday, a group of Tajik American men arrived to paint and renovate the space, which they said has been vacant for more than six months.
Uzbek leaders from around the area discussed just that lack of community center at a meeting with Brooklyn Borough President Eric Adams Wednesday, as well as measures they would like to put in place to help prevent others from becoming radicalized. The asks were clear: funds for a new community center, help finding an Uzbek Imam a place to preach, posters in Uzbek languages with instructions about reporting terrorism and getting help if people are feeling isolated, and support for local Uzbek press.
Saipov "shouldn't have been brainwashed like that. He came at 22, he was alone and he had no one, nothing. He didn't have anybody that gives advice to him," said Sodik Fayzullayev, one of the leaders who attended the meeting and spoke at a press conference afterwards. "That's why we asked Eric Adams to give us the Imam who speaks in Uzbek ... If the Mullah comes, and he initiates in the right way what is Islam, I think this will be helpful."

"In New York we don't have anybody," he added.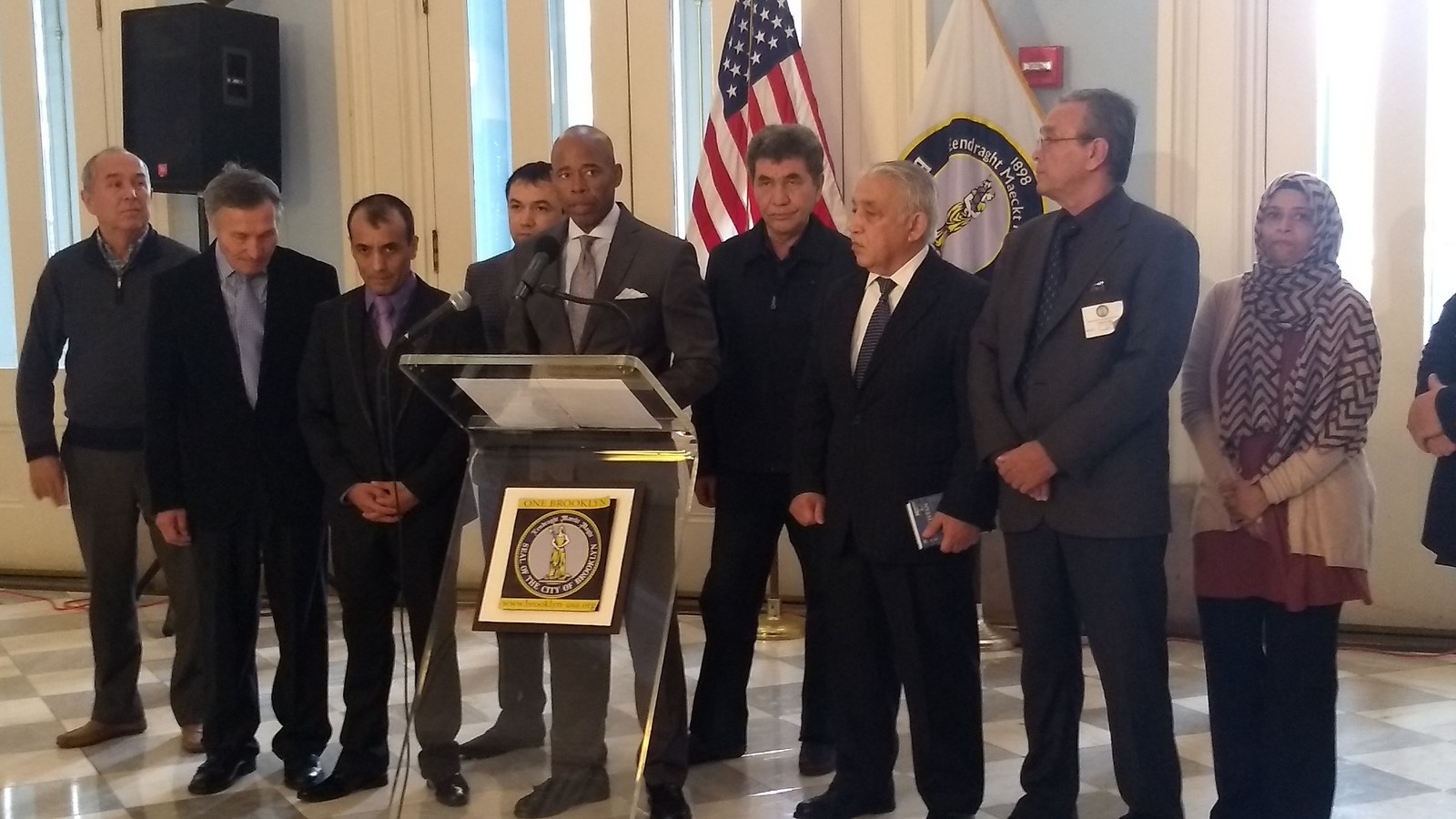 Calling Brooklyn "the Tashkent of America" — a reference to the capital city of Uzbekistan — Adams said he plans to support establishing a new Uzbek community center with city funds, and in the interim will ask New York City's Department of Education to find a space for a weekend cultural center for young Uzbek New Yorkers.

"This is not a reflection of the Uzbek community," Adams said of Wednesday's terror attack. "We discussed in our conversation today ... that there are things we can do to stop the radicalization of young people."
Speaking with other leaders at the meeting, Abdullah Kwaja, head of New Jersey's Turkestanian American Association, said he was concerned about young Uzbek Americans being radicalized through exposure to terrorist propaganda online, and that he hoped the measures proposed to Adams would help "show them the right path."
"On behalf of the Uzbek community in the US, we strongly condemn the terror attack on the innocent civilians in New York yesterday," Kwaja said. "Our deepest sympathies and condolences to the families who lost loved ones yesterday."
"The person who did it is evil, coward and a terrorist," he added. "The terrorist has no nationality. It looks like he was radicalized here ... We came to the U.S. to contribute and not to harm anyone."
Other Uzbek Americans BuzzFeed News spoke to, including Sobirov and Fayzullayev, said they think it's important to have a community center and prayer services in their own languages, so young men and women can learn how to interpret Islam, and what it means to have a sense of belonging and community in the US.
"It wasn't like my country made him like this," Sobirov said, of Saipov's act of terror. "All people come to America to reach some goals, and maybe some people lose their way."
Among Brooklyn Uzbeks, the attack have also raised the specter of the 2015 FBI raids, in which three young men who had moved to New York from Uzbekistan were arrested after making plans to travel to Syria to join ISIS.
In Brighton Beach, 43-year-old Maks Gavrilov took a moment out of his duties as manager of Tashkent Supermarket to recall that case, telling BuzzFeed News that he is concerned Tuesday's attack will mean more trouble for the Uzbek community.

"I know last time that happened the FBI was searching everybody, I heard people saying that," he said. "When people were praying they came and closed the masjid and took people. I don't know if that was true or not. But sometimes if the same kinds of things happen two or three times they could come back again."

Gavrilov, whose father is Muslim and mother is Jewish, said that, like Saipov, he was a truck driver before he started managing shops in Brooklyn, and believed that Saipov's actions were the result of a lack of understanding about Islam.
"I think some people, they don't think. Sometimes people come and lie to them and they believe everything. Why did god give us heads if not to think," he said. "No religion says it's good to kill people. No religion."
Around the corner, 26-year-old Timur, who did not want to his last name used out of fear he would face repercussions at work, said he was worried about his friends with wives back in Uzbekistan who are waiting to join them in the US, given President Trump's pledge Wednesday to cancel the Diversity Visa Lottery and reform US immigration law to limit family-based migration.
"They're worried the American government might impose sanctions on their families and they might have a hard time," he said.