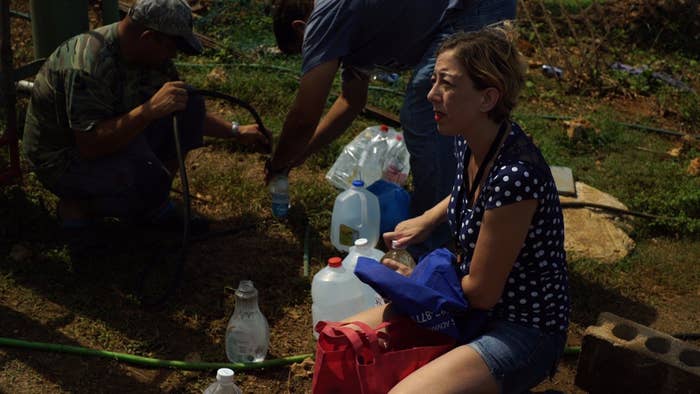 JAYUYA, PUERTO RICO — Thousands of people in Puerto Rico are surviving by drinking water from mountain springs, storing medicine in melting ice, living in darkness, and are only beginning to see FEMA workers arrive — while just miles away on Tuesday, President Trump held a victory tour in San Juan, applauding his administration's "fantastic" and "incredible job."
"You can be very proud. Everybody around this table and everybody watching can really be very proud of what's taken place in Puerto Rico," Trump said amid several of his top aides and representatives from the armed services, as they took turns praising the response while news cameras rolled live coverage.
Hours after Trump left the US territory — whose residents are US citizens — the official death toll more than doubled, from 16 to 34. Trump earlier diminished the storm's impact, saying it wasn't a "real catastrophe" like Hurricane Katrina.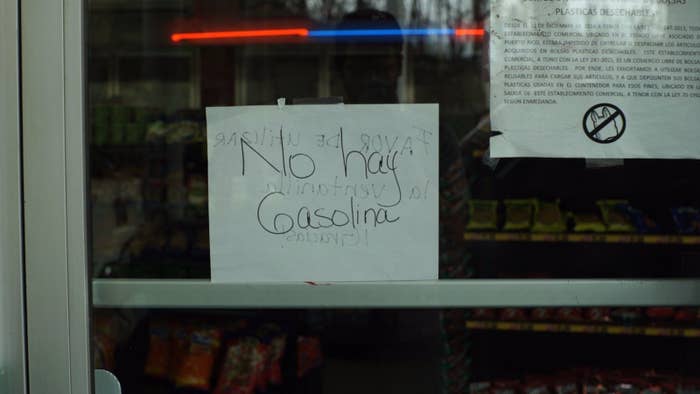 The storm made landfall on Sept. 20, and the relief efforts are only now picking up. And so the the rosy picture of rapid progress and bureaucratic cooperation Trump drew is not the reality for at least tens of thousands in the territory's central and coastal regions, away from the bustling and attention-grabbing capital of San Juan.
In the mountains of Jayuya, locals are working from dawn until dusk to clear roads and help their neighbors eat and access drinkable water.
In the town of Utuado, where picturesque colonial buildings lie crumbling, three shelters are housing people who still have no idea what comes next.
In Arecibo, the largest municipality by land area in Puerto Rico, people are lining up in the sweltering heat daily for food and water — and if there's not enough water, they resort to drinking from mountain springs.
There's little or no cell phone reception in any of these areas, and many were surprised when BuzzFeed News told them earlier in the day that the president was coming to Puerto Rico. Meanwhile, a crowd in a San Juan church happily caught rolls of paper towels Trump was tossing to them as if he were a basketball player.
"It was really nice, it was a great great visit," Trump told reporters on Air Force One on his return trip, after going on a walking tour Guaynabo, near San Juan, visiting the Calvary Chapel, and then meeting dignitaries on the USS Kearsarge.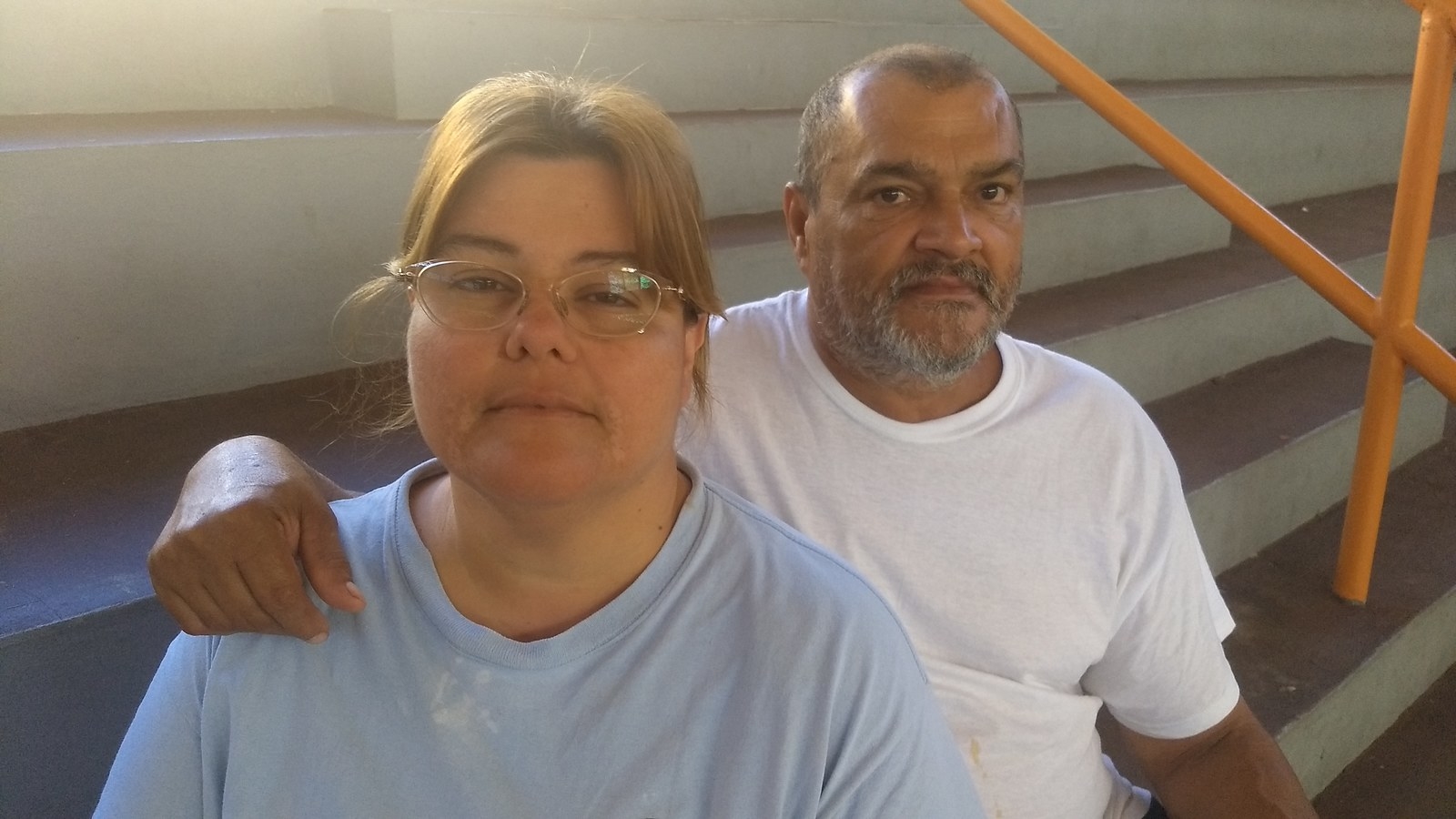 Jayuya is a two-hour drive from San Juan. Lissandra Santana sat in a shelter with a book of Sudoku puzzles, trying to keep herself calm and occupied. She lost her house and many of her belongings in the hurricane. She was among 116 people at the shelter, set up by the Municipality of Jayuya.
"You're left like you arrived in this world, with nothing," she said. "We went back on Saturday and the roof was gone and one of the columns was collapsing. The kitchen, the bathroom, everything took in water. It's very depressing. It's like a movie, like a nightmare."
She said she's only received help from local authorities. So far she hasn't been able to speak with anyone from FEMA or the military. "We're in this process of waiting and seeing when help will come. It's hard," she said.
When BuzzFeed News told her the president was in Puerto Rico, she said, "That's a surprise to me. We'll see what news he's bringing. But we will lift ourselves up."
Santana, 46, has severe diabetes — she needs insulin at least four times per day. Without a refrigerator, she's storing her insulin in iced water, hoping that there's more ice available in town each time the water begins to warm up. (FEMA says about 6% of the nation has power.)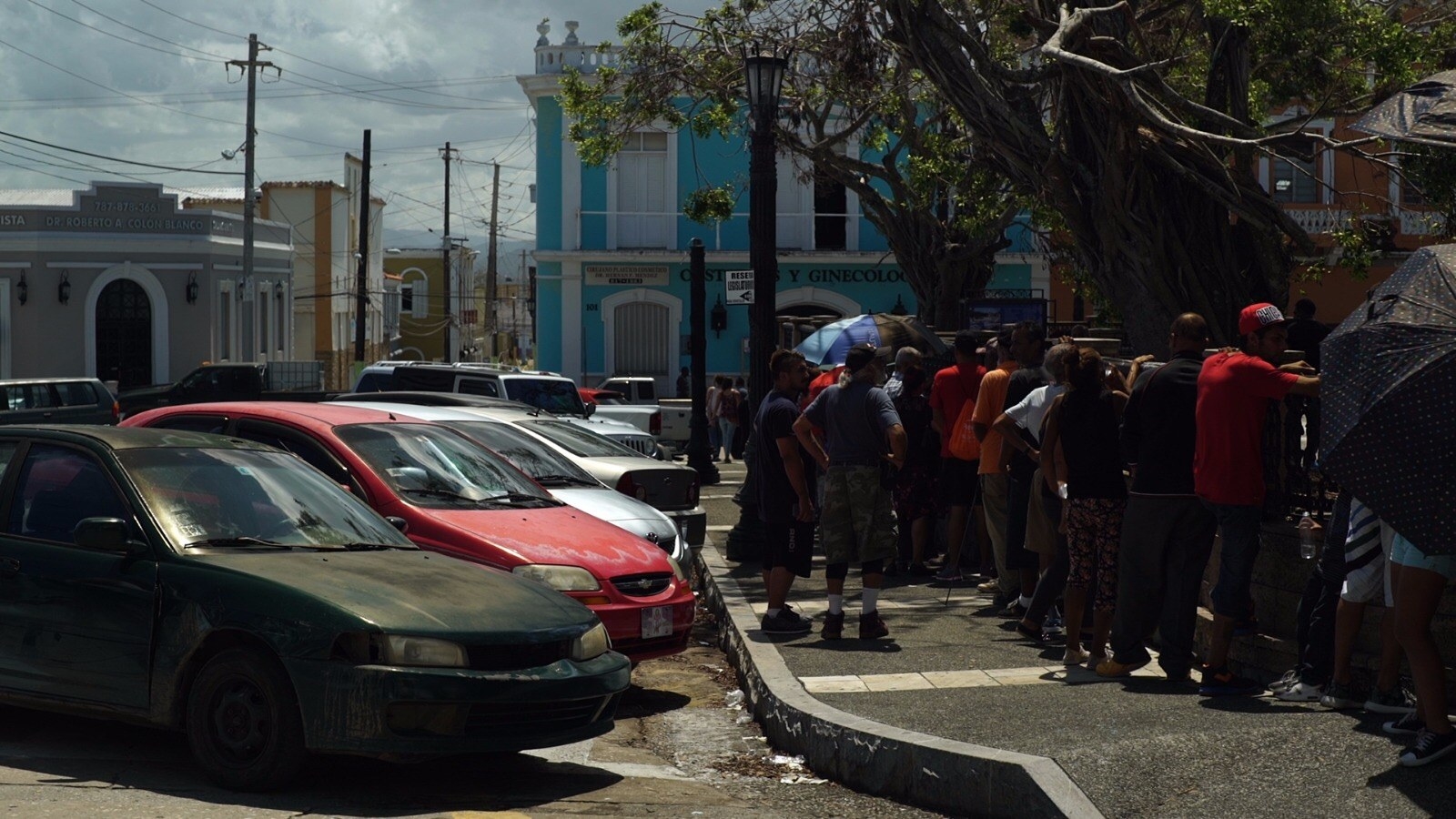 Representatives from FEMA and the Puerto Rican central government arrived in Jayuya for the first time on Monday evening, said Jorge Gonzalez Otero, the mayor of the town of nearly 17,000. "Twelve days after the storm," he said.
And they arrived empty-handed, Otero said, instead carrying information on how he could go to Ponce, at least an hour away, to collect supplies.
"There is no plan of operation," said Otero. "Tomorrow I'm going to get that water from Ponce."
In the first few days after the storm, the town was entirely isolated. Within the first week, he said, six helicopters from the National Guard and Navy each arrived with one pallet of packaged meals and one pallet of water. That was everything until Monday night, when another National Guard convoy brought three pallets of water and two pallets of food.
In Jayuya on Tuesday, it was 84 degrees and humid, ideal weather for the mosquitos. On the winding mountain roads that crisscross the region, trees and muddy passes are being cleared gradually by locals, both volunteers and city workers. They have received diesel to assist from the medical product company Baxter, which has a large pharmacy in town. The roads to access the area were impassable up until this past weekend.
Local authorities told BuzzFeed News that around 30% of the town now has drinking water — but they expect to be without power for at least another four months.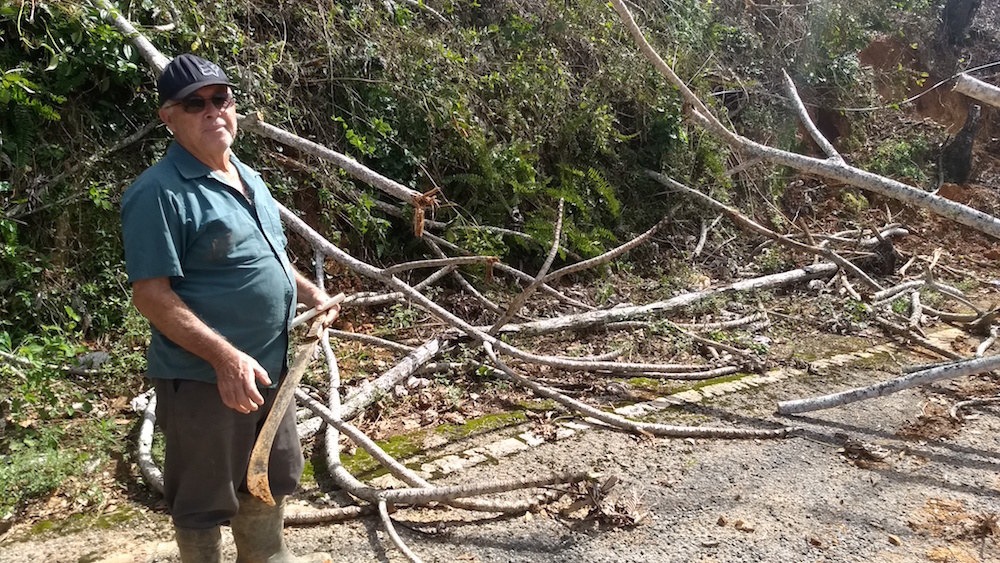 On a steep, narrow pass in a part of Jayuya called Mameyes, some 3,000 feet above sea level, 70-year-old Luis Torres stood with a machete, breaking down large branches that lay blocking the road near his house. (Nationwide, FEMA reports, 8% of roads are open and 25% are partially open.)

"The truth is we can't even begin to describe how we are right now," he said. "There's a mountain spring thank god where we can get our water from."
At night, the mountain towns are pitch black, save for one or two homes and hotels in each town that have diesel-run generators. Those are used sparingly because fuel is hard to get, and authorities fear that if more gasoline doesn't arrive soon, facilities like hospitals, fire stations, and police stations won't be able to operate.
Trump has put relentless pressure on locals and local authorities — who, out of necessity, became the front line of relief efforts while they rebuilt their own lives — since criticism of his handling of the crisis began. On Sept. 30, he tweeted that Puerto Ricans "want everything to be done for them when it should be a community effort."
The president softened his tone Tuesday, saying, "We need more help on a local level, that's true. We have tremendous amounts of supplies there. We need them distributed locally, and the best one to do that are local people. We need local help, and they're helping." He added, "Don't forget, a lot of them lost their homes."
An hour to the north west of Jayuya, the town of Utuado is without water or electricity. On Monday, some 197 people were living in three shelters set up in schools by the municipality.
"Maria is like nothing we've seen before but together we'll manage," said Herman Lopez, 61, who was working for the municipality at the shelter. "If you come in normal times you'll love Utuado. It's a special place."
A doctor who was passing through with a group of volunteer medics said that people displaced by the hurricane are dealing with pre-existing conditions for which they may not have medicines with them.
"Apart from that there's a lot of anxiety in both kids and adults here, there are a lot of displaced people here who have medical conditions who couldn't bring their medicine or don't know what medicine they take, so we have to find out what they need first," said Jose Ayala Cuervos, one of the doctors. "We're going from one area to the next finding out what they need and returning with medicines if they need them."
In Utuado, an old iron statue of an indigenous man bearing a cross stands in the center of the town's plaza surrounded by buildings, some of which date back 800 years, which now show signs of being wracked by the severe winds of the hurricane.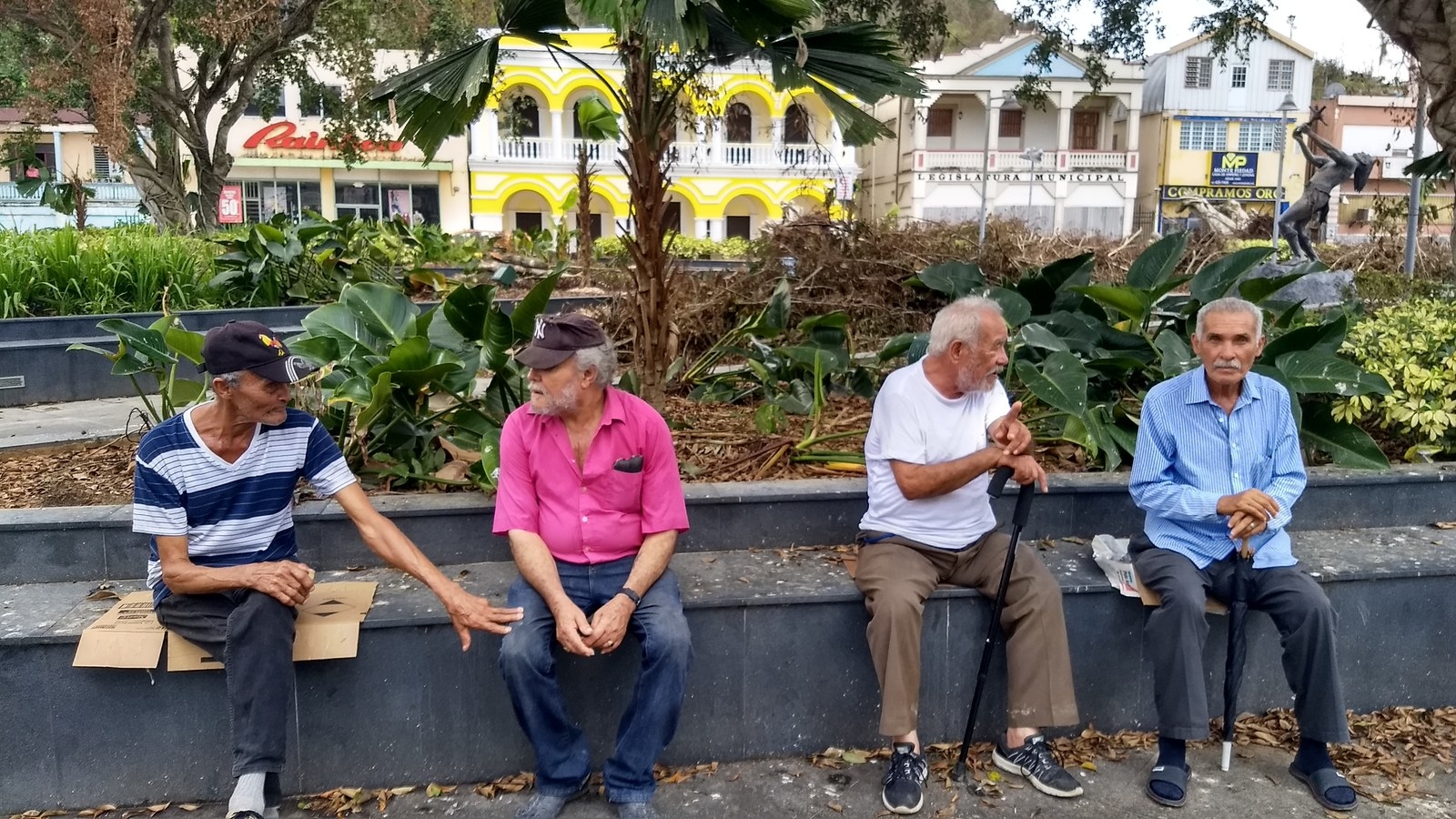 "What we have here is a disaster. Puerto Rico is a disaster. I've seen two hurricanes before but this is worst," said Angel Medina, 70 years old, who sat on a bench in the empty plaza with three friends. "You don't see anybody in the streets, there aren't even trees here."
In Arecibo, a municipality of around 98,000 people, local authorities said water supplies have been arriving from FEMA for the past week. On Monday, they said, they got 20 pallets — after Mayor Carlos Molino went to San Juan on Sunday asking for more resources.
But those supplies have fallen short for the people here, who are resorting to collecting water from several mountain springs to survive.
"The damage was a lot, to be honest," said Jesus Gonzalez, Municipal Secretary, who was coordinating relief efforts from the Coliseo Manuel Iguina. "We understand that we won't be back to normal tomorrow."

In the municipality's central plaza, close to 100 people stood in line in the midday heat on Monday waiting for water and food. Local authorities have set up a kitchen that serves anywhere between 1,500 and 3,000 people hot meals every day. No one has cell phone service, adding to the feeling of isolation and neglect.
In one remote area of Arecibo, Yaweca, some 200 people arrive daily to seek out a hose connected to a mountain spring, where a local land owner has set up a station for people to fill their bottles and cans for free. (There's a can left out on a table for optional donations.)
"The only help we're getting here is from the neighborhood," said Juan Carlos Hernandez, a neighbor who was helping people fill their bottles up while the property owner was away on Monday.
"It's been a beautiful experience to help so many people, and people are hearing by word of mouth to come here," he said.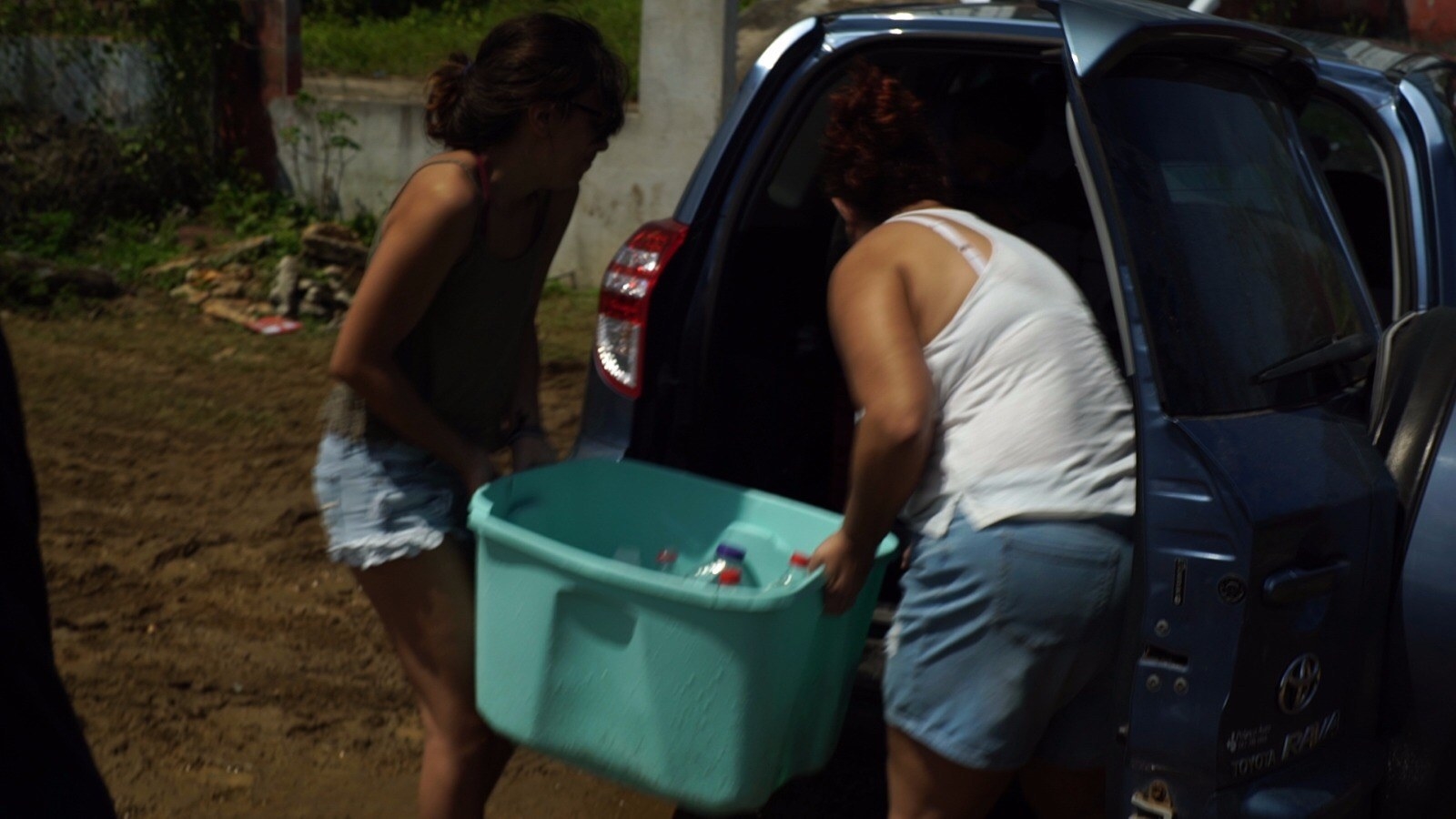 Maritza Cruz was at the spring with her two daughters — they come here every other day to fill up 14 plastic bottles and jugs. They heard about the spot from neighbors. Their house is still standing, but it has no water and no electricity.
"We haven't had water in our houses so we come here every second day," said Maritza's daughter, Maria Victoria Natal Cruz, 16. "Thank god our house wasn't destroyed, at least. But things are worse than before."
Maritza said, "The hardest thing has been water."
"A neighbor has a generator and has been giving me an extension line so we've been able to use that to turn a freezer on," she added. "It's only for a few hours but at least we can turn it on and have some ice and food there."
She said that although her husband works for the department of housing in Arecibo, the family doesn't have any information from any level of government about what kind of help they can get, or when they'll have water and electricity again.
"I also have mental health conditions, anxiety, depression," she said. "It's difficult. I need medication and it's not easy to get either. I'm not sure where I'm going to get it. But we're working on it."
Cruz works at a pizzeria in Arecibo — she said it was completely destroyed in the storm. She's not sure what she's going to do for work.
Lynette Caban, 45, was also at the spring filling up jugs. She said she moved to Puerto Rico — where her family is from — from New York last year after losing her job.

"I came here running from what I went through up there and then I find this catastrophe. It's just like sometimes your luck is just your luck, it doesn't matter where you go," she said, while filling a large plastic jug with the hose.
She works in a hospital translating medical records from Spanish to English for insurance companies. Now, with many hospitals running precariously on diesel generators, she's not sure she'll have work here either. (As of Tuesday, FEMA said, 15 of 67 hospitals are back on the power grid, while 50 are on generators.)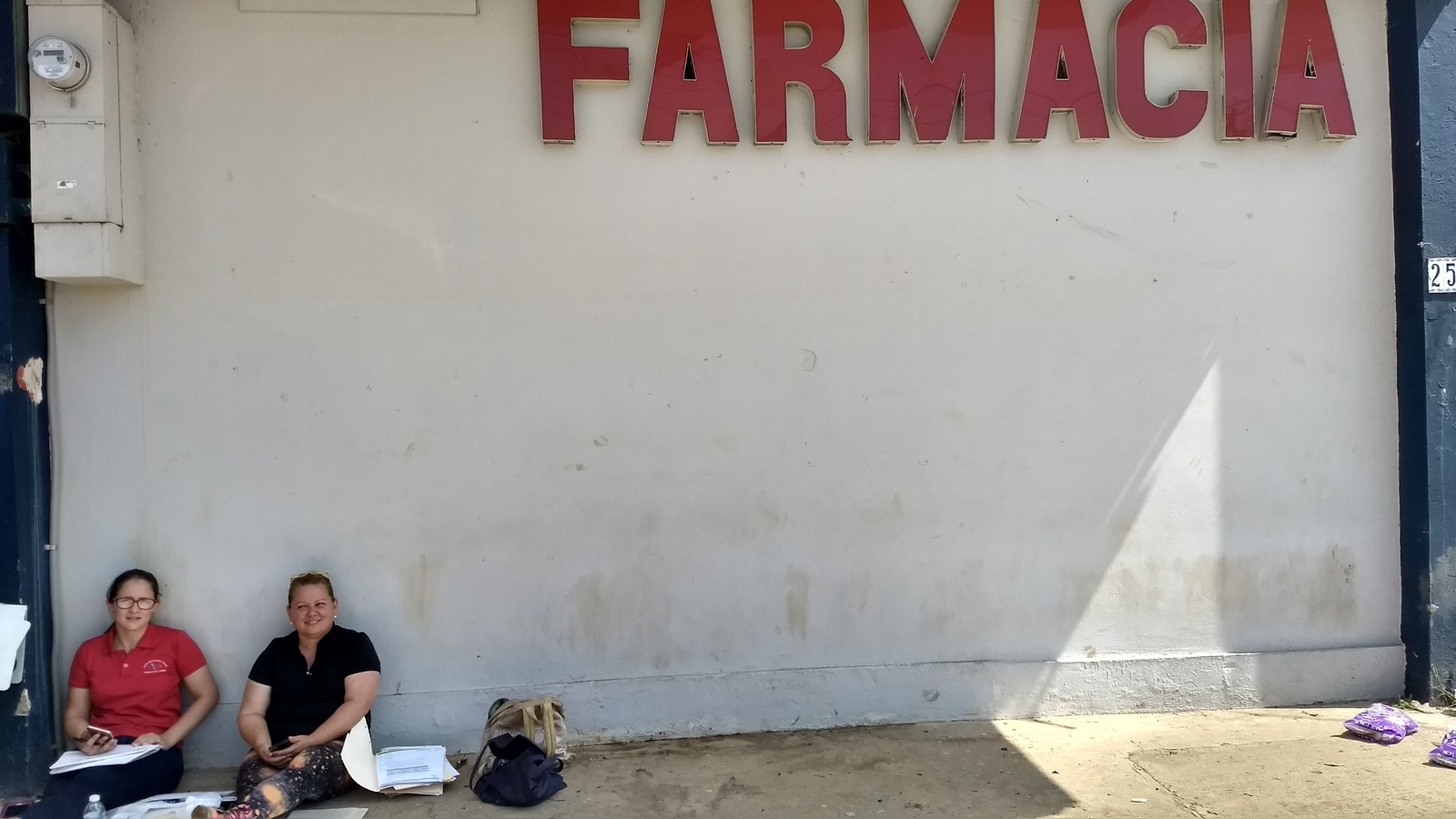 Life in the aftermath of Maria is still a daily struggle.
Ivis E. Gonzalez Rosa, 49, owns a pharmacy and gas station on a main road in Arecibo. On Monday afternoon, she sat on the ground outside the gas station, leaning against a wall in the shade, surrounded by paperwork.
"The water rose up to 6 feet and we lost everything. We're trying to clean," she said, "and get up and running as soon as possible."
In terms of her pharmacy, she said, "Right now I'm making calls to the bank" — 12% of the nation has cell service — "to ask for moratoriums to ask if we can pay later. For now they say yes. But it's day to day."