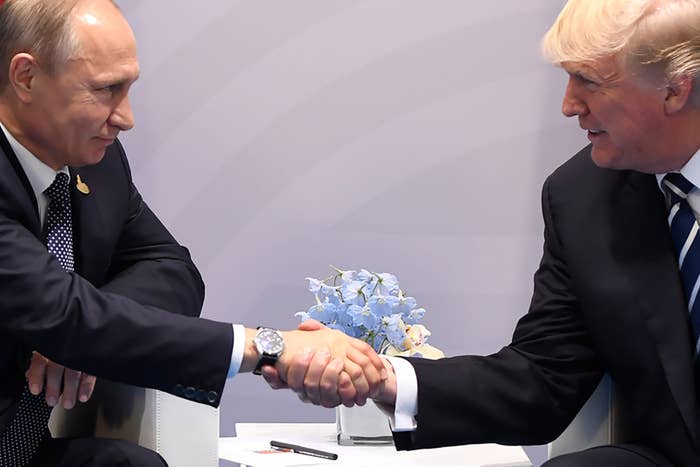 President Donald Trump wants to "move forward in working constructively with Russia," he said in a tweetstorm Sunday morning, a few days after meeting with Russian President Vladimir Putin behind closed doors at the G20 Summit in Hamburg, Germany.

Reports following that meeting — which was attended by only the two heads of state, US Secretary of State Rex Tillerson, Russian Foreign Minister Sergey Lavrov, and translators — presented two different versions of events. Lavrov told reporters that Trump had accepted Putin's denial that Russia interfered in the US election, while Tillerson said they had landed on an "intractable disagreement" over whether or not Russia was involved.
Then, on Sunday, Trump announced plans to form "an impenetrable Cyber Security unit" with Russia, "so that election hacking, & many other negative things, will be guarded.."

However, Trump failed to say definitively whether he accepted Russia's denial, instead tweeting, "I've already given my opinion."

Trump's announcement that he wants to work with Russia on cybersecurity comes at an interesting time — two US government officials told the Washington Post Saturday that the Russian government was behind recent cyberattacks on US nuclear facilities and other energy generators.
Republican leaders responded to Trump's tweets Sunday morning by emphasizing, to varying degrees, that Russia cannot be trusted as a partner.
Nikki Haley, Trump's ambassador to the United Nations, cautioned against trusting Russia when asked about the president's tweets on CNN's State of the Union, saying that while the US needs to communicate to Russia that its hacking is unacceptable, "this doesn't mean — it doesn't mean we ever trust Russia."
"We can't trust Russia, and we won't ever trust Russia," Haley said. "But you keep those that you don't trust closer so that you can always keep an eye on them and keep them in check."

Asked about Trump's tweets on CBS News' Face the Nation, Senator John McCain laughed and said, "I am sure that Vladimir Putin could be of enormous assistance in that effort, since he is doing the hacking."
Treasury Secretary Steven Mnuchin, meanwhile, evaded the question of whether or not Trump accepted Putin's denial of Russian interference in the 2016 election, instead insisting to ABC News' This Week that Trump is "focused on strategically negotiating with Putin."
Senator Lindsey Graham said on Meet the Press that Trump has a "blind spot" on Russia.

"It's not the dumbest idea I've ever heard but it's pretty close," Graham said. "He gave a really good speech in Poland, President Trump did, and he had what I think is a disastrous meeting with President Putin."

He went on to say that he thinks Trump is doing a good job on national security in other parts of the world, including in his responses to North Korea, ISIS, and the war in Afghanistan.

"But when it comes to Russia he's got a blind spot," Graham added. "And to forgive and forget when it comes to Putin regarding cyberattacks is to empower Putin. And that's exactly what he's doing."

Senator Marco Rubio compared partnering with Putin on cybersecurity to working with Syrian President Bashar al-Assad on chemical weapons.
Former CIA director John Brennan also weighed in on Meet the Press, calling Trump's handling of the Russian election meddling situation "dishonorable."

"I seriously question whether or not Mr. Putin heard from Mr. Trump what he needed to about the assault on our democratic institutions," he said.

"He said it's an 'honor' to meet President Putin," Brennan added. "An honor to meet the individual who carried out the assault against our election? To me, it was a dishonorable thing to say."

And US Rep. Adam Schiff, the ranking Democrat on the House Intelligence Committee, which is investigating Russian election interference, called Trump's proposed joint cybersecurity unit "dangerously naive."
"I don't think we can move on," Schiff said on State of the Union. " I don't think we can expect the Russians to be any kind of a credible partner in some cybersecurity unit. I think that would be dangerously naive for this country. If that's our best election defense we might as well just mail our ballots to Moscow."
By Sunday night, just hours after suggesting the US–Russia cybersecurity initiative, Trump appeared to walk back the idea, declaring that just because he and Putin discussed the idea "doesn't mean I think it can happen."
"It can't-but a ceasefire can, & and did!" he added, referring to the Syrian ceasefire brokered by the US and Russia that went into effect Sunday morning.