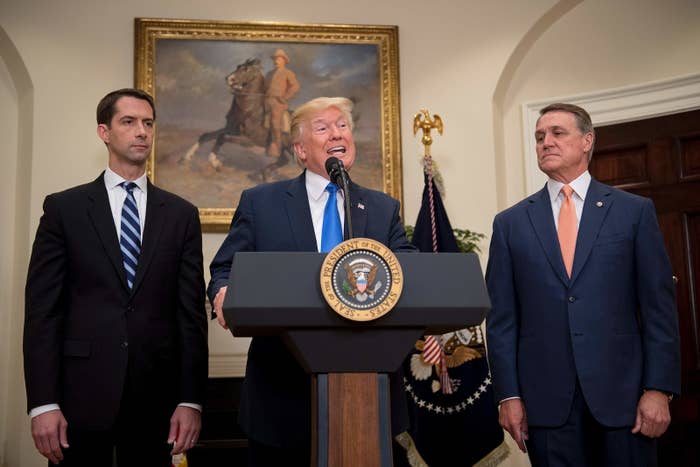 President Trump on Wednesday heralded a bill curtailing legal immigration that has been stalled in Congress for months and would now give preference to people who speak English.
The RAISE (Reforming American Immigration for Strong Employment ) Act has been sitting in the Senate Judiciary Committee since it was introduced in February by Republican senators Tom Cotton and David Perdue, who unveiled a revised version of the bill at the White House on Wednesday.
Trump's brief comments — he didn't take questions — were peppered with unproven remarks, such as immigrants are dependent on welfare, and notions that play to cultural fears, like saying immigrants need to culturally "assimilate" in America. (The White House, in part, has cited this study conducted by a think tank that advocates against immigration.)
"This competitive application process will favor applicants who can speak English, financially support themselves and their families, and demonstrate skills that will contribute to our economy," Trump said. "The RAISE Act prevents new migrants and new immigrants from collecting welfare and protects U.S. workers from being displaced."

"The reforms in the RAISE Act will help ensure that newcomers to our wonderful country will be assimilated, will succeed and will achieve the American dream," he continued.
The bill, however, is unlikely to be passed by Congress.

"I like their suggestions," Republican Sen. Chuck Grassley, head of the Senate Judiciary Committee, told BuzzFeed News. "But as they came to my office and I talked to them, we have a major problem that any bill you get out on the floor, the people that don't want any immigration will try to amend it, and the people that want citizenship yesterday for the people who have come here undocumented, they will amend it, and if you could just get a clean bill like they're suggesting through, I would be very much for going that route.
"But," Grassley added, "I think it's an impossibility."

It's unlikely that the bill will gain support from Republicans who have taken more moderate stances on immigration issues, such as senators Lindsay Graham and John McCain. But even if they did somehow get on board, Republicans would still need at least eight Democratic senators to support it for it to pass, which is extremely unlikely.

After Wednesday's event, Graham tweeted that the bill would be "devastating" to South Carolina's economy.
The announcement comes amid a tumultuous two weeks for Trump — his health care bill was defeated, he shook up his staff several times, and the Russian investigations raise new questions almost daily.
Wednesday's event provided tough-on-immigration talking points that will likely play well with Trump's base.

But Trump's support of the bill is partly in contrast to statements he made two months ago to The Economist supporting legal immigration.
"I want people to come into the country legally. No, legally? No. I want people to come in legally," he said. "But I want people to come in on merit."
Asked if he would cut the numbers of legal immigrants, he said, "Oh yeah, no, no, no, no, we want people coming in legally. No, very strongly. Now they're going to be much more strongly vetted as you see."
He went on to say that he wanted farm workers to continue to immigrate to the US.
"We also want farm workers to be able to come in. You know, we're going to have work visas for the farm workers," he said. "If you look, you know we have a lot of people coming through the border, they're great people and they work on the farms and then they go back home. We like those people a lot and we want them to continue to come in."
The legislation proposes cutting legal immigration in half, from around 1 million people each year to around 500,000 by 2027. It aims to do that mostly by reducing the number of family-based visas issued, in part by limiting the extended family members who qualify, including adult children. It also limits the number of refugees allowed to enter the country to 50,000 per year, and eliminates the Green Card visa lottery program.

The bill, if passed, would be a step in line with the president's executive order — which will go before the Supreme Court in October — temporarily banning all refugee arrivals to the US. Refugee resettlement agencies say it would drastically change the role America has historically played as a world leader during humanitarian crises.
"In the face of the largest global refugee crisis in recorded history, restricting refugee admissions to 50,000 would run contrary to America's proud tradition offering safe haven to those fleeing violence and persecution," Mark Hetfield, president and CEO of HIAS, a refugee resettlement agency that works with refugees arriving in the US, said in a statement.
(In 2013, 2014, and 2015, nearly 70,000 refugees were admitted to the US each year. according to the State Department).
At Wednesday's White House press briefing, Trump advisor Stephen Miller told reporters the bill is aimed at "protecting blue-collar workers."
Asked for specific statistics that backs up the claim that low-skilled immigration results in a loss of jobs for citizens, he pointed to another study from the same think tank (the Center for Immigration Studies) the White House has previously cited but did not offer specific data.

"I asked you for a statistic," Glenn Thrush, of the New York Times, pressed.
"Maybe we'll make a carveout in the bill that says 'The New York Times' can hire all the less skilled low paid workers from other countries and see how you feel about low wage substitution," Miller replied. "Maybe it's time we had compassion, Glenn, for American workers. President Trump has met with American workers who have been replaced by foreign workers."

Cotton and Perdue worked with Miller on the bill, according to Politico.
After it was initially introduced in February, Cotton and Perdue met with the President and he asked them to expand the legislation, a spokesperson for Cotton told BuzzFeed News, resulting in today's updated bill, which includes English language proficiency requirements for immigrants that were not in the first version of the bill.
Responding to a question from a reporter about the foreign workers Trump himself employs at his Mar-A-Lago club using H-2A and H-2B visas, Miller said this bill does not deal with those non-immigrant visas.
"This bill, of course, doesn't deal with guest workers and temporary non-immigrant visas, which is I think what you're asking about, and that's a separate thing," Miller said.
"You have American workers without high school diplomas who have very low participation rates in the labor force, and then you're bringing in workers to compete directly against the workers who are either losing their jobs to automation or who can't find work because there's not enough jobs for workers in our own country without education," Miller added.
Cotton, responding later on Wednesday to Graham's criticism of the bill, also referred to the legislation's focus on immigrant visas.
"When Senator Graham reads the bill and understands what it does, I think he may think better of his statement today, because he's speaking of temporary guest workers... our bill does not affect temporary guest worker programs whatsoever," Cotton told BuzzFeed News, adding that the bill sponsors had not spoken with GOP leadership about scheduling a vote.

Senate Majority Leader Mitch McConnell's office told BuzzFeed News he "hasn't made any announcements on the Perdue-Cotton bill." Meanwhile, Congressman Lamar Smith of Texas said in a statement that he plans to introduce companion legislation in the House.
Since Trump launched his presidential campaign in June 2015, businesses owned by him or bearing his name have sought to hire at least 370 foreign guest workers under H-2B program and a similar one called H-2A, including more than 230 for Mar-A-Lago and the Jupiter club. Trump has defended hiring foreign workers by saying that it is "very, very hard to get help" during the Florida tourist season.

Trump said Wednesday that the bill is about attracting more skilled workers to the country. The legislation does not increase the number of skilled workers who would be allowed to immigrate, but introduces a "points system" based on age, education, profession, awards, investment capacity and English language proficiency. Trump mentioned his preference for a merit-based system during an address to Congress earlier this year.

In April, a group of 1,470 economists wrote a letter to legislators expressing their professional consensus that immigration — both low-skilled and highly-skilled — benefits the US economy.

"Some of us favor free markets while others have
championed for a larger role for government in the economy. But on some issues there is near
universal agreement. One such issue concerns the broad economic benefit that immigrants to this country bring," the economists wrote.
The group that coordinated the letter, the New American Economy (NAE), is made up of around 500 mayors of both parties and business leaders including co-chairs Rupert Murdoch and Michael Bloomberg, and mayors from cities in Illinois, Texas, South Carolina, Michigan and Utah, among others.
NAE Executive Director Jeremy Robbins told BuzzFeed News that from his group's perspective, attracting highly-skilled immigrants is a good thing.
"But the notion that to do this you need to dramatically reduce low-skilled immigration is not only unsupported by economics, it's contradicted by it," he said.
One of the problems with the bill, Robbins said, is that it assumes that the number of jobs in the economy never changes, and that everyone — immigrants and citizens — is competing for the same set of jobs.

"The problem that Senator Cotton seeks to address — namely the impact of globalization and automation on millions of American workers — is very real. But immigration has far more potential to be a solution to that problem than an exacerbater of it, if we get the policy right, since it is a way for America to ensure we have the skills to meet the new economy so that our companies can grow and better create jobs," he said.
The acting secretary of the Department for Homeland Security, Elaine Duke, said in a statement that the US immigration system "must encourage the admission of the best and the brightest from around the world."
"The men and women of the Department of Homeland Security are committed to enforcing the existing immigration laws of our nation, including our current system which admits more than 1.1 million legal immigrants per year," she said. "We look forward to an immigration structure that is better for American workers, the American economy, for American security, and better for legal immigrants and their immediate families."
—Tarini Parti contributed to this report.