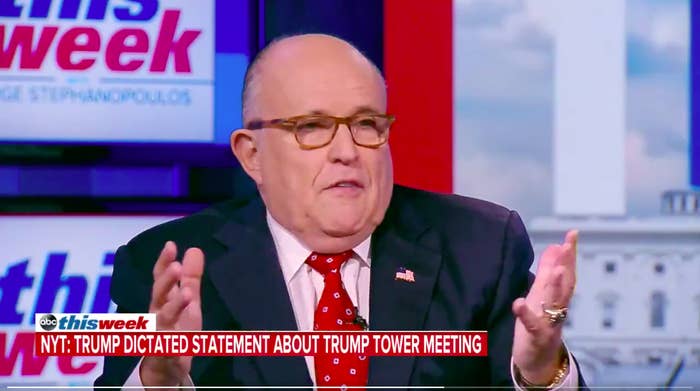 President Donald Trump "probably" has the power to pardon himself in connection with the Russia investigation, his lawyer Rudy Giuliani said on Sunday.

"He has no intention of pardoning himself but he probably— not to say he can't," Giuliani said.
Giuliani was responding to a question from George Stephanopoulos on ABC's This Week about a New York Times report on Saturday that the president's legal counsel had sent a letter to special counsel Robert Mueller in January.

The letter argues against a special counsel subpoena compelling the president to testify. The lawyers, Jay Sekulow and John Dowd (who has since left the Trump legal team), wrote that the president cannot obstruct justice by not cooperating with the investigation into Russia's interference with the election because he is constitutionally empowered to "if he wished, terminate the inquiry, or even exercise his power to pardon."
Giuliani told Chuck Todd on NBC's Meet the Press that while he didn't write the letter he agreed with "about 80%" of it.

"Do you and the president's attorneys believe the president has the power to pardon himself?" Stephanopoulos asked.

"He's not, but he probably does," Giuliani said, adding that it was an interesting constitutional question.
"It would be an open question. I think it would probably get answered by, Gosh, that's what the Constitution says and if you want to change it, change it."
But on NBC, Giuliani also warned that if Trump pardoned himself it "would lead to, probably, an immediate impeachment."
In July, the Washington Post reported that Trump was asking people close to him about the extent of his powers to pardon family members, aides, and even himself.
In response to that story, Sekulow told Stephanopoulos that the president wasn't discussing pardons. But on the same day, then–communications director Anthony Scaramucci told CNN's Jake Tapper that he had conversations with both Sekulow and the president about pardons.

Both Sekulow and Scaramucci added at the time that pardons were a nonissue because the president had not committed any crimes. Giuliani did not make that assertion.
On Sunday, Giuliani also said that Trump should not have to be interviewed by the special counsel: "This is the reason you don't let the president testify; our recollection keeps changing."

He was responding to questions about the letter's revelation that Trump did in fact dictate a statement sent to the New York Times from his son Donald Trump Jr. last July, which falsely said that the main objective of Trump Jr.'s 2016 meeting with a Russian lawyer was to talk about adoption issues.
Both Sekulow and White House press secretary Sarah Huckabee Sanders have publicly denied that the president dictated the letter several times.
On Sunday morning, the president tweeted a quote from a Fox News host Jesse Watters defending him against any obstruction of justice.

He went on to say that the FBI and Department of Justice should have told him about their open investigation into Paul Manafort during his campaign, adding that Manafort "wouldn't have been hired" if Trump knew that the FBI was investigating him.
The FBI does not typically discuss open investigations.
The president has previously complained that investigators never warned him Russia would try to infiltrate his campaign, but he was briefed by officials in August 2016 that foreigners, including Russians, would try to interfere.