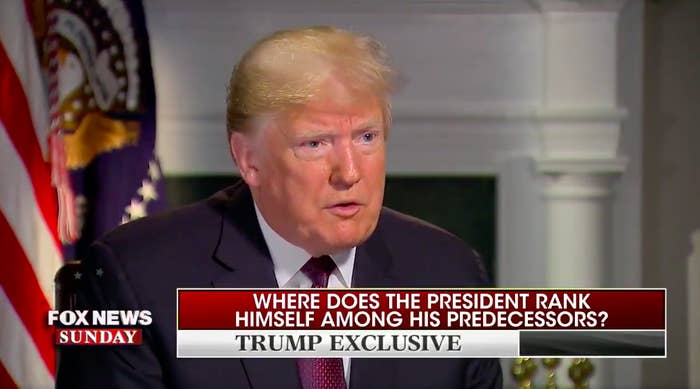 President Trump said he would give himself "an A+" as president in a wide-ranging interview during which he talked about everything from the midterm elections to the Mueller investigation and the killing of Saudi journalist Jamal Khashoggi.

Fox News Sunday's Chris Wallace asked Trump, "In the pantheon of great presidents ... do you make the top 10?"
"I think I'm doing a great job. We have the best economy we've ever had. We would have been at war with North Korea if, let's say, that administration continued forward," Trump replied.
"I would give myself, I would— Look, I hate to do it, but I will do it, I would give myself an A+. Is that enough? Can I go higher than that?" he said.
Two days ago, the CIA concluded that Crown Prince Mohammed bin Salman of Saudi Arabia ordered the killing of journalist Jamal Khashoggi at the Saudi Consulate in Istanbul. Turkish authorities have shared audio of the journalist's killing with the US government.
Trump said the US government has the tape, but he doesn't want to listen it.
"Because it's a suffering tape. It's a terrible tape. I've been fully briefed on it. There's no reason for me to hear it. In fact, I said to the people, 'Should I?' They said: 'You really shouldn't. There's no reason.' I know exactly— I know everything that went on in the tape without having to hear it," Trump said.
When asked if the crown prince lied to Trump when he repeatedly denied being involved in the plot, Trump said, "Well, will anybody really know?

"All right, will anybody really know?" he said. "But he did have certainly people that were reasonably close to him ... that were probably involved."
Trump went on to say that his administration had "put on very heavy sanctions, massive sanctions on a large group of people from Saudi Arabia."

"At the same time we do have an ally and I want to stick with an ally that in many ways has been very good," he said.
Trump went on to reiterate his message that the midterms were a success for him, saying, "I won the Senate."

He claimed personal responsibility for wins in governors' races, while distancing himself from Republican losses in the House, saying, "I wasn't on the ballot."
"I won against President Obama and Oprah Winfrey and Michelle Obama in a great state called Georgia for the governor," he said, referring to Republican Brian Kemp's victory in Georgia after a drawn-out recount. "And it was all stacked against Brian, and I was the one that went for Brian, and Brian won."
Wallace raised Republican losses in Michigan, Pennsylvania, and Wisconsin — also key states in presidential elections.
"I didn't run. I wasn't running. My name wasn't on the ballot," he said, adding, "As much as I try and convince people to go vote, I'm not on the ballot."
The interview turned to the Trump administration's relationship with the media, and specifically CNN reporter Jim Acosta's ban from the White House press briefing room. Acosta contested the ban and regained access through a lawsuit backed by organizations including CNN, Fox News, BuzzFeed News, the Associated Press, Bloomberg, and the Washington Post.
"It's fine. I mean, it's not a big deal," Trump said. He called Acosta "unbelievably rude" and suggested that he would walk out of future press conferences if reporters are "acting up."
"I think one of the things we'll do is maybe turn the camera off that faces them, because then they don't have any airtime, although I'll probably be sued for that and maybe, you know, win or lose it, who knows," Trump said.
Wallace asked Trump about his appointment of acting attorney general Matt Whitaker, who has publicly said he doesn't believe there was any collusion between the Trump campaign and Russian agents.
Trump said he didn't know about Whitaker's views before appointing him, but that "he's right."

"What do you do when a person's right? There is no collusion. He happened to be right," he added.
"So if he said there is collusion, I'm supposed to be taking somebody that says there is?" he said. "Because then I wouldn't take him for two reasons, but the number one reason is the fact that he would have been wrong. If he said that there's no collusion, he's right."
He said he "would not get involved" if Whitaker decided to limit or curtail the Mueller investigation in any way.