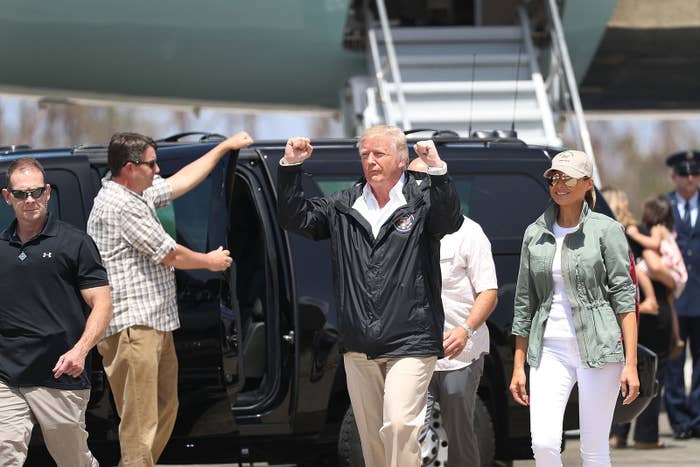 Thirteen days after Hurricane Maria slammed into Puerto Rico — taking an unknown number of lives and destroying its infrastructure — President Donald Trump visited the island for the first time and said the hurricane wasn't "a real catastrophe" like Hurricane Katrina because "16 people versus in the thousands" had died.
But data released this week by the Puerto Rican government suggest that as Trump was saying that, potentially hundreds more people had died from the hurricane.
That data show that at least 1,672 people had died from Sept. 20, 2017 — the day the storm made landfall — to Oct. 3, the day Trump visited Puerto Rico and boasted about the official count of 16 deaths.

That figure, 1,672, reflects 559 more deaths than during that same 13-day period the year before, in 2016, according to Puerto Rican government data released to BuzzFeed News on Monday.

The island's health department said 1,113 people died between Sept. 20 and Oct. 3 2016, the year before the hurricane.

It is unknown exactly how many of those 1,672 deaths were directly related to the hurricane. But there has been thorough reporting — including by BuzzFeed News — a Harvard study, and admissions by the government showing that the number of people who died after the storm was vastly undercounted.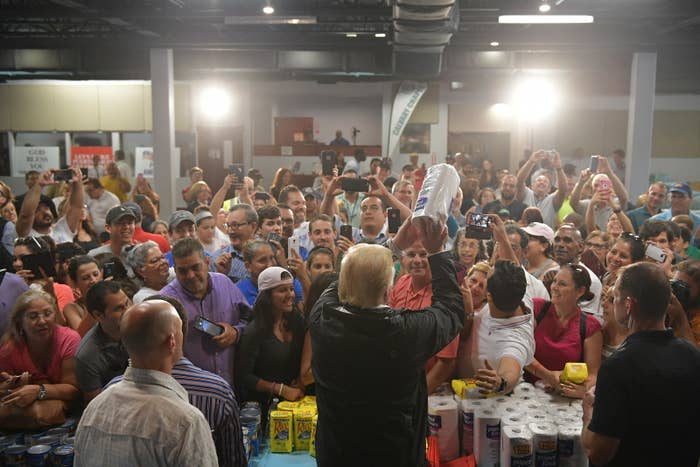 On the day Trump was on the island — as he toured a relatively wealthy suburb of Guaynabo and an English-speaking church where he tossed paper towels into the crowd — at least 121 people died. That's 40 more deaths on that day than what was normal for 2016, when 81 people per day died on average.
"Every death is a horror, but if you look at a real catastrophe like Katrina, and you look at the tremendous hundreds and hundreds and hundreds of people that died and you look at what happened here with, really, a storm that was just totally overpowering," Trump said at a press conference Oct. 3 with Puerto Rico Gov. Ricardo Rosselló.

"What is your death count?" Trump asked Rosselló.

"Sixteen, certified," Rosselló replied.

"Sixteen people certified. Sixteen people versus in the thousands," Trump said, comparing it to Katrina.
"You can be very proud of all of your people, all of our people working together. Sixteen versus literally thousands of people. You can be very proud. Everybody around this table and everybody watching can really be very proud of what's been taking place in Puerto Rico," he continued.

Hours after Trump left the island, Rosselló increased the death toll to 34.
The Puerto Rican government's official death count, which has stood at 64 since December, first came into question after reports from BuzzFeed News and Puerto Rico's Center for Investigative Reporting in the weeks immediately following the storm. The Harvard study, released in May, used a survey to estimate that 5,740 people may have died as a result of the storm.
The data released this week include causes of death as they were recorded on death certificates, but don't provide an analysis of how many of those deaths were directly or indirectly related to the storm.
Speaking to funeral home and crematorium directors in October and November, BuzzFeed News found that the causes of death recorded on death certificates usually did not reflect the circumstances surrounding the death. For example, patients dependent on oxygen machines who died because they didn't have electricity to run the machines may have been listed as having died of "respiratory failure" — without detailing why that happened.
The data include a "death date," "death declaration date," and "death registration date." "Death date" refers to the actual day a person died, the health department clarified on Monday.

The White House did not immediately respond to a request for comment.
Of the 1,672 people who died between Sept. 20 and Oct. 3 last year, the primary cause of death for 270 people was a heart condition or heart attack. Another 133 people are listed as dying of Alzheimer's disease, at least 124 died from diabetes, another 13 people killed themselves, 52 people died of pneumonia or bronchopneumonia, and 65 people died of septicemia, an infection of the blood.
On Oct. 3, while Trump was in Puerto Rico, 20 people on the island died of heart attacks or heart disease, another 20 people died of diabetes, three people died of septicemia, and another three died of "ill-defined or unspecified" causes.
In the days after the storm, Puerto Ricans with diabetes struggled to keep their insulin cold and eat healthy because there wasn't electricity. Hospitals were widely closed or damaged. And some people faced 90-minute walks for drinkable water.
When he was there in early October, more than 95% of the island remained without electricity, and the majority of the island still didn't have running drinking water. Medical crews were still not able to reach many areas cut off by fallen trees, power lines, and mud, and cellphone networks were almost entirely out of action. Most hospitals were operating with unreliable backup generators or without any power at all.
Emergency medical personnel in remote mountain towns said they knew there were people dying who they weren't able to reach in time, especially those who depended on water and electricity to run medical machines and store their vital medications, such as insulin.
Days before his visit, Trump tweeted that Puerto Ricans "want everything to be done for them when it should be a community effort."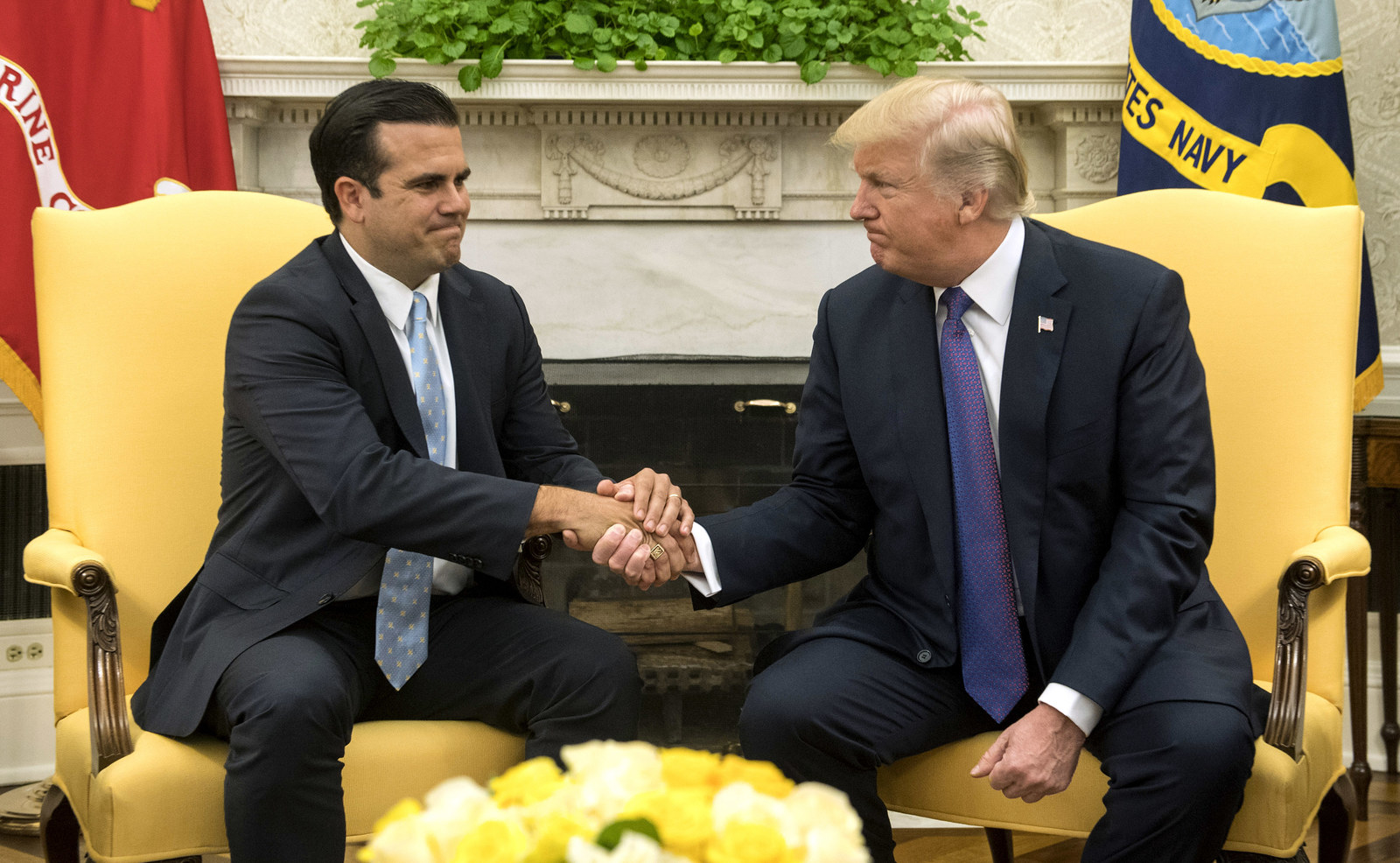 The island's Department of Public Health released the death records this week under court orders after months of denying reporters access to the information. CPI PR and CNN filed lawsuits in February to gain access to the data.
Asked by BuzzFeed News in October and November about their procedures, the director of the Puerto Rican Department of Public Safety, Héctor Pesquera, said bodies had to be examined and certified by the Institute of Forensic Sciences in San Juan before being certified as a hurricane-related death.

But funeral and crematorium directors told BuzzFeed News that, as far as they knew, they only had to send bodies to the institute when the deaths appeared to be the result of an accident or a crime, not when they were hurricane-related. They said nothing had been communicated to them about handling hurricane-related deaths differently.
In particular, there were differing responses from funeral and crematorium directors about whether or not heart attacks and other "natural causes" were linked to the hurricane. Several such cases were included on the government's official death count.
But a spokesperson for the Department of Public Safety told BuzzFeed News in November that they did not examine the bodies of people who were listed as having died of "natural causes" on their death certificates.
Crematorium directors also told BuzzFeed News that they had burned the bodies of dozens of people whom they believed were hurricane victims — in order to do so, they received approval from the island's Institute of Forensic Sciences, which did not ask to inspect the majority of those bodies to determine whether they were hurricane casualties.
Of the 1,672 people who had died by the time Trump visited Puerto Rico, 690 were cremated, 656 were buried, and 296 were placed in tombs. Another 13 bodies were transported outside Puerto Rico at the family's request, according to the government data, and for another six, the type of funeral is listed as "unknown."

Two weeks before the court-ordered release of the data to media outlets, Rosselló told CNN's Anderson Cooper, "We have opened the books" when questioned about the government's lack of transparency over the death toll numbers. There is still an ongoing lawsuit against the government filed by its independent Statistics Institute asking for the death data to be made available publicly.
The president's comments about the death toll implying the storm was not "a real catastrophe" are particularly relevant in light of a recent Politico investigation, which found discrepancies in the speed and quantity of aid delivered to Houston after Hurricane Harvey and Puerto Rico after Hurricane Maria.

According to the report, nine days after Hurricane Harvey, FEMA had approved $141.8 million in individual assistance to Harvey victims, compared to $6.2 million for Maria victims in the same time frame. During those first nine days, FEMA provided 5.1 million meals, 4.5 million liters of water, and more than 20,000 tarps to Houston. They provided 1.6 million meals, 2.8 million liters of water, and around 5,000 tarps to Puerto Rico.
Disaster readiness experts also say that without an accurate death count that gives a clear indication of how people died as a result of the hurricane, it's not possible for Puerto Rico to prepare adequately for hurricane season 2018, which is already underway.

Experts also told BuzzFeed News in May that if deaths had been correctly identified and recorded in the immediate aftermath of the storm, lives could have been saved because vulnerable populations could have been identified and prioritized.
Last week, Trump praised his administration's hurricane response in Puerto Rico at a press conference with FEMA officials and several members of his cabinet present.

"We are prepared, just as we were last year," Vice President Mike Pence said at the same event.
The Puerto Rican government has commissioned a study by George Washington University researchers to analyze the death toll and the government's methods, but a report expected in May was delayed until an unspecified date later this summer.
Earlier this week, congressional Democrats introduced a bill calling for a national standard to be established in how deaths are counted following a natural disaster.
UPDATE
This post has been updated with additional figures from the Puerto Rican government.