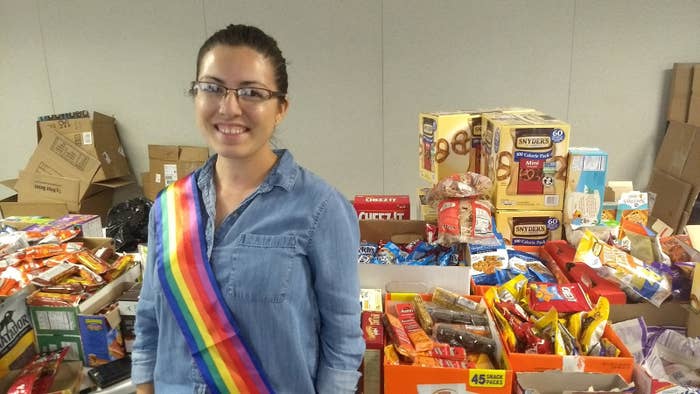 HOUSTON — As Hurricane Harvey began its punishing descent on Houston, Kennedy Loftin knew the LGBT community in the city would need to pull together to survive.

"In the last two storms, in Katrina and Ike, a lot of our community fell through the cracks," Loftin, chief development officer of the Montrose Center, Houston's largest LGBT community organization, said on Monday. That included trans people who were arrested for using the bathroom that corresponded with their gender identity at Houston shelters after fleeing Hurricane Katrina, and others who just didn't trust institutions enough to reach out for help.
So the Montrose Center reopened last Tuesday, as soon as it was safe to do so, and sent staffers and volunteers to all major city shelters at the height of the floods last week.
In the first 72 hours they were open, 27 people arrived in need of food and supplies, and 115 other reached out for other kinds of aid. And the volume of people coming through has increased noticeably since the city's floodwaters have receded from the city's roads, Loftin said.
"I think a lot of the Houston community just started relying on each other," said Lorena Avillaneda, 26, who was one of a handful of volunteers at the center on Tuesday.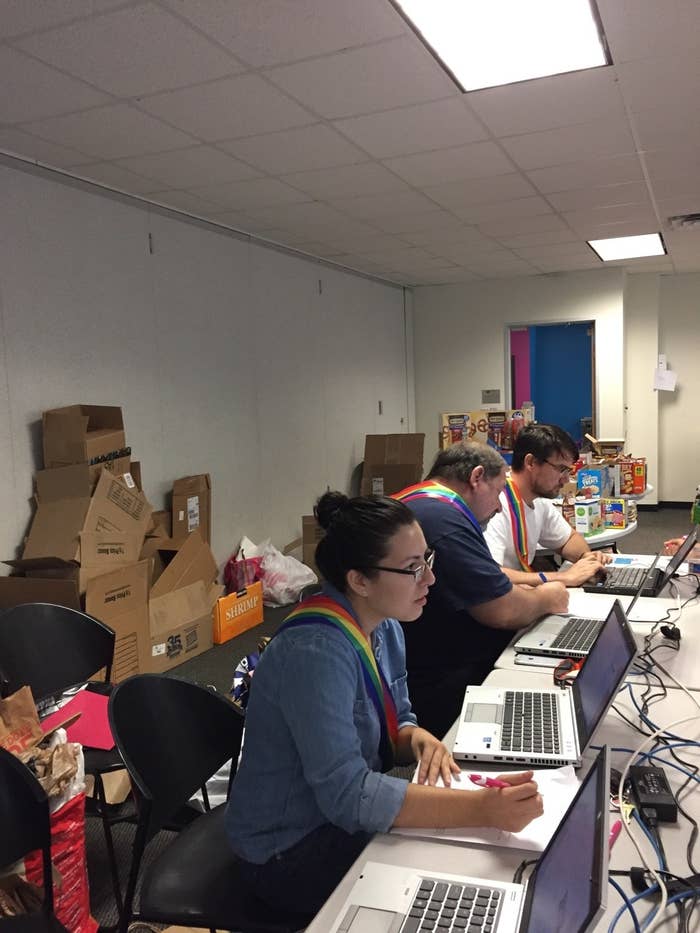 Two other LGBT Houstonians, Barrett White and Brittany Barreto, started collecting donations on Venmo and PayPal and buying supplies to take to shelters, raising more than $4,000 between them.
Regina Thorne-DuBois, a local drag queen who puts on weekly shows in the city, broadcast her show via livestream from her house for over nine hours while floodwaters rose outside, raising more than $3,000 for LGBT people affected by the storm.
On Saturday, the Montrose Center launched a disaster relief fund specifically for LGBT Houstonians that's so far raised $413,000 and attracted donations from celebrities like Ruby Rose, Jack Antonoff, and Lena Dunham. The funds will go toward the center's efforts to help those struggling after Harvey.
Eric Edward Schell, a local photographer and LGBT rights activist, is raising money for that fund through his photography, and is putting together a video with trans activists Jazz Jennings and Aydian Dowling to support it.
"The reason why we do this is because a lot of people just don't trust other institutions," said Loftin. "There's a lot of fear, especially in the transgender and intersectional communities. They do not feel comfortable going to religious organizations, or city institutions, or large shelters, or any place like that. They just don't feel comfortable. So that's the whole point of the Montrose Center, creating that safe space for our community."
For some of those coming to the Montrose Center this week, it's their first point of contact with any kind of organization offering flood relief.
Nine days after the floods began, 32-year-old Brandon Williams was at the center on Monday receiving aid for the first time since evacuating his home last week. He doesn't know a lot of people in Houston (he moved here recently from St. Louis), and he doesn't know of any other city services that could help him.
"You just feel kind of discarded," said Williams. "I've been basically homeless. It's embarrassing to say."
But he said he heard from acquaintances that the Montrose Center was helping people get basic supplies and find services.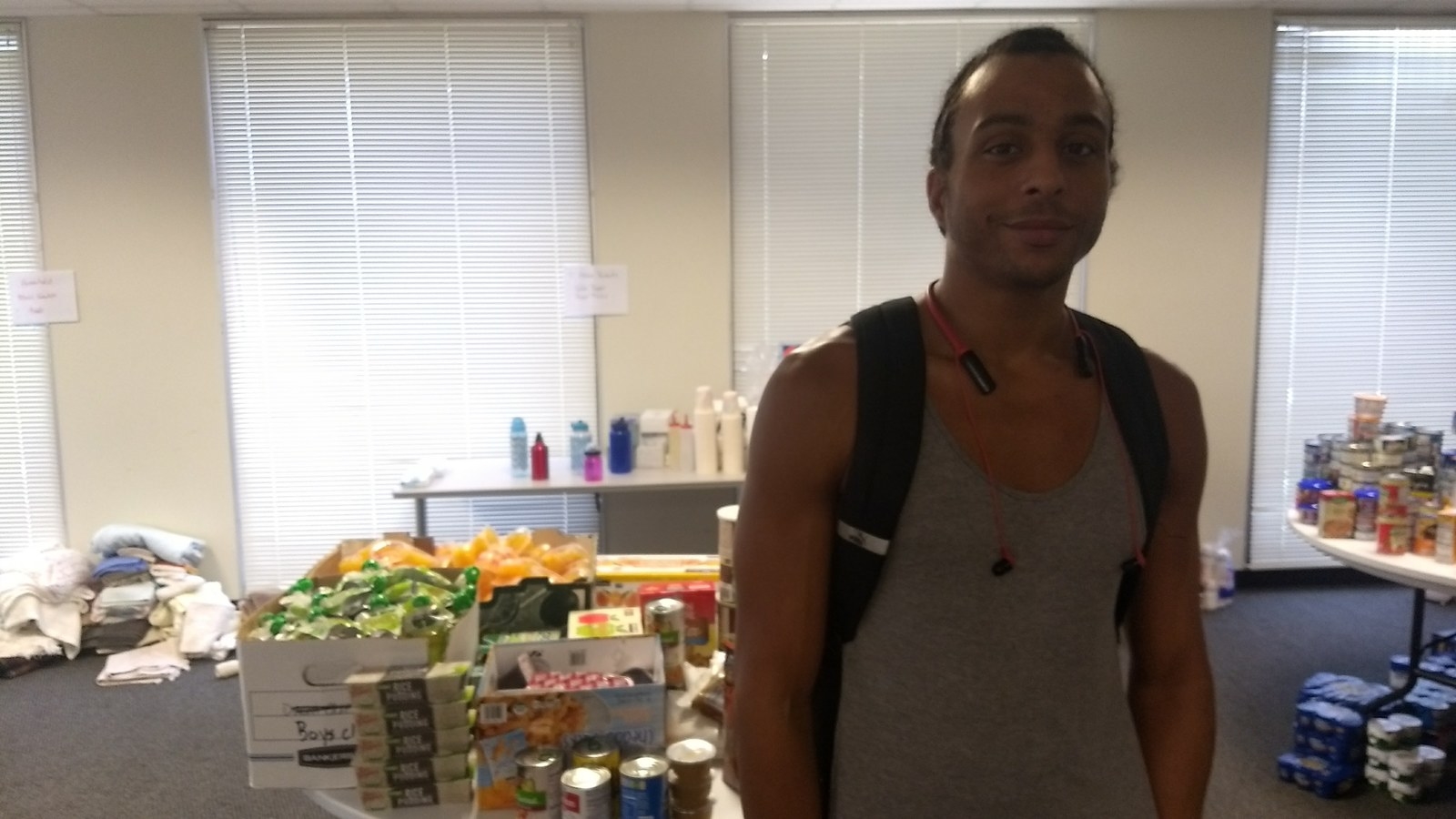 Williams, who's gay, had to leave his house in central Houston's Hillcroft neighborhood a few days after the storm hit, he told BuzzFeed News. He's since been sleeping on people's couches when he can and taking things day-by-day. Right now, he's mostly concerned about eating and finding a safe place to sleep.

"The first thing I think about is how am I going to eat, if and when I can take a shower somewhere, and then where am I going to be able to sleep that night. I'm just pretty much in survival mode," he said.
The flood took his computer, which he used to work from home as an Apple tech support adviser. His phone was also lost in the flood — he's borrowing someone else's temporarily.
"I can't even describe the feeling right now, when you're used to being able to take care of yourself. I don't know, I don't like it. This isn't fun at all. This is some bullshit," he said.
Case managers at the Montrose Center are helping people with immediate needs like food and shelter but the organization plans to support people who come to them beyond that as they begin to put their lives back together in the coming year.

Loftin said the organization is setting aside up to $1,000 per person in immediate relief from the Harvey Disaster Relief Fund. The center usually serves 35,000 LGBT clients per year.
"We know that four months, six months from now, there are still going to be other needs," he said, for example people who may struggle to recover from loss of income during the flood. The fund is intended to help with those long-term needs as well.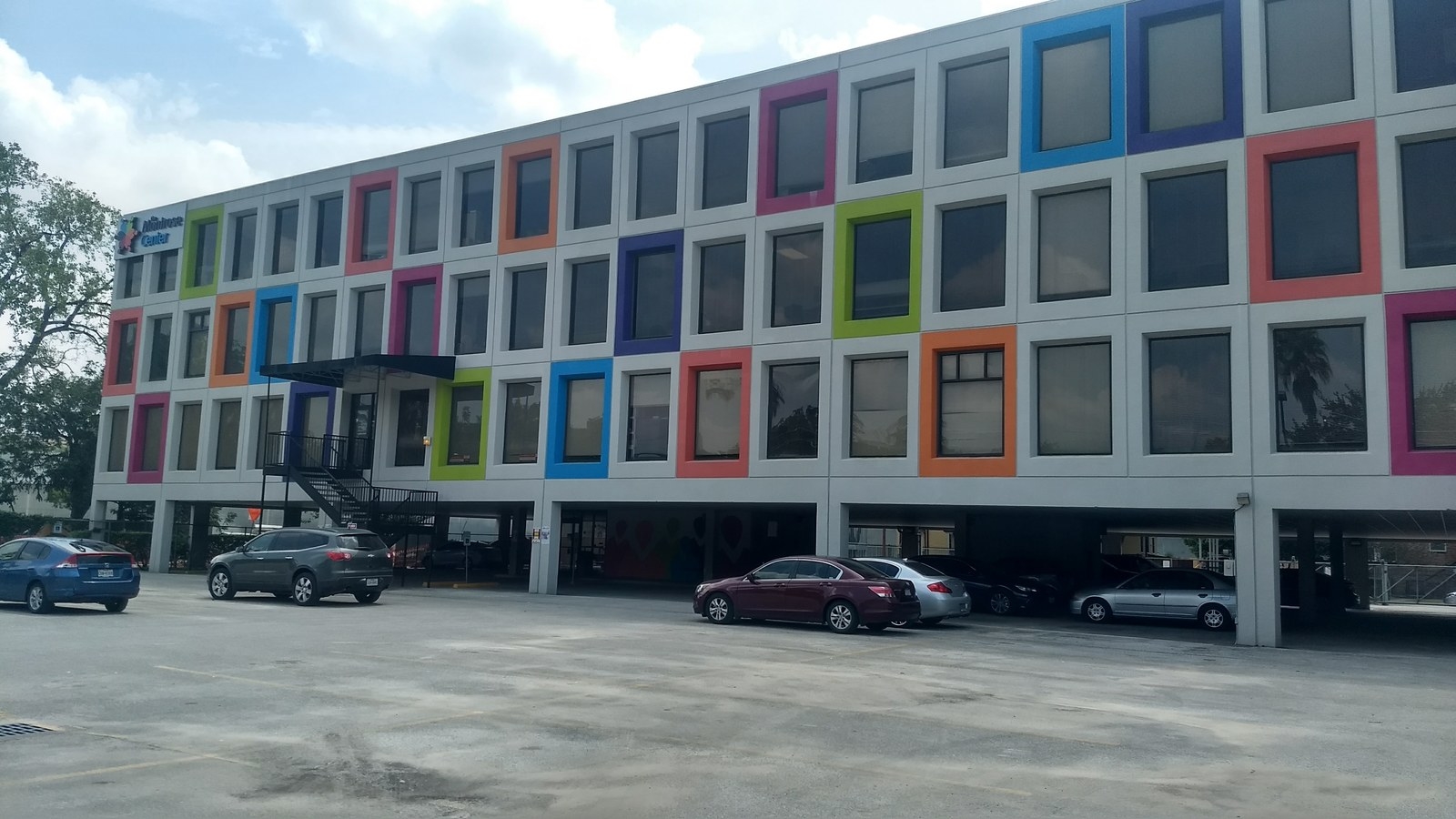 He said one issue for LGBT youth in particular is that 5,000 of them in Houston were already homeless before the storm. Others may not be living on the street but could have transitory living situations that come with being cut off from family and support networks.

"If you can't prove that you rent or own a home, it's practically impossible to get that assistance from FEMA," he said.
FEMA did not immediately respond to a request for comment. The City of Houston said all Houston residents are welcome at city emergency shelters, and pointed BuzzFeed News to nonprofits and Harris County, which runs the shelter at NRG Stadium. Harris County did not immediately respond to a request for comment.
If you've been impacted by the storm in Texas or have a tip about rescue, relief, government, or aid efforts, call the BuzzFeed News tipline at (646) 589-8598. Find us on Signal, email, SecureDrop, and more here.