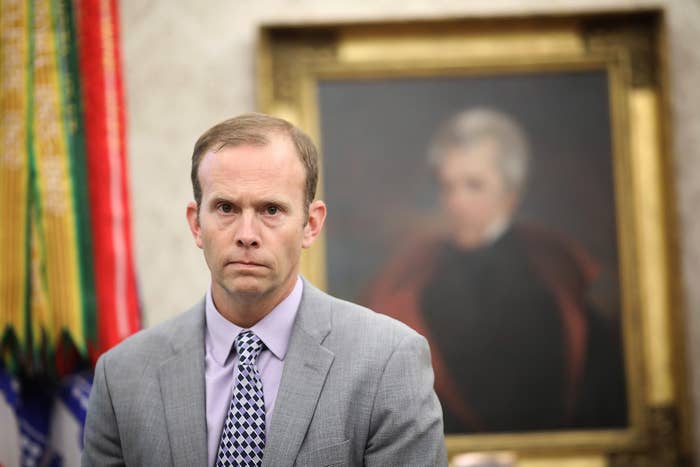 As North Carolina braces for a Category 4 hurricane and Puerto Rico still struggles to recover from Hurricane Maria, documents show that the Trump administration transferred millions of dollars in funds from the federal disaster response agency to immigration enforcement.

The document, titled "Department of Homeland Security FY 2018 Transfer and Reprogramming Notifications" was first reported by Rachel Maddow on MSNBC and obtained by Sen. Jeff Merkley, a Democratic member of the Senate Appropriations Committee.
It shows that DHS, which oversees both the Federal Emergency Management Agency (FEMA) and Immigration and Customs Enforcement (ICE), transferred $9.8 million from FEMA to ICE.

Those funds are marked as being transferred to ICE for "enforcement and removal operations" and "protective operations."
"Without the transfers and reprogramming identified in this notification, ICE will not be able to fulfill its adult detention requirements in FY 2018," the document says. "Insufficient funding could require ICE to release any new book-ins and illegal border violators. ICE will not be able to deport those who have violated immigration laws. ICE could also be forced to reduce its current interior enforcement operations, curtailing criminal alien and fugitive arrests."
Funds were also transferred to ICE from other agencies including the Transportation Security Administration and the US Coast Guard, the document says.
The document goes on to say that, to compensate for the cuts, FEMA would cut down on "training, travel, public engagement sessions, IT security support and infrastructure maintenance, and IT investments in the legacy grants systems for transition to the Grants Management Modernization Program."

Tyler Houlton, a spokesperson for DHS, denied that the funds were taken from disaster relief funds in a statement on Twitter.

"Under no circumstances was any disaster relief funding transferred from @fema to immigration enforcement efforts," Houlton said in a tweet. "This is a sorry attempt to push a false agenda at a time when the administration is focused on assisting millions on the East Coast facing a catastrophic disaster."
Houlton went on to say that the money transferred to ICE from FEMA "could not have been used for hurricane response due to appropriation limitations."
The documents, however, show that the transferred amounts include $332,999 from disaster recovery, $1.9 million from disaster response, and $2.1 million from preparedness and protection funds. BuzzFeed News has reached out to Houlton for clarification and further details but did not immediately receive a response.
The transfer is a small portion of FEMA's overall $15.5 billion budget. The disaster relief agency did not immediately respond to a request for comment Tuesday night.