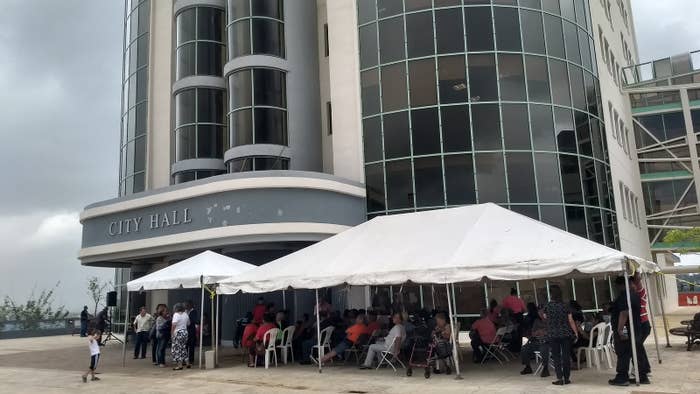 SAN JUAN, Puerto Rico – One week on from the president's visit to the city of Guaynabo in Puerto Rico, residents still don't have electricity and the majority still don't have drinking water, local officials told BuzzFeed News.
"There's no electricity, and water has arrived at two or three neighborhoods, but very few," said Roberto Garcia, assistant to Guaynabo's mayor, Ángel Pérez Otero.
Last week, Trump visited Guaynabo during his hours-long Puerto Rico trip: He walked down part of a street close to the mayor's office to talk to residents, and visited a local church ("the largest English-speaking church in Puerto Rico", the pastor there told BuzzFeed News), where he handed out food and supplies to people before tossing rolls of paper towels to people in the crowd.
"Flashlights, you don't need 'em anymore. You don't need 'em anymore," he said at one point while handing them out.
The city, a 20-minute drive outside San Juan, is one of the economically better-off areas of the island. The municipality's median household income was $34,719, according to the latest census data, compared to $19,350 in Puerto Rico as a whole. But residents are still struggling without electricity, cell phone service, and water — three weeks after Hurricane Maria tore through the island and one week after the president's visit.
"Guaynabo is a city with a lot of bankers and influential people," said Garcia. "But there are a lot of less well-off people especially outside the center, who are in serious need."
Outside Guaynabo's city hall on Tuesday afternoon, a few dozen people lined up under a tent in heavy rain, waiting for help from municipal employees who were helping people fill out FEMA forms and making a list of their needs.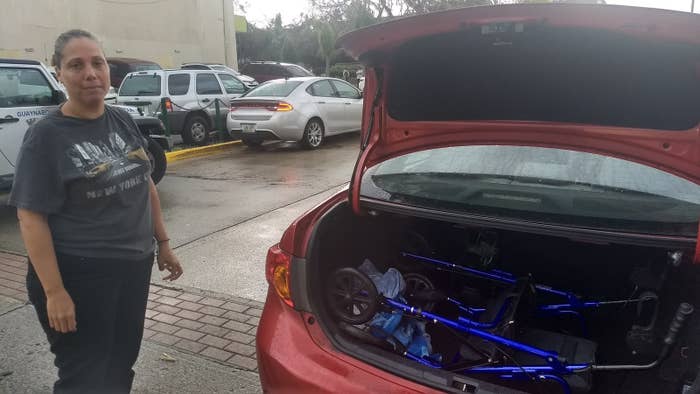 "We're looking for help. Everyone is without water and electricity. The house was flooded and the food is all ruined," said Luz E. Cruz, who was with her 82-year-old mother Florentina Rodriguez, who has lived in Guaynabo her whole life. "The very little that I have heard, because I don't have a radio, is that we're all waiting for the help to arrive. … Because some of the roads are still not clear, help is slow to arrive. So you have to go find it yourself. But you don't even know where to go unless a neighbor happens to know and we talk amongst ourselves."
Doris Morales, 74, was also waiting outside of city hall, hoping for information about FEMA aid for food. Morales, a retired school director and counselor has had water since last Tuesday but still has no electricity, and the apartment building she lives in doesn't allow people to have generators.
"The biggest priority is food. Not everybody has the money to go buy food from outside every day. And if you go to the supermarkets the shelves are practically empty," she said. "You can't tell the world that we're okay, we're not okay, we're not okay, we're not okay."
She said that despite the frustrations residents of Guaynabo are facing, she thinks the president should have gone to parts of the country that are worse off.
"He came [to Puerto Rico], but he came here, where practically nothing happened. They said he came but they brought him here, where there was practically no damage. But if you go to the center of the island there's so much destruction, that's what is painful. They don't have food or water," she said. "He brought water to a five-star city."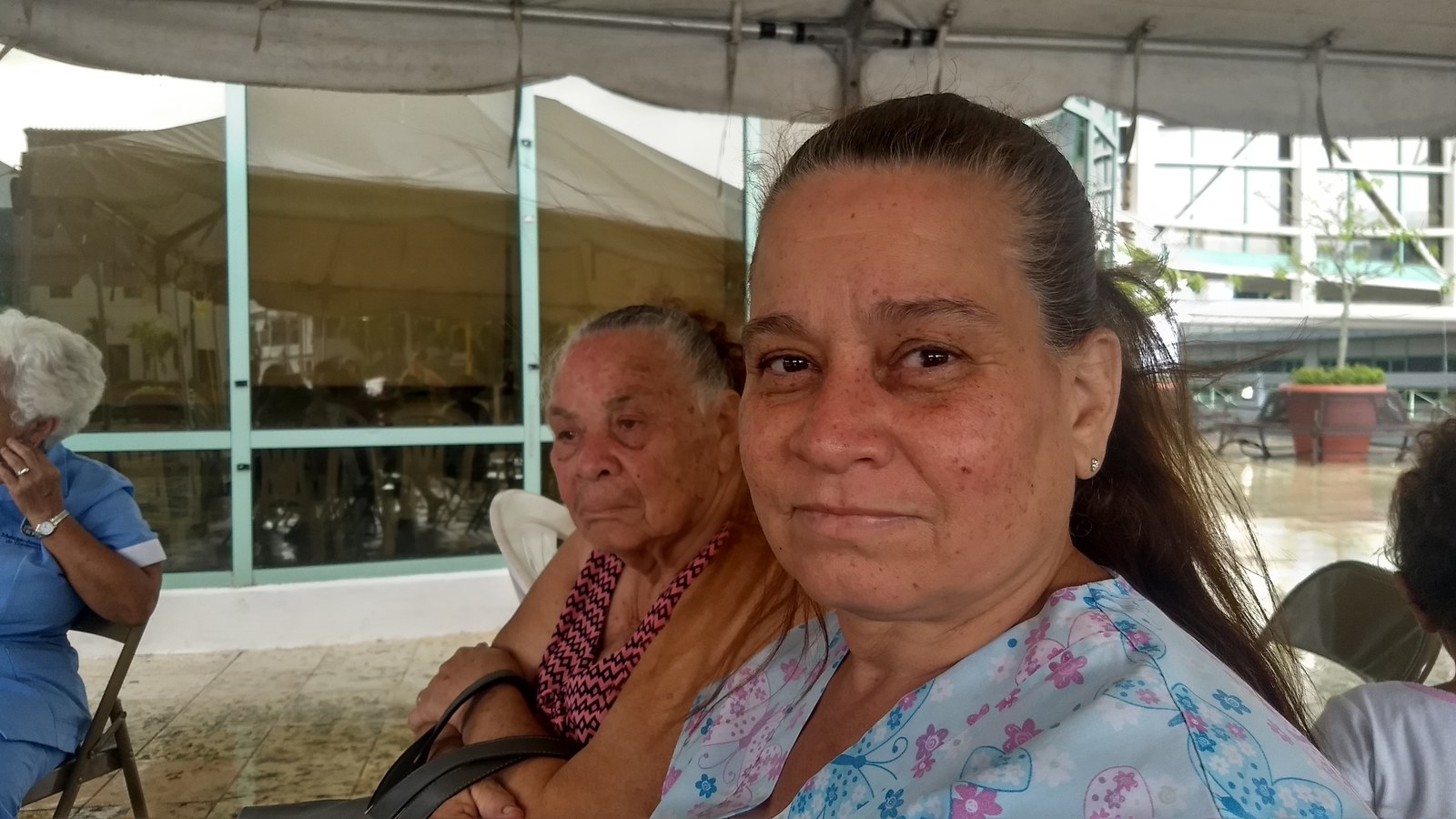 Rosalia Bayez, 51, was waiting outside city hall with her 76-year-old mother. She said she was staying at her mother's place with her two siblings because all three had significant damage to their homes. She said the family doesn't have electricity or water.

"It's very difficult. We get by with candles or torches, and we are eating just one meal per day," said Bayez, a nurse attendant for the elderly. "There isn't a lot of food in the shops."
A few minutes' drive away, the neighborhood of Muñoz Rivera, is where Trump walked down a street, talking with a few residents outside their home. The area didn't experience as much damage as many others in Puerto Rico, partly because most houses in the area are made of concrete, not wood, which means they were better able to withstand the high winds and flooding that came with Maria.
Talking to one man who had lost a few windows but whose house was otherwise intact last week, Trump said, "That's fantastic. Well, we're going to help you out. Have a good time."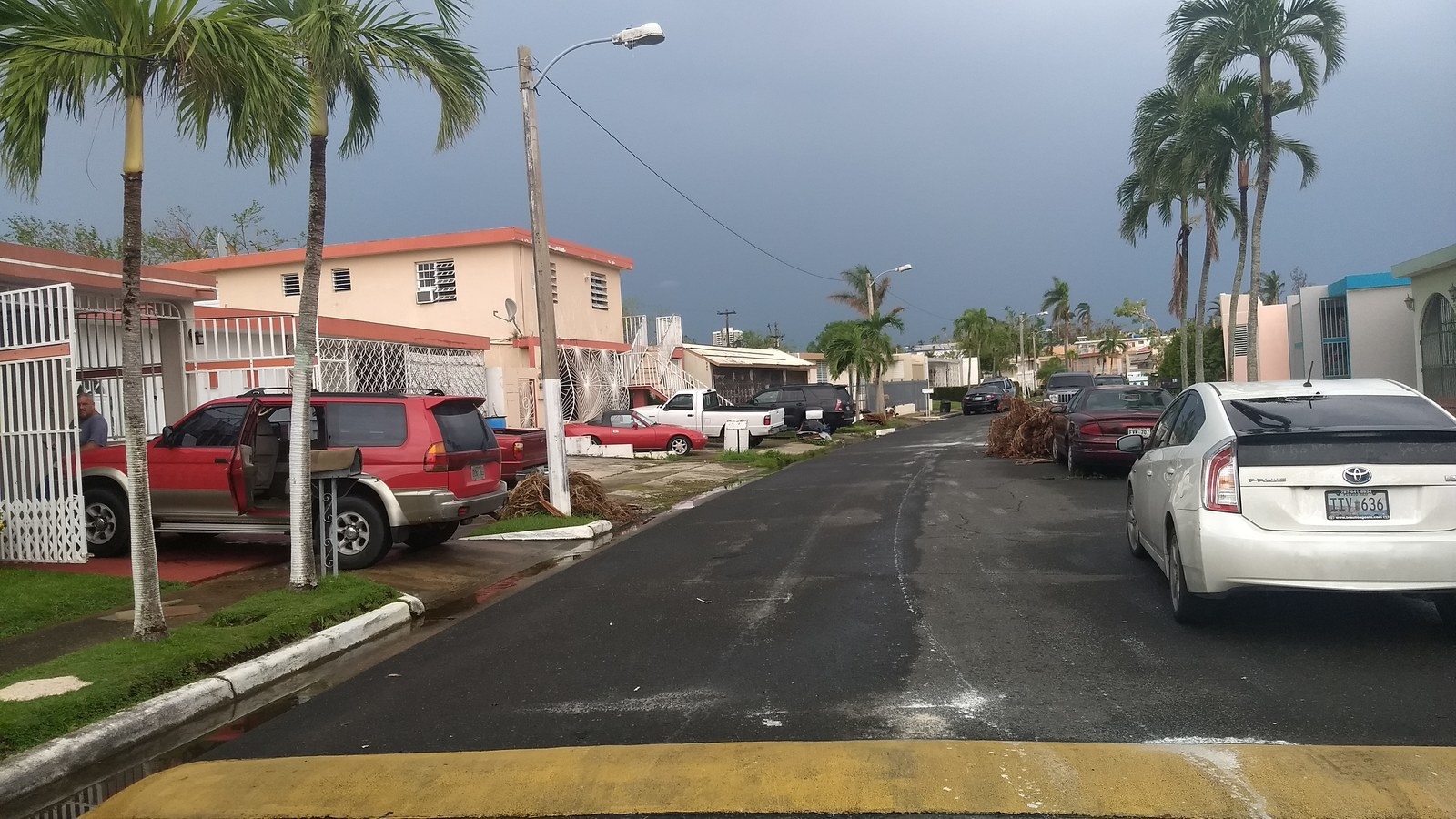 Some residents told BuzzFeed News they have been without electricity since Hurricane Irma hit — more than a month ago. Still, many said they thought the president should have visited a harder hit part of the island instead of their neighborhood.
BuzzFeed News has reached out to the White House for comment.
"He shouldn't have been here," said Alex Claudio, 41, who saw the president from across the street but didn't get to talk to him. "He should have gone to the countryside or parts of the country where there was real devastation."

One of his neighbors across the road, 78-year-old Milka Gonzalez said she's been without electricity for more than a month, but that water has returned to her house, which lost several windows on the second floor during the storm.
"This is a part where all the houses are cement, but if you go to the central parts of the island they'll tell you it's total destruction," she said.
The president stopped outside her house last week to talk to her and her family.
"He was very nice, he treated us with a lot of respect. … But what I don't understand is why they didn't take him to any of the very destroyed villages," she said, adding that her son told Trump he should see the destruction in the countryside, and in areas where people have houses made of wood.
"He said, 'We'll look into it'," she said.
Trump also stopped to speak to another neighbor, Adelaida Gerebalde, 68, who said both the president and the first lady, who was with him, were friendly.
"I think people have to have a little more faith," Gerebalde said. "I know they will come to help."
Around the corner, Ana Cortes, who didn't see Trump when he passed through, was less optimistic.
"He went to see one home that practically didn't have any damage," she said. "There are people who are dying in the countryside. He needs to reevaluate the situation and send help as soon as possible, to repair the electricity and water and get people food to eat."
Her next-door neighbors, Lucy and Maite Otero, 84 and 30 years old respectively, said they lost a large window in the front room and some tin roofing, which went flying into Cortes' wall next door during the storm. But because both houses are cement, the damage to walls was minimal.

"It's disrespectful. If you come here you can't sit at a press conference and say that nothing happened here," said Maite Otero, of the president's visit. "He just went to the best house here in the neighborhood."

"And then to compare this to Hurricane Katrina and say 'It was only 16 deaths, so it's not a real tragedy," she said. "I would say that he should be empathetic to the situation that's unfolding in his country."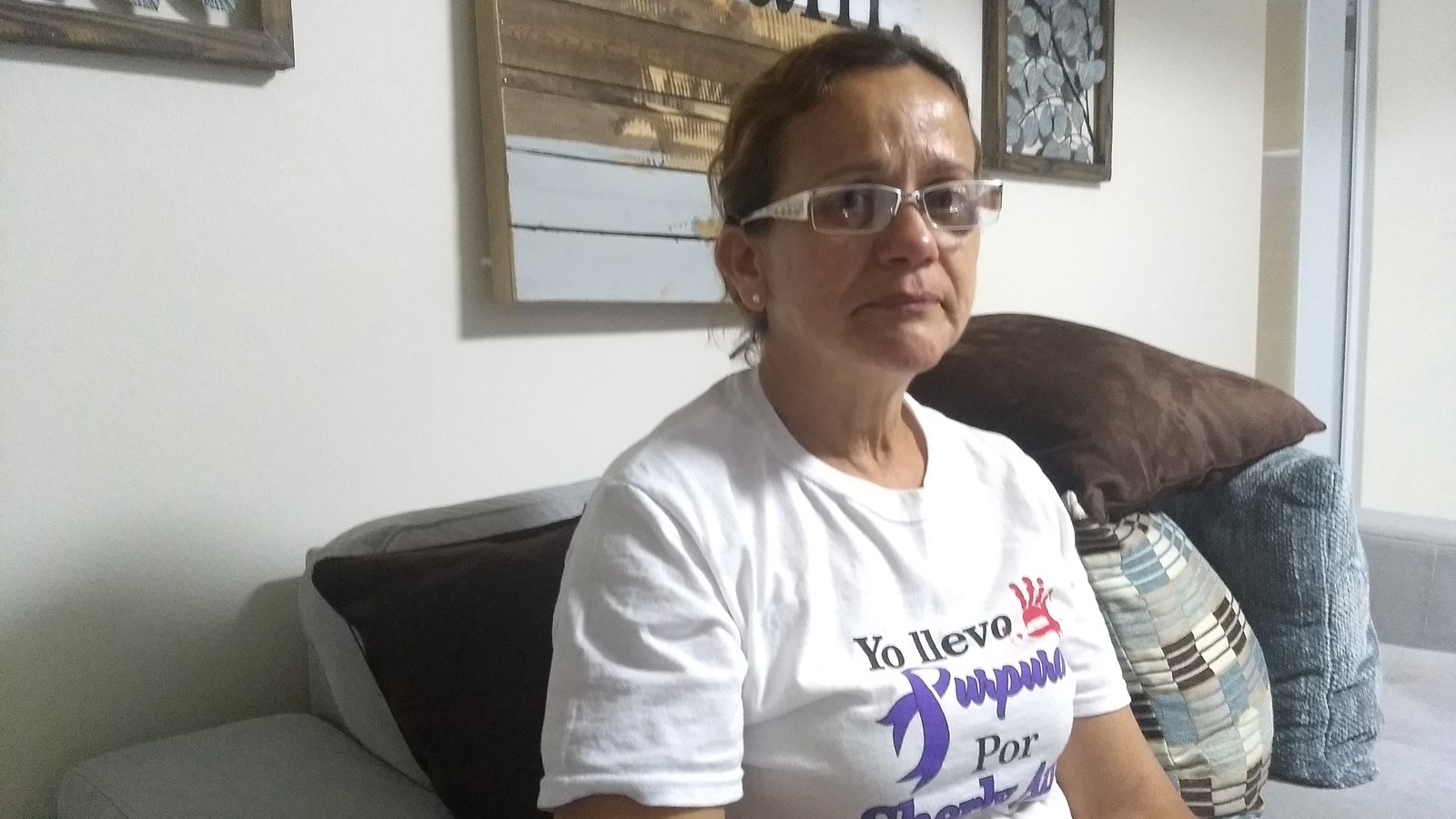 About 20 minutes outside the city center, in the hills of Guaynabo, 27-year-old Sherly Ann Gore Avila is bedridden, after a high-profile case earlier this year in which her then-partner allegedly attacked her. She was left quadriplegic and her family has been struggling to make sure her medical needs are taken care of.

They've been without running water or electricity since Hurricane Irma hit, so they're making daily trips to a mountain spring nearby for water and have a generator that requires propane gas to keep Avila's room air-conditioned and powered — she has a compromised immune system and needs to be in a mechanical bed to be able to sit up.
"Right now she's so full of sadness for all this, but she has a fighting spirit," said Irma Avila Suarez, her mother, who went to Guaynabo City Hall to ask for help last Wednesday, the day after the president passed through town. "She wants to fight to get better. She's very friendly and is a bit of a jokester."
"It's hard having a daughter who was in perfect health, to have her going back to being like a little girl," said Suarez.
She said that while the mayor's wife went to visit them and brought some supplies on Monday, the family is still in a precarious position because she lost her job at the municipality a few years ago and her husband's work has been intermittent because of the power outages in the area. And she said the family can't afford a vehicle that would be equipped to transport her daughter to a hospital safely.
"If we had to call an ambulance for her we couldn't," she said, because cell phone reception is still out in the area. "We pray that she stays okay because we are in a terrible situation."
"Really Puerto Rico is in a serious crisis because of the electricity," she said.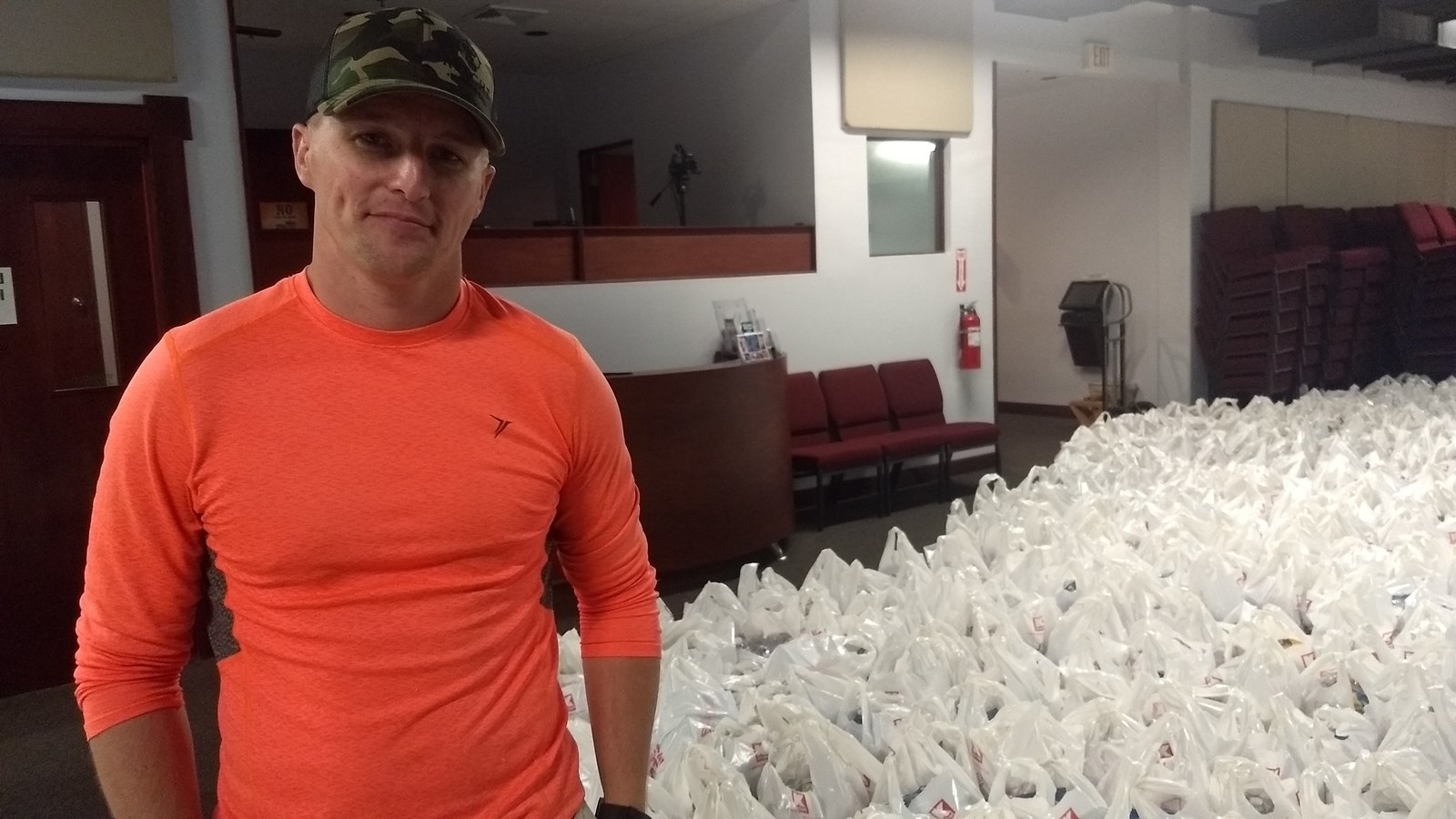 Back in the center of Guaynabo, at the Calvary Chapel where Trump held a press conference and threw paper towels out to a crowd of people (many of whom were brought in from a nearby shelter), the trip was viewed as positive. Pastor Jason Dennett said, "It was a totally positive environment here. Everybody was laughing, it was positive, it was joyful."
Dennett said the visit came about because a secret service agent assigned to the president's detail used to be a member of the church when he lived in Puerto Rico several years ago.
The church is providing 500 meals per day and bottles of water to locals, Dennett said. It's located inside a shopping mall, where most shops are open because they're operating with the use of generators.
He said the church, which has around 600 members, has a partnership with the mayor's office to coordinate distributing supplies, which they're receiving from other Calvary churches around the world.
"This could be a template. Churches should be working with people," he said.
The stairway leading down to the church was pitch black on Tuesday afternoon because they're trying to conserve fuel for the generators. A church member who was leaving the building on Tuesday said she was there last week for Trump's visit.
"I think that having somebody of that caliber come to the church furthers god's message and is a way for us to get the word of Jesus Christ out and teach others about Jesus," she said. "He will spotlight us and we can use his position to spread Christianity."
CORRECTION
Pastor Jason Dennett's name was misspelled in a previous version of this post.