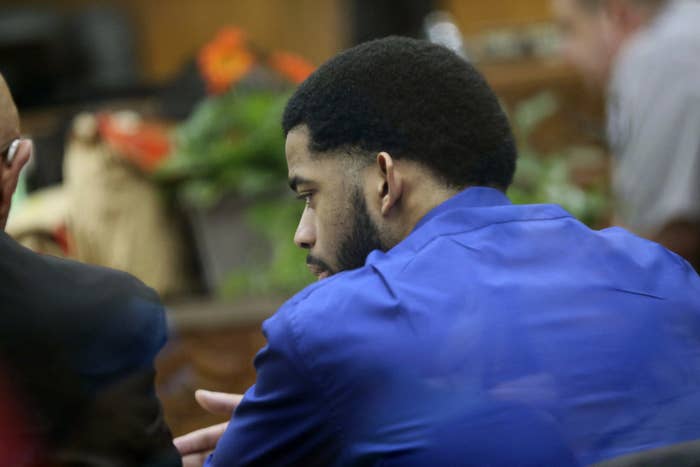 A former Milwaukee police officer was found not guilty on Wednesday of reckless homicide in the August shooting of a 23-year-old black man, which led to two days of violent protests.
Former officer Dominique Heaggan-Brown would have faced to up to 60 years in prison if he had been convicted.
At the prosecution's request, jurors were also given the option to deliberate over two lesser offenses — second-degree reckless homicide or homicide by negligent operation of a dangerous weapon — if they were not convinced the District Attorney made the case for negligent homicide, the defense attorney told BuzzFeed News. The jury on Wednesday also acquitted Heaggan-Brown of those charges, which carry maximum sentences of 25 years and 10 years respectively.
Heaggan-Brown shot Sylville Smith twice on August 13 after a traffic stop, according to the criminal complaint.
Smith fled on foot from Heaggan-Brown and two other officers, and body cam footage later showed that he was armed when the officer first shot him in the bicep. The second shot, however, which hit him in the chest, was fired after Smith had thrown his gun over a fence and he had collapsed on the ground. The jury was shown the footage last week.
Heaggan-Brown's attorney, Jonathan Smith, said he's pleased with the outcome.

"It's very gratifying to us as attorneys and it's very gratifying for Mr. Heaggen-Brown, who has endured this since August 13th," Smith told BuzzFeed News on Wednesday afternoon. "I don't think any officer who joins a force ever wants to be put in this situation and we certainly have not lost sight of the fact that a young man lost his life."
"I'm absolutely sick. I'm just going to find the people and support the family now. I don't know what's happening in Milwaukee," Markasa Tucker, 38, a member of the activist group Uplifting Black Liberation and Community (UBLAC) Milwaukee told BuzzFeed News immediately after the verdict was announced.
An attorney representing Sylville Smith's family announced after the verdict that they have filed a lawsuit against the City of Milwaukee and former officer Heaggan-Brown.
"Heaggan-Brown should not have been on the street the day he killed Sylville—he should have never been hired and should have been disciplined when he engaged in a pervasive pattern of excessive force and misconduct. The City of Milwaukee, however, disregarded the obvious and, through its policies and practices, caused this tragedy," the lawsuit, provided to BuzzFeed News by attorney David Owens, reads.
In his closing statement on Tuesday, Smith argued that the officer's actions in a time-sensitive situation were not negligent, Fox 6 Milwaukee reporter A.J. Bayatpour reported.
"Officers are forced to make split-second decisions — split-second, literally, in circumstances that are intense. Twelve seconds. Twelve seconds from the time he leaves the car through the second shot. That's rapidly-evolving," Smith said.
Milwaukee County District Attorney Jonathan Chisholm, in his closing arguments, told jurors that the officer knew Smith did not present an imminent threat when he fired his second shot, Bayatpour reported.
"He knew at the time he fired that second shot, when that bullet went ripping through Sylville Smith's chest, ripping into his heart, ripping into his lung and ending up in his lower back, he knew at that point in time that there was no imminent threat," Chisholm said.

On Wednesday afternoon after Heaggan-Brown was acquitted, Chisholm told reporters at a press conference, "I don't agree with the decision, but I have to respect it."
The judge ordered cameras and cell phones to be banned from the court room during the trial. The jurors deliberated for close to 24 hours before reaching the verdict Wednesday afternoon.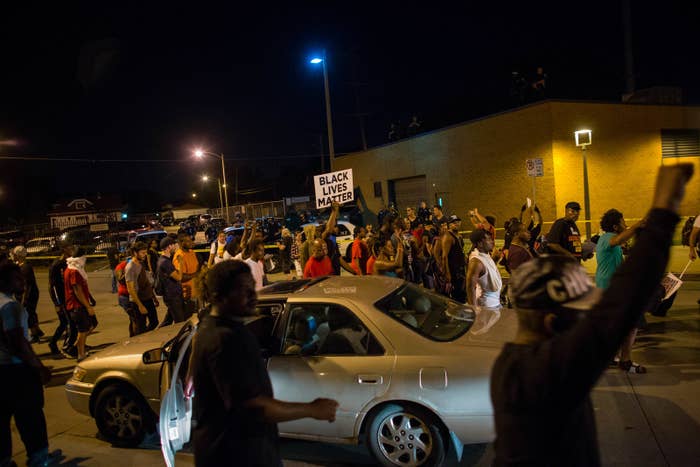 News of Smith's shooting lead to a weekend of intense protest in Milwaukee's Sherman Park neighborhood. At least six buildings were set on fire, more than a dozen people were were arrested and Wisconsin Governor Scott Walker activated the National Guard.

The shooting came just one month after two other police shootings of black men that gained nationwide attention: Alton Sterling in Baton Rouge, LA., and Philando Castile in St. Paul, MN. Last week, the officer who shot Castile was also found not guilty of second-degree manslaughter. The two officers involved in Sterling's killing have been suspended from the Baton Rouge Police Department. They are not facing criminal charges.
Haeggan-Brown was not suspended or fired over the shooting. In October last year, he was arrested and fired from the police force in relation to a separate case in which he was charged with multiple counts of sexual assault and prostitution. Following an investigation by Milwaukee County District Attorney John Chisholm, he was charged over Smith's death in December.
The former officer will be tried on the sexual assault and prostitution charges in court in August, his attorney said.