The Broward Sheriff Just Said He Won't Resign
"I exercised my due diligence. I've given amazing leadership to this agency."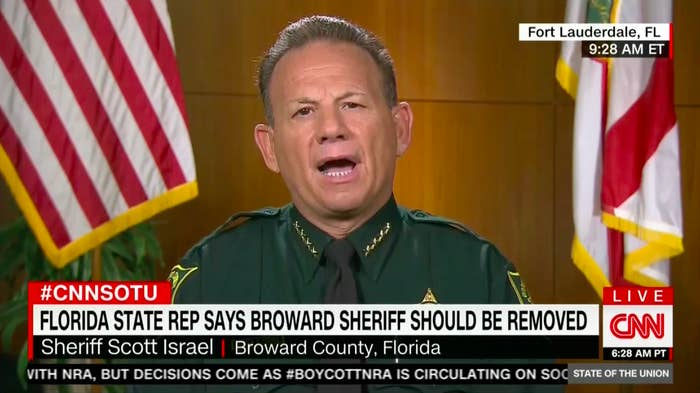 Broward County Sheriff Scott Israel said Sunday that he won't resign, after reports that armed county deputies from his department were on the scene but did not enter Marjory Stoneman Douglas High School during the shooting in Parkland, Florida, in which 17 people were killed.

Florida state Rep. Bill Hager wrote a letter to Gov. Rick Scott on Saturday calling for Israel's resignation.
"It was a shameful letter. I will not resign," Israel told CNN's Jake Tapper on State of the Union. "I never met that man. He doesn't know anything about me and the letter was full of misinformation."

On Saturday, Coral Springs police officers told CNN that when they arrived on the scene of the shooting, they saw four armed Broward County deputies waiting outside while the shooting continued inside the school.

Israel acknowledged that one deputy, Scot Peterson, was outside the school and didn't go in while the shooting unfolded. Peterson was suspended without pay and resigned last week.
Israel said the reports of the other deputies on the scene not acting are still being investigated.

"At this point we have no reason to believe that any one acted incorrectly or correctly. That's what an investigation is," he said.

Israel heavily criticized the NRA during a CNN town hall Wednesday, calling for tighter gun control laws in the wake of the shooting.
On Sunday, Tapper asked whether the sheriff knew of the reports about Peterson and other deputies during the town hall, when Israel spoke to members of the Marjory Stoneman Douglas school community without mentioning the reports.
Israel admitted that investigators told him about the reports earlier in the day, but said he hadn't yet reviewed video of the incident. He said he didn't know exactly when he found out that Peterson had not entered the building during the shooting, but that it was "not for days" afterward.
"I looked at the video as soon as our investigators — it wasn't my job to look at the videos. It was the investigators' job to look at the video. I'm still sheriffing this county. There were many things to do," he said, adding that as soon as he saw the video Thursday, he notified the school families and took disciplinary action that led to Peterson resigning.
Tapper also asked Israel about the fact that the sheriff's office received 18 calls about shooter Nikolas Cruz before the shooting.

"Jake, on 16 of those cases our deputies did everything right. Our deputies have done amazing things ... One person at this point, one person didn't do what he should have done," Israel said, adding that two cases were under investigation.
BuzzFeed News obtained records of at least 45 calls the department responded to involving Cruz since 2008.

Tapper asked about specific complaints to Israel's office about Cruz over the years, including one on Nov. 30, 2017, in which the caller said Cruz could be a "school shooter in the making," but no report was created and sent on to federal authorities to investigate.

Israel responded that "if that's accurate," a report should have been filed, and that the officer who handled the call is on restricted duty pending an internal investigation. But he defended his leadership of the agency before the shooting.
"Are you really not taking any responsibility for the multiple red flags that were brought to the attention of the Broward Sheriff's Office about this shooter before this incident, whether it was people near him, close to him calling the police?" Tapper asked.

"I can only take responsibility for what I knew about," Israel said. "I exercised my due diligence. I've given amazing leadership to this agency."
UPDATE
After calls from Republican legislators in Florida for Israel to be suspended, governor Rick Scott said on Sunday that he won't suspend the sheriff but that the state's Department of Law Enforcement will investigate how the response to the shooting was handled.
"I have asked for FDLE to immediately investigate the law enforcement response and will continue to review this matter as more facts come out. There must be an independent investigation and that is why I asked the FDLE Commissioner to immediately start this process," the governor said in a statement.