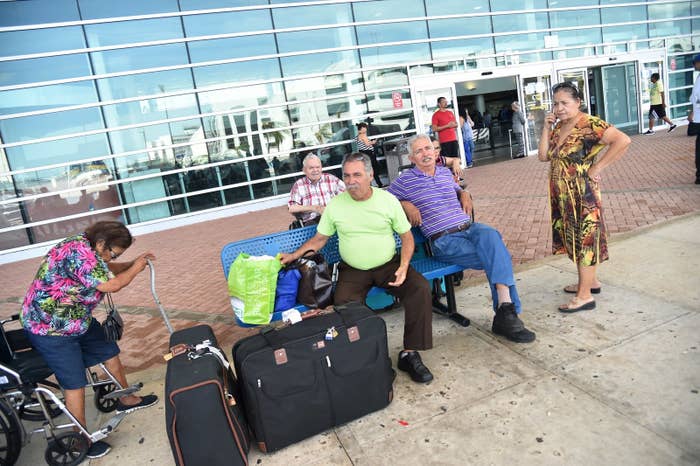 Days after Hurricane Maria tore through the Caribbean, hundreds of people are still stranded at Puerto Rico's largest international airport just outside San Juan with no air conditioning and limited food.

For at least three days, since Luis Muñoz Marin International (SJU) Airport re-opened, people have been waiting to leave while a limited stream of flights operate.
The SJU airport authority said in a statement on Sunday that the airport is still operating under emergency conditions, with just 10 flights per day allowed in and out of the facility.
"We continue to operate with emergency plans, so there is no air conditioning and certain services are limited," the statement said.
The authority did not immediately respond to a request for comment, but a spokesperson for Delta Air Lines said they had been told that 20 flights per day would be allowed starting Monday. The airline ran one flight per day over the weekend, with two (one to New York and one to Atlanta) scheduled on Monday. They normally operate six flights in and out of San Juan on a regular day.
One woman, Claritza Brown, wrote on Facebook that she was stuck in the airport trying to get home to Baltimore. "You dragged all of us through torment," she wrote on the airport authority's Facebook page.
Brown told BuzzFeed News she and her husband were stuck in the airport for three days after their Saturday flight (which was originally scheduled for Friday) was cancelled. They had been in Puerto Rico for a week-long visit.
The couple "barely slept due to how hot it was and a hard dirty floor," Brown said. And though they were able to find food, supplies were limited and required payment — a problem because ATMs in the airport weren't working.
"The airport didn't care, and it was scary to think we could possibly have to fight to eat of we had nothing left. We never experienced such a situation," she said. "It was most upsetting because we knew we were not the only ones. And most of us who bonded stuck together to survive and find comfort in knowing we are in it together and will help each other out."
Brown said she was finally scheduled to leave San Juan on a 2 p.m. flight to Chicago on Monday.

The spokesperson for Delta Air Lines said the company had brought in 20,000 pounds of supplies on a humanitarian flight on Saturday, and that some of those supplies were for stranded passengers and employees.

"Those supplies that we're moving into the airport are both for our employees as well as customers at the airport," the spokesperson told BuzzFeed News. "To the extent that we can increase the number of operations — and this is still pending with the airport authority there — but hopefully that will come to fruition tomorrow that we can begin to operate a more normal schedule and begin to move customers out of there."
People, including elderly travelers and small children, slept on the floor in the hot, humid conditions in the airport over the weekend and on Monday.

On Sunday night, Miami Herald Reporter Patricia Mazzei, on her way back to Miami from the airport, wrote "SJU airport is a mess. Terminal is powerless: dark, hot and absolutely packed with stranded travelers and would-be travelers."

CBS News' David Begnaud reported that though lighting had been restored, the situation had otherwise not improved on Monday morning. Begnaud reported that the only airline representative he was able to find at the airport was a United Airlines staffer.
Puerto Rico Governor Ricardo Rosselló told Begnaud he plans to send food supplies to people stranded at the airport.

American Airlines told BuzzFeed News they have one flight arriving and departing from the airport on Monday, which can carry up to 310 passengers. On a regular day, the airline normally runs up to 20 flights out of the airport.
"We are working to assist our customers, and get them rebooked on the next available flights. It is just important to know that all airlines are restricted on the number of flights they can operate," a spokesperson for the airline said.
Spirit Airlines said they are resuming service with one flight out of San Juan to Orlando on Monday, and hope to have two flights up and running by Tuesday.
"We are doing our best to get as many supplies, volunteers, and team members into Puerto Rico and as many people out of Puerto Rico as soon as we are able to do so," a Spirit spokesperson told BuzzFeed News when asked about what assistance is being offered to stranded passengers at the airport.

United Airlines said they have one flight per day scheduled to bring in relief supplies and resources.
"We are not operating any revenue flights to Puerto Rico at this time. For our recovery in San Juan, we are currently allocated one slot per day, based on the compromised infrastructure. The conditions on the ground are tenuous and challenged by a lack of power, transportation and hotels," a spokesperson said.
A spokesperson for Southwest Airlines told BuzzFeed News the airline ran one flight on Sunday, which took supplies to the island and returned with 126 passengers, and another on Monday, which returned with 166 passengers.
"With the access to SJU still so limited, we have canceled our scheduled service through at least Tuesday, Sept. 26. This includes the cancelation of our originating flights from SJU on Wednesday, Sept. 27. It is our hope to begin operating a very limited schedule from San Juan starting later on Wednesday," the spokesperson said.
A spokesperson for FEMA told BuzzFeed News they have more than 700 FEMA staff on the ground in Puerto Rico and the U.S. Virgin Islands but did not respond to questions specifically about the conditions at Luis Muñoz Marin International Airport and whether FEMA was sending assistance to the people stranded there.

San Juan's airport authority and Jet Blue, which also usually operates flights out of San Juan, did not immediately respond to requests for comment.