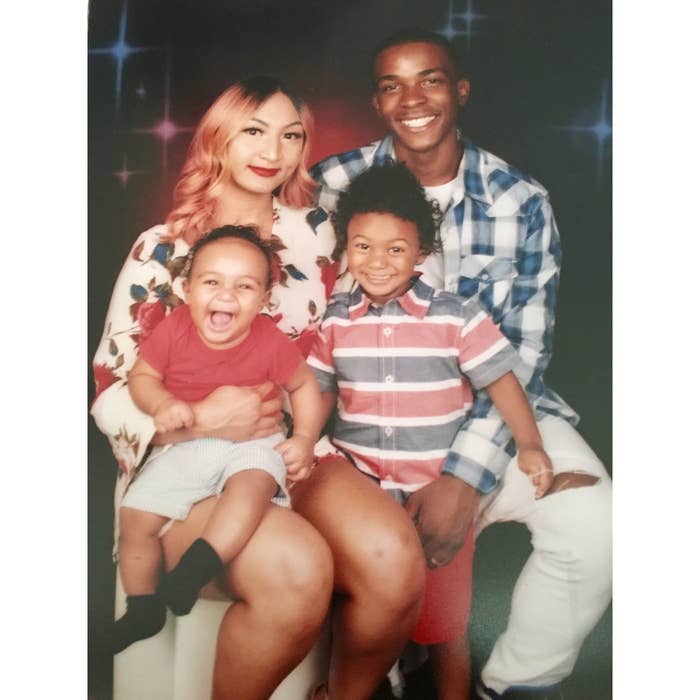 Police officers responding to reports of a possible burglary in Sacramento fatally shot an unarmed 22-year-old black man in his own backyard after they say he came at them with what looked like a weapon.

Stephon Clark, who was identified to reporters by his family, was declared dead at the scene on Sunday. The two officers each fired 10 rounds, but it was unclear how many times he was hit, pending the results of an autopsy, a police spokesperson said in a statement to BuzzFeed News.
The two officers were responding to a call from a neighbor reporting a man breaking car windows and hiding in a backyard.

On Wednesday evening, detectives released audio and video from the officers' body cameras during the shooting, as well as footage from a sheriff's department helicopter overhead.
In a statement to BuzzFeed News, a department spokesperson said "detectives are still investigating the incident that led up to the shooting, including who was responsible for the damaged vehicles."

In one bodycam video, the officer shouts, "Hey! Show me your hands! Stop! Stop!" as Clark runs away from them toward the backyard.

"Show me your hands! Gun gun gun!" the officer shouts again, before firing several rounds.

The helicopter footage starts with officers in the helicopter saying the suspect "just broke the window, now running south" as a figure jumps a fence and walks toward another car parked alongside a house, where officers are seen approaching. The figure then turns and runs into the backyard, where he collapses on the ground as an officer says over the radio, "Shots fired, shots fired."
The residence where police approached Clark is the house where he lived with his grandparents and siblings, according to family members.
"Officers entered the front yard and observed the suspect along the side of the residence. The officers gave the suspect commands to stop and show his hands. The suspect immediately fled from the officers and ran towards the back of the home," the police department said in a statement.
According to police, Clark then turned back around to face the officers and extended something they thought was a gun toward them. They opened fire, "striking the suspect multiple times." They then held their positions for five minutes before trying to resuscitate him.
When asked by city council members on Tuesday about the five-minute delay, Police Chief Daniel Hahn said it was still under investigation.

Cops only found a cell phone at the scene — no weapon or toolbar as had been suspected. A cinder block and piece of foil were also found outside a neighbor's shattered glass door.

Clark's aunt, Shernita Crosby, disputed the police department's claim that Clark faced the officers and held an object toward them. She told KTXL he had been shot in the back.

"An innocent black man, going to his grandma and grandpa's house where he lived," Crosby said. "How are you going to explain that? How are you going to justify that?"

It's not clear from the bodycam footage whether Clark turned back toward the police. Hahn told council members on Tuesday he did not know where on his body Clark was shot.
"The coroner's report is not completed yet and we don't have it," he said. "So I don't know where his injuries are."
Clark's grandparents, who were inside the house with his sister at the time, told local news outlets they heard gunshots and called 911 but didn't hear anyone shouting commands before that.

His grandmother, Sequita Thompson, told KTXL that officers knocked on her door, but didn't tell her until several hours after the shots were fired that anyone had been killed in the backyard. And then it was only when she looked out her window that she realized it was her grandson's body.
"They finally told me hours later that there was a victim dead in the backyard … He was right there, dead. I told the officers, you guys are murderers, murderers," she said.
Thompson told the Sacramento Bee that her grandson and others would often knock on the back window of the house to ask her or her husband to let them in through the garage door, which they use as the main entrance because of their poor mobility and a broken front doorbell.
Clark's family also told the Bee that the man, whose legal name was Stephan but went by Stephon or Zoe, was a father of two and graduated from Sacramento High School.
"I have to wake up every morning to my kids asking me, 'Where's daddy? Let's go get daddy,'" Salena Manni, Clark's girlfriend, told ABC 10.
The shooting is being investigated by the police department, along with the Sacramento County District Attorney's Office, the Sacramento City Attorney's Office, and the city's Office of Public Safety Accountability.