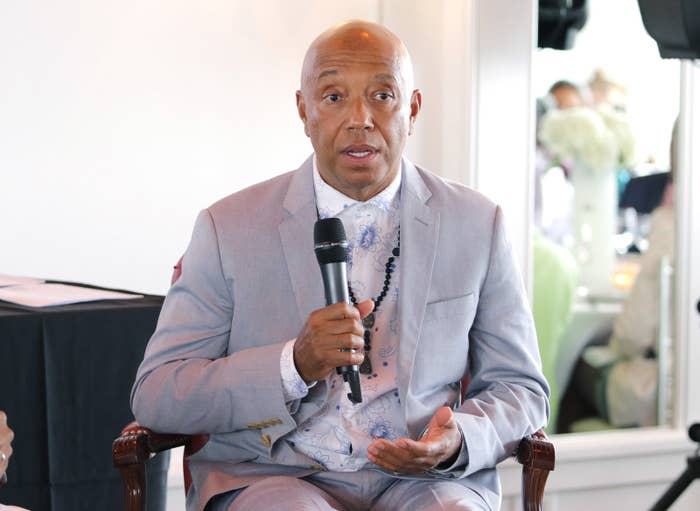 Music producer and businessman Russell Simmons has been accused of sexually assaulting a 17-year-old model in his New York City apartment in 1991, while director Brett Ratner allegedly watched.

The model, Keri Claussen Khalighi, told the Los Angeles Times on Sunday that Simmons assaulted her after he and Ratner took her back to Simmons' apartment after dinner one night to show her a music video they had been working on.

Simmons denied the allegations in a Facebook post on Sunday morning, and Ratner's lawyer told the LA Times in a statement that he had "no recollection" of Khaligi asking him for help or protesting during the incident.
Khaligi told the newspaper Simmons started taking off her clothes and making sexual advances toward her, while Ratner was in the room.
"I looked over at Brett and said 'help me' and I'll never forget the look on his face," she told the LA Times. "In that moment, the realization fell on me that they were in it together."
"I fought it wildly," she said. Eventually Simmons coerced her into oral sex, she alleges. Soon after, she took a shower — at which point, she alleges, Simmons came up behind her in the shower and penetrated her without her consent.

"It hurt so much," Khaligi told the paper. She alleges that Ratner "just sat there and watched" while the incident unfolded.
Simmons, in his statement on Sunday morning, said he knows Khaligi and remembers spending time with her one weekend in 1991, but denies that he assaulted her.
"Everything that happened between us 26 years ago was completely consensual and with Keri's full participation," the statement reads in part. "We spent time in my apartment over a period of two days and one night, as well as at some public places including Nell's Nightclub. Much of the time we were in the presence of other acquaintances. I'm deeply saddened and truly shocked to learn of Keri's assertions as to what happened over the course of that weekend."
Another woman, Tanya Reid, told the Times that Ratner assaulted her in 1994, when she was an 18-year-old aspiring model. Reid alleges that she met Ratner and Simmons at a hotel in Miami, where she worked at the front desk. She told the paper that after both men made repeated advances toward her, which she rebuffed, Ratner asked her if she would like to be cast in the music video he was working on. She gave him her number and soon after he went to her nearby apartment, where she alleges he forced her to perform oral sex.
Ratner's attorney told the newspaper he did not remember Reid or the incident. Simmons, in his Facebook post on Sunday morning, wrote in relation to Reid's allegations, "I mean no disrespect to her at all when I say I honestly do not recall my telephone conversation with a hotel front desk clerk from over a quarter-century ago."