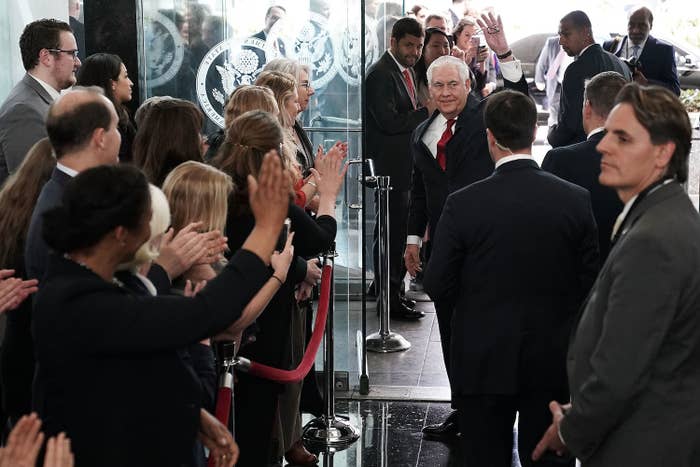 A little over a week after the president fired him via Twitter, outgoing Secretary of State Rex Tillerson on Thursday addressed State Department employees for the last time, advising them to shun the "mean-spirited" ways of Washington, DC.

"This can be a very mean-spirited town," he said to laughter and applause. "But you don't have to choose to participate in that. Each of us get to choose the person we want to be and the way we want to be treated."

He urged State Department employees to "undertake to ensure one act of kindness each day towards another person," and to "never lose sight of the most valuable asset you possess: your personal integrity ... only you can relinquish it or allow it to be compromised."
Last Tuesday, President Trump announced via Twitter that he was replacing Tillerson with CIA Director Mike Pompeo.
Undersecretary of State Steve Goldstein told CNN that Tillerson found out he was officially fired when he saw the president's tweet. Goldstein was then reportedly fired himself.
"We're all just human beings trying to do our part," Tillerson said during his speech on Thursday.
In October, following a report from NBC News that TIllerson might be under pressure to leave his post after he had reportedly mocked the president and called him a "moron," Tillerson told reporters, "I have never considered leaving this post."
He is slated to exit the State Department at the end of the month.