Senate Republicans Still Think Outside Counsel Was A Good Idea, Even If Her Five-Minute Segments Were Awkward
Republicans ceded their time to outside counsel to question Christine Blasey Ford and Brett Kavanaugh, rather than having 11 male senators do it.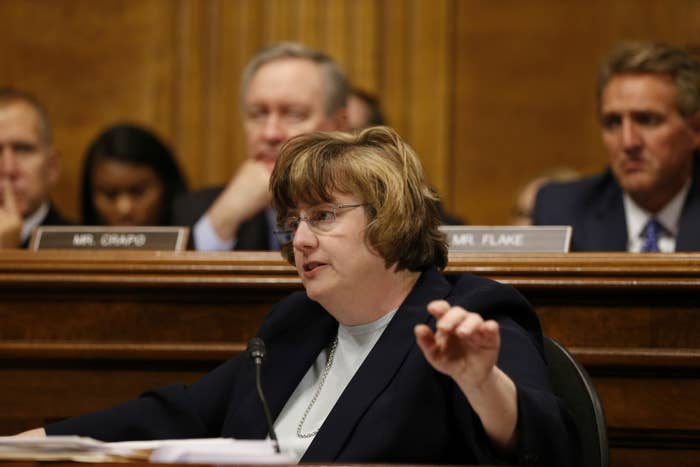 WASHINGTON — Senate Republicans say they're still at peace with their decision to have outside counsel question Christine Blasey Ford and Supreme Court nominee Brett Kavanaugh on Thursday, despite a jarring difference between her prosecutorial style of questioning and the Democrats' approach.
Republicans recruited Rachel Mitchell, an Arizona sex crimes prosecutor, to question Ford, the woman who has accused Kavanaugh of sexually assaulting her in the early '80s, rather than having 11 male senators do it. The result was a stark contrast between Mitchell, who spent a lot of time establishing facts on the Republicans' behalf, and Democrats, who questioned Ford themselves and spent time thanking and praising her for speaking out.
The questioning bounced back and forth between Mitchell and the Democrats with a limit of five minutes to each member, which Republicans said made it harder for Mitchell to complete her lines of questioning. As the majority party, Republicans —and, ultimately, Grassley — had control to set up the hearing how they wanted.
Sen. John Cornyn, a member of GOP leadership who also sits on the Judiciary Committee, said he still thought it was the right decision to hire an outside counsel, but acknowledged that the format was "not great."
"What would be better is if you could develop the evidence and continue the questioning over a period of time," he said.
"I wish she had … more time to ask questions in a row," Sen. Ron Johnson told BuzzFeed News. "I think breaking up in five minutes — that's always difficult in any Senate hearings. It's hard having … any kind of continuity to your questions. So it's unfortunate. I didn't think they were going to do it that way."
Mitchell herself appeared frustrated with the way the hearing was playing out, complaining toward the end of her questioning of Ford that the five-minute time limits were not the best way to question potential victims of sexual assault.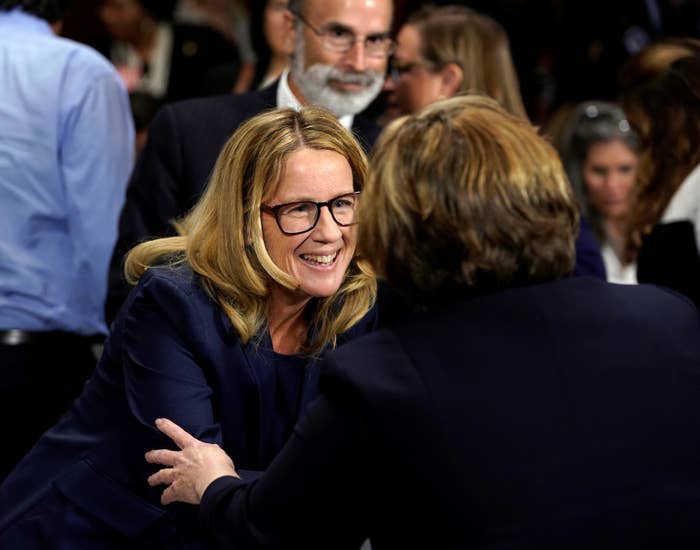 But Republicans hired Mitchell because of concerns about the appearance of 11 male senators questioning her directly, the same issue they had in 1991 when an all-male Senate Judiciary Committee interviewed Anita Hill, a black woman who had accused now–Supreme Court Justice Clarence Thomas of sexual harassment. Throughout the day, some of their members made comments that were seen as evidence for why they needed outside counsel in the first place.

Outside of the hearing room, Sen. Lindsey Graham managed to catch a lot of attention, lashing out at Democrats and saying that Ford hadn't provided corroborating evidence to sway his vote on Kavanaugh. Not long after, one woman approached Graham to tell him she had been raped.
Graham told her he was "sorry," reporters from McClatchy and NBC News said, and then added, "you needed to go to the cops," according to NBC News.
When Kavanaugh spoke later in the day, Graham took over questioning himself, opting out of allowing Mitchell to take his five minutes. Graham spent most of that time speaking with a raised voice and yelling at Democrats, in particular, Sen. Dianne Feinstein: "Boy, y'all want power. Boy, I hope you never get it. I hope the American people can see through this sham. That you knew about it and you held it. You had no intention of protecting Dr. Ford, none!"
After Graham spoke, several other Republicans asked their own questions and abandoned using Mitchell to question Kavanaugh.
Sen. Orrin Hatch, too, spoke on his own during Kavanaugh's portion of the hearing and argued that it was "worse" than when Thomas was accused of sexual harassment by Hill. Hatch did not believe Hill's allegations at the time, voted for Thomas, and as recently as 2010 called on Hill to apologize to Thomas and his wife.
"Anonymous letters with no names and no return addresses are now being treated at national news," Hatch said in the hearing. "Porn star lawyers with facially implausible claims are driving the news cycle. I hate to say this but this is worse than [failed Supreme Court nominee] Robert Bork, and I didn't think it could get any worse than that. This is worse than Clarence Thomas, and I didn't think it could get any worse than that."
Earlier Thursday, Hatch called Ford an "attractive" witness while speaking to reporters. When CNN followed up to ask what Hatch meant by the term, he reportedly responded, "In other words, she's pleasing."
His office was quick to say that Hatch frequently uses the term to describe "personalities" rather than "appearances."
Despite some Republicans saying they were glad they had brought in Mitchell, some of the president's allies were skeptical of the decision. One former White House official told BuzzFeed News that Mitchell's questioning of Ford looked "like a persecution."
Still, Republicans in the Senate said hiring Mitchell was the right move.
"I think I'd rather have somebody who's got 20 years' experience," North Carolina Sen. Thom Tillis said when asked whether Republicans should have questioned Ford themselves.
For their part, Democrats accused Republicans of not doing their jobs by bringing in outside counsel.
"My colleagues have decided to outsource their constitutional duty, and they've just asked her to do a job and she's doing it," Minnesota Sen. Amy Klobuchar said when asked about Mitchell.
"It seems to me that one of the things that you do when you're here and on a committee is you ask your own questions," Feinstein said, but wouldn't go as far as to say whether she thought Republicans had made a mistake in hiring her.
Sen. Richard Blumenthal said Mitchell "if anything is bolstering [Ford's] credibility."
"The nitpicking and seemingly irrelevant questions — why did she fly one place and not another? Irrelevant and perfectly explicable."