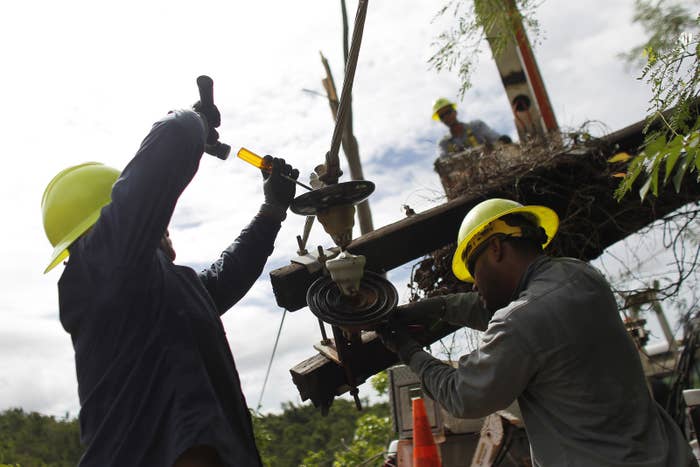 The US Army Corps of Engineers will extend its mission in Puerto Rico, but not help repair the power grid as the storm-ravaged island struggles to get things in order ahead of a new hurricane season, officials announced Thursday.
The Federal Emergency Management Agency (FEMA) partially denied a request from Puerto Rico's representative in Congress, Jenniffer González-Colón, two weeks from the start of another hurricane season — even though tens of thousands of residents on the island, or close to 5% of the grid, remain without power and there are serious concerns about the Puerto Rico Electric Power Authority's capacity to take over the work needed after Hurricane Maria.

FEMA's decision means PREPA and its subcontractors will be entirely responsible for work on the island's power lines starting Friday. Army Corps personnel who stay on for the energy mission will be responsible for maintaining the three "mega generators" and 700 other generators being used as backups and to power parts of the grid until more permanent lines are fixed.
FEMA said the decision not to continue assisting with the grid repairs came "at the direction provided by the PREPA Chief Executive Officer and the Energy Unified Command Group."
It was not immediately clear how many USACE personnel will leave Puerto Rico starting Friday, but there are currently 1,119 workers on the ground, including 637 who were directly working on the power lines.
Army Corps personnel will also continue to oversee "logistics and materials management capability" until PREPA is equipped to take over those responsibilities, the statement added.
Martha Thompson, Oxfam America Program Coordinator for the Puerto Rico response, said in a statement that it was irresponsible of FEMA to pull technical support from the Army Corps of Engineers given concerns that PREPA doesn't have the capacity to complete the restoration in time.
"While the Army Corps of Engineers may have completed their mission as tasked, it is clear the recovery is anything but complete," she said. "It is unacceptable that that nearly eight months since Hurricane Maria, some 20,000 subscribers, comprising more than 70,000 people, remain without power."
The Army Corps was scheduled to wind up operations and leave Puerto Rico on Friday. FEMA's decision comes after requests from González-Colón, the island's resident commissioner in Washington, DC, and Puerto Rico Gov. Ricardo Rosselló, for the contract to be extended another 180 days or until the work is completed.

"I must urge that there be an extension of the mission that allows agency and contract crews to remain in place to see that the system is 100 percent restored," González-Colón wrote in her letter.
Rosselló heavily criticized the Army Corps' work in the months following the hurricane. In November, he told a congressional hearing that the government had chosen to engage in private contracts, such as the controversial Whitefish Energy deal, instead of seeking mutual aid agreements with state utilities, partly because they expected the Army Corps to work faster to restore the grid.

"We chose under the understanding that things were going to pick up quickly," he told lawmakers in November. "It is public record that I was not satisfied with the initial deployment of the Corps Of Engineers."
Disaster preparedness experts have raised serious concerns over the island's ability to weather another storm, emphasizing that the electric grid needs to be not only restored to 100%, but improved with more underground cables and backup systems. Despite the fragile grid, Puerto Rican officials insisted at a press conference earlier this month the government will be better prepared this time around after learning from Hurricane Maria.
Officials have plans to distribute satellite phones and radios as backup communications systems to emergency management offices, police and fire stations, and hospitals by the end of the month. And Rosselló announced that he had met with Airbnb, Facebook, Uber, and solar electricity company Sunrun to discuss innovative solutions to another crippling storm.
"We are ready to respond in a more effective manner," he said.
CORRECTION
Jenniffer González-Colón's name was misspelled in an earlier version of this post.