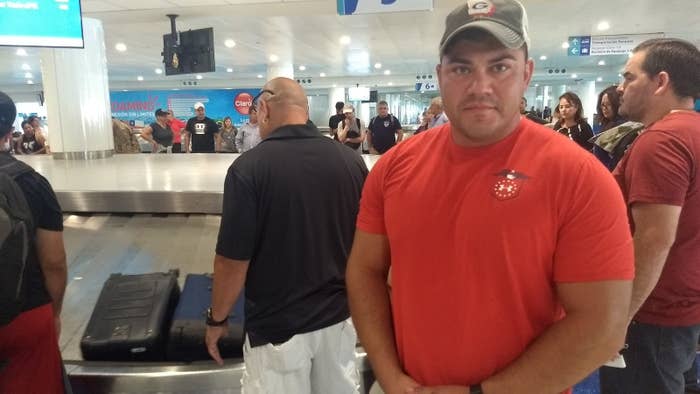 SAN JUAN — More than a week after Hurricane Maria made landfall in Puerto Rico and caused unprecedented destruction, Puerto Ricans who were in other parts of the US for the storm and unable to get home are beginning to trickle back in.
Nelson Cruz-Bianchi, a Sergeant First-Class in the US Army, was among those on a flight early Friday morning. Flying into San Juan and seeing the flattened trees and brown, desolate earth surrounding the city, his main concern was getting out to Jayuya municipality, in the center of the island, to find his dad.
"None of us in my family have heard from my dad since the day before the storm hit," he told BuzzFeed News. "We kind of all think he's okay but we want to know for sure."
He said he'd seen his dad's house on television when a news reporter flew over the region, but still hasn't heard from him.
Cruz-Bianchi said he's based at the Schofield Barracks in Hawaii. This is the first time in three years he's been home.
"It's home, so it's kind of hard to see it like this," he said, struggling not to tear up. "It's always such a beautiful island. But the people are strong and it'll be better than it was before."

His command unit gave him until October 7th to look for his dad and, if he finds him and has time to spare, to help out with local relief efforts. He said he'll seek out the Red Cross after he locates his dad and put him on a plane out of Puerto Rico.
"As soon as I can link up with somebody after I find my dad, I'm more than willing. I've got my gloves, I've got my boots, so whatever they need me to do, I'm ready to do," he said.
Flight service into San Juan's damaged airport is still limited, with about 20 flights in and out of the airport each day — though more flights are being added gradually by major airlines.
The airport, which was hit hard by the storm and where hundreds of people were trapped waiting for flights over the weekend without reliable food, water or air conditioning, conditions are still crowded and hot. The power is back but the air conditioning is still out, and people are still sprawled on the floors and trying to cool themselves down with improvised fans.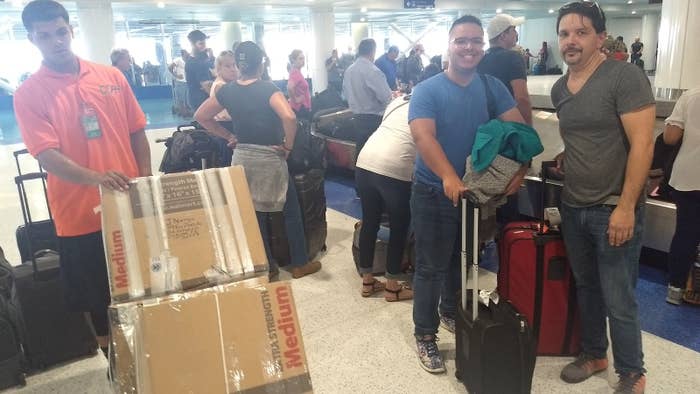 Julio Noriega, 48, and two family members had been trying to get home to Caguas for four days. On Thursday, he started his journey in LA—then transferred at Las Vegas—then finally on Friday morning boarded a flight from JFK to San Juan.

"We've been traveling for too many hours. I've been trying to get home for four days," he said.
Noriega said he'd head from his grandfather once, about a week after the storm hit. His grandfather said the family was okay and their house is intact but their farmstead — which isn't their only source of income but does provide oranges and coffee that the family sells — was completely destroyed.
At the airport, they waited by the conveyor belt for several boxes of batteries, flashlights, first aid kits and basic supplies that they're taking back with them to the city of Caguas, in the territory's center-east.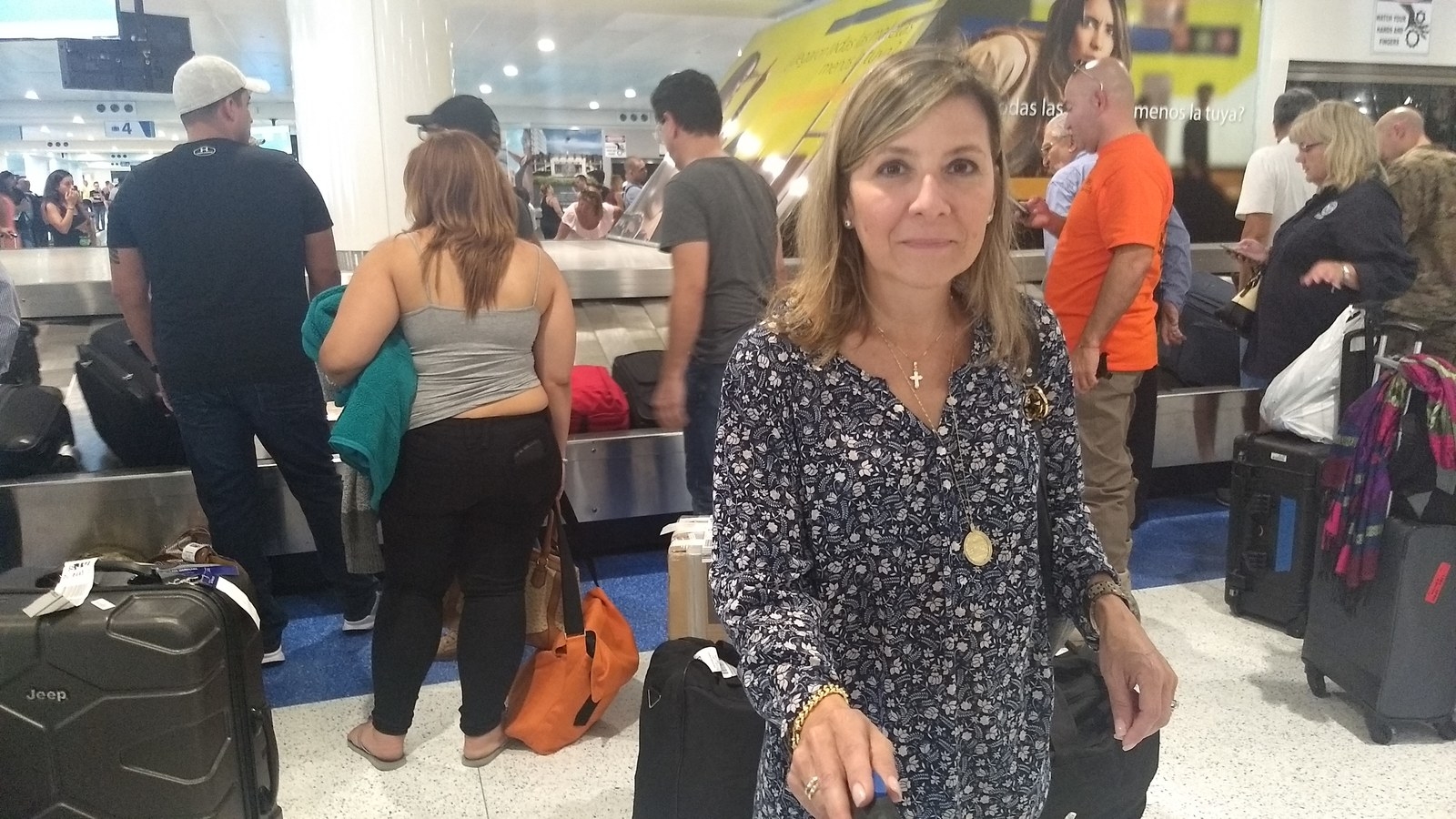 Maria Casanovas, 51, waited six days in New York to try to get home to Guaynabo municipality. She's heard from her family that they have water but no power.

"I have mixed feelings," she said about returning home. "I wanted to stay [in New York] because I didn't want to see all this but I needed to be with my kids. I have two kids, and a grandson that's nine months. We're bringing him food because she's not been able to find too much food for him."

She said she called the airline every day for the past six days to try to get home.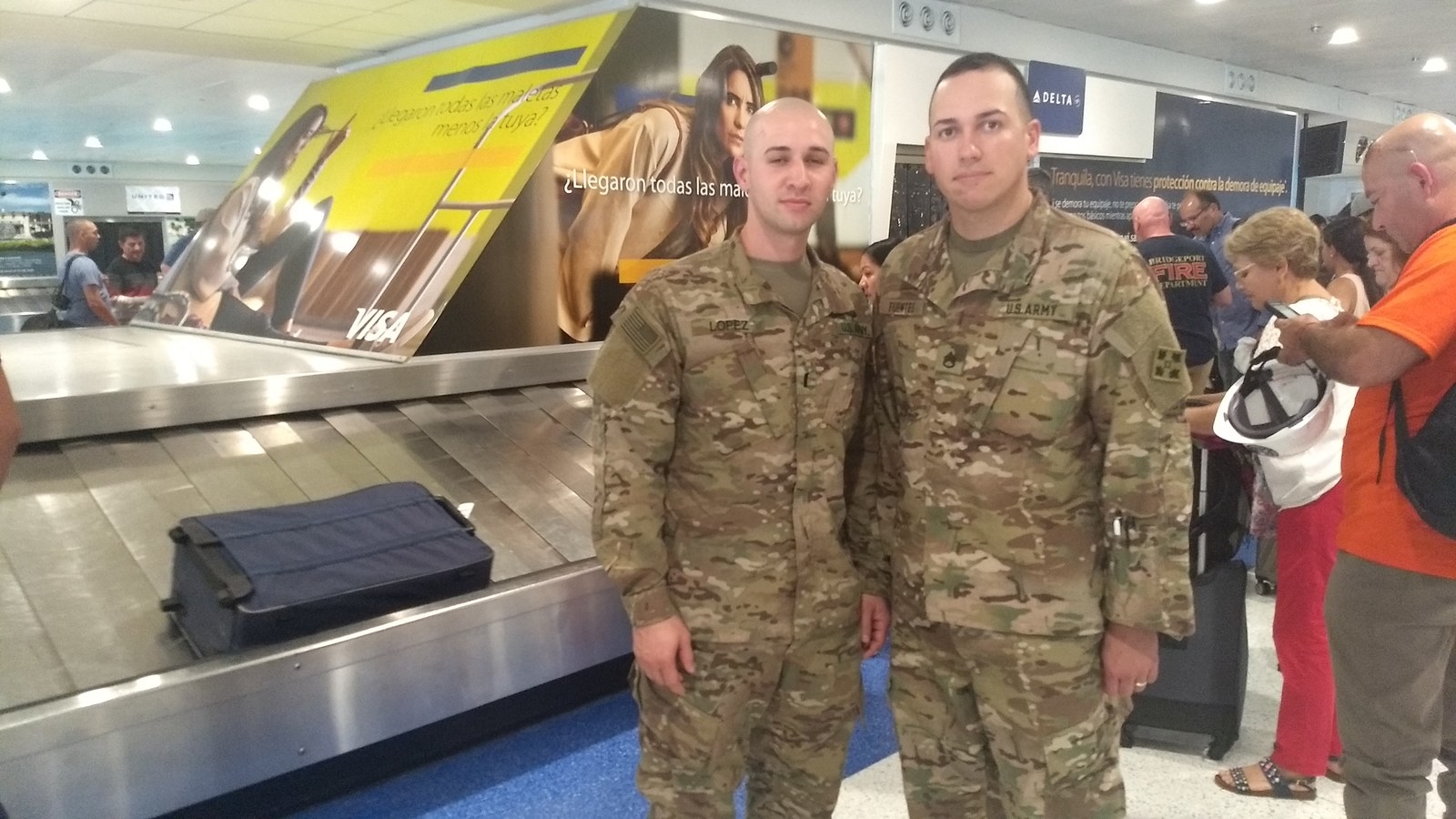 Emmanuel Lopez, 29, flew to San Juan from Eastern Europe, where he was deployed as part of Operation Atlantic Resolve. He's a First Lieutenant in the Army. His home base is in Colorado, where his wife and kids live, but he's from Puerto Rico.
He says he still hasn't heard from his relatives.
"I chose to come over here because I wanted to help my family — my mother, my brothers, because I haven't heard from them," he said. He'll be heading to the west of the island, to Moca, Agaudilla and San Sebastian. He hasn't been home to Colorado in nine months and he hasn't been home to Puerto Rico in a few years.
"I got pictures and video on my phone and it was really emotional," he said, of seeing the battered landscape from above. "But you know what, we're Puerto Ricans, and Puerto Ricans above anything else we will stick together, grab ourselves by the hand, and get ourselves up. No doubt about that. We're going to get stronger than ever now."