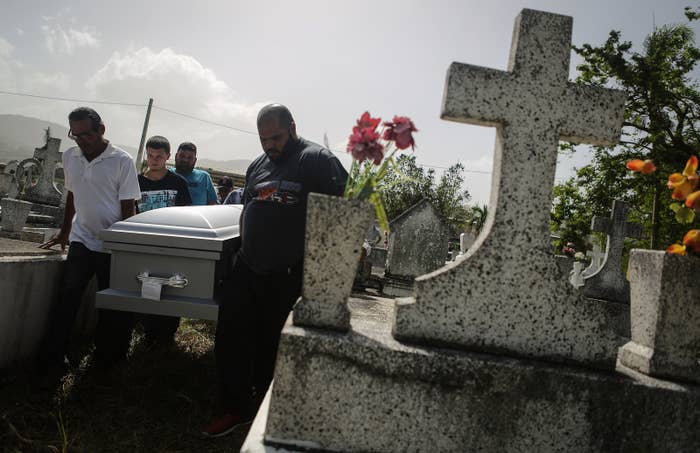 The number of daily deaths in Puerto Rico rose sharply in the days after Hurricane Maria made landfall, government officials said Wednesday, though they declined to give a cause for the spike in the death rate.

From Sept. 1–19, there were 82 deaths per day on average in Puerto Rico, officials said at a press conference, compared to an average of 117 deaths each day between Sept. 20–30, during and after the hurricane. "That represents an increase of 35 deaths per day," said Wanda Llovet, director of the Demographic Registry, the government agency that counts all deaths in Puerto Rico.
There were also more deaths overall in Sept. 2017, when Hurricane Maria made landfall, compared to the same time the past two years. In September this year, 2,838 people died on the island. That compares to 2,366 deaths in September last year and 2,242 deaths in September 2015. Figures for October have not yet been finalized, Llovet said.
She did not connect the rise in deaths to the hurricane. The official hurricane death toll currently stands at 55.

Instead, Llovet attributed the year-over-year increase to young Puerto Ricans leaving the island. "The reality is from 2015 to 2016 there was an increase in deaths, she said. "You would expect an increase in deaths in 2017 as well. Obviously the emigration of people from Puerto Rico contributes to that."
She did not offer an explanation for the jump in deaths per day after Hurricane Maria tore through the island. But José López, a demographer with the registry, responding to a question from local news outlet Primera Hora, said the increase in deaths is "not normal", though he didn't specify why he thought that spike in deaths had occurred.
"The reality is that this is not normal, and we have to know that there was a phenomenon here, and that is a concrete fact," he said.
Héctor Pesquera, the director of Puerto Rico's Department of Public Safety, defended the territorial government's handling of the hurricane death toll, which has come under scrutiny after the revelation that the bodies of dozens of people who may have been hurricane victims were cremated without examination and with the government's approval.

"I understand that, yes, there could have been many cases and related information, but [our investigations] can't be done on speculation, but rather based on information and evidence," said Pesquera during the press conference.
He said the institute has a clear procedure for handling possible hurricane-related deaths, pointing to a CDC pamphlet that's been distributed to hospitals (and now, according to LLovet, funeral homes) and which details how to fill out relevant paperwork for hurricane-related deaths. The document contains instructions on how to file additional paperwork if a death is hurricane-related, but doesn't contain directives on how to decide if a death could be hurricane-related.
Pesquera seemed to indicate that the CDC is ultimately responsible for deciding what is counted and what is not counted in the death toll.

"There is a process and there is a law and ultimately the people who decide what is a direct and indirect death is the CDC," Pesquera said. "They have some recommendations to indicate which are direct and indirect deaths."
A spokesperson for the department, Karixia Ortiz, later clarified to BuzzFeed News that Pesquera meant that "in terms of the final statistics, CDC have the final number," she said.
There are no federal guidelines for deciding which deaths following a disaster should be counted as disaster victims — the White House has said that the death toll falls entirely under the Puerto Rican government's jurisdiction. The CDC did not immediately respond to a request for comment.

Pesquera did not address whether the institute has developed criteria of what is considered a hurricane-related death in the first place. Ortiz told BuzzFeed News two weeks ago that the department has no specific guidelines on what is and what is not included in the death toll but rather that the decisions are being made on a "case-by-case" basis.

That lack of clear criteria has lead to a situation in which some documented deaths that may have been caused by the hurricane are classified "natural deaths" and not examined by the Institute of Forensic Sciences, while others that fit the same descriptions — heart attacks, respiratory failures, lack of oxygen due to power failure — are included in the death toll.

And while doctors and funeral homes have not been given any guidance on which cases they should consider hurricane-related and which they shouldn't, Pesquera and an official with the Institute of Forensic Sciences, Edwin Crespo, reiterated on Wednesday that it is the responsibility of those doctors and funeral home directors to report possible hurricane-related deaths to the institute.
"If they don't put it on the death certificate, I can't investigate," said Crespo.
Llovet said the CDC instructions have been distributed to hospitals and funeral homes. Ortiz previously told BuzzFeed News that there had been no official communication with funeral homes or crematoriums about hurricane-related deaths. She did not immediately respond to a question about when those pamphlets were distributed.
The president of Puerto Rico's Association of Funeral Homes, Eduardo Cardona, said during the press conference that he has had contact with around 40 of 225 funeral homes in Puerto Rico since the storm.