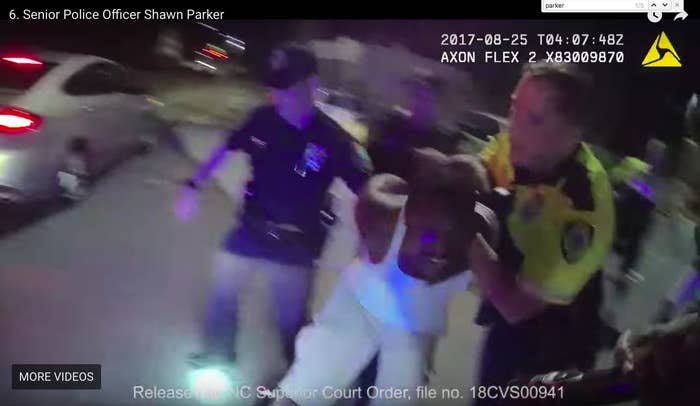 Video footage released by the Asheville, North Carolina, police department on Monday shows an officer repeatedly punching, choking, and using a stun gun on a man after accusing him of jaywalking.

The nine body camera videos, the first of which was obtained by the Asheville Citizen-Times before the rest were released by the city, show Asheville officer Christopher Hickman approaching Johnnie Jermaine Rush on Aug. 24, 2017. Hickman tells him he's jaywalking, and then chases him on foot before punching him, using a stun gun to hit him in the face, and putting him in a chokehold while Rush yells, "I can't breathe, I can't breathe."
"These videos are disturbing, difficult to watch and may not be appropriate for all ages, as they contain violence and profanity," Police Chief Tammy Hooper, interim City Manager Cathy Ball, and the Asheville City Council said in a joint press release on Monday.
"This incident has created a loss of trust within the community, particularly among people of color. The City of Asheville understands that there is substantial work to do to restore the public's trust," the statement said.
Hickman was suspended the day after the incident, and resigned in January on the day the department planned to fire him, according to the city of Asheville. In March, the Buncombe County District Attorney's Office charged him with felony assault by strangulation, misdemeanor assault inflicting serious injury, and communicating threats. All charges against Rush, including impeding traffic, trespassing, and resisting a public officer, were dropped. Charges in 27 other cases in which Hickman was the charging officer were also dropped because they "do not consider him to be a credible State's witness."
The videos begin with Hickman and a trainee officer, Verino Ruggiero, approaching Rush as he leaves a convenience store. The officers are then seen following Rush in their patrol car, where Ruggiero notes that he's still jaywalking, before getting out of the car and telling Rush he broke the law four times, each time he crossed the road.
He says he can either arrest Rush or give him a ticket.
"All I'm trying to do is go home, man, I'm tired. I just got off of work," Rush says.
The two go back and forth on whether or not Ruggiero is harassing Rush. Finally, Ruggiero says, "I asked you to use the crosswalk. Why is that so hard?"
"You're right," Rush says. "It's not, sir. It's not. I'm sorry. I'm so sorry. You're right."
Ruggiero tells Rush to look at him, which Rush says he doesn't have to do. Ruggiero says Rush is "still trying to punk me out."

"He wants to act like a punk. Write him a ticket," Hickman says.
"Y'all ain't got shit better to do besides harass somebody about fucking walking," Rush says, right before Hickman comes toward him and says, "Put your arms behind your back."
Rush backs away when Hickman tries to grab him, then runs across the street before stopping.
"Motherfucker. 43 on foot. White male — black male, white tank top. Thinks it's funny," Hickman says in the video, as he chases after Rush.
"You know what's funny is you're gonna get fucked up hardcore. Get on the ground," he says as he shoves Rush's head down toward the ground. Hickman repeatedly punches him in the head as he yells, "Behind your back!"
"I can't breathe," Rush screams as Hickman continues to punch him in the head and then stuns him with a stun gun. "Help! Help!" he yells. Hickman then chokes him from behind while two other officers grab his arms.
"If you do anything stupid you're going to get hurt further," he then tells Rush after calling EMS to the scene.
"I beat the shit out of his head, not going to lie about that," Hickman tells a supervisor, Lisa Taube, who was called to the scene, later adding, "I went hardcore with the Taser."
"What would have happened if he had killed me? Then what?" Rush is seen asking Taube after she arrived.

Taube was disciplined for poor performance and sent to retraining because of her conduct on the scene and in its aftermath, according to the statement from the city of Asheville.

In the final body cam video released, Hickman takes Rush out of handcuffs and offers him a light for a cigarette as he leads him back to the patrol car from a hospital. Rush asks how he could have put his hands behind his back earlier while Hickman was choking him.
"I didn't start choking you until I punched you probably 10 times," Hickman replies.
Hickman's attorney, Thomas Amburgey, said in a statement on Monday that his client "served the city of Asheville for 10 years and received numerous commendations." He didn't answer a request for comment from BuzzFeed News.
"It's unfortunate that so many individuals have rushed to judge my client. I am confident that when a fair and impartial jury hears the whole story that Mr. Hickman will be acquitted. Any notion that my client had any criminal intent to harm Mr. Rush is without basis," Amburgey said.
He did not immediately respond to a request for further comment on the videos.
The trainee officer, Ruggiero, was reassigned to another supervising officer for training, and "has given every indication that he understands that Hickman's actions were wholly unacceptable, and not up to the standards of a modern, community-oriented police agency," according to the police department's joint statement with the city council.
An attorney representing Rush, James Ferguson II, did not immediately respond to a request for comment, but told the Citizen-Times in March he is "reasonably certain to pursue litigation" on behalf of Rush.