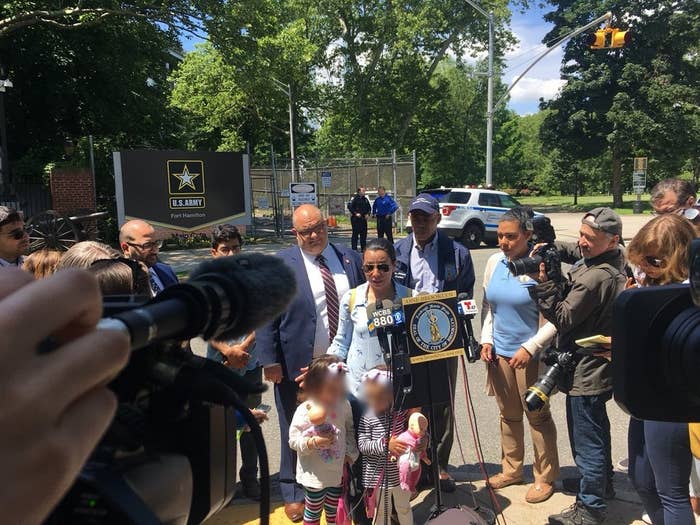 A pizza delivery man was arrested and turned over to Immigration and Customs Enforcement for deportation after delivering a pizza to a military base in Brooklyn on June 1.
Pablo Villavicencio was asked for identification when he delivered the pizza to Fort Hamilton military base, and when he couldn't provide it, staff there called ICE, his wife, Sandra Chica, said Wednesday. He was arrested and is currently in ICE custody in Manhattan, and is expected to be deported to Ecuador.
New York City Council Member Justin Brannan, who represents the area, said Wednesday that Villavicencio had provided his ID NYC, which is available to New Yorkers regardless of immigration status, to enter the base, as he had on previous occasions — but was asked for further identification after he was on the premises.
Fort Hamilton spokesperson Cathy SantoPietro said in a statement that Villavicencio had arrived at 11 a.m. Friday and had tried to "make a delivery without valid Department of Defense identification."
Officials directed the deliveryman to a center to get a daily pass. Then, "upon signing a waiver permitting a background check, Department of the Army Access Control standard for all visitors, an active Immigration and Customs Enforcement warrant was discovered on file" and he was detained.
"Commanders are authorized to take reasonably necessary and lawful measures to maintain law and order and protect installation personnel and property," the statement concluded.
Fort Hamilton representatives refused to answer questions about why this delivery was different from any other delivery Villavicencio had made there.
Villavicencio, who is undocumented according to ICE, has a pending green card application and is married to Sandra Chica, an American citizen, with 2- and 3-year-old daughters, who are also both citizens. He had been a pizza delivery man for nine months, according to Chica, though his wife and officials declined to name the restaurant he worked for.
"In one day, your life changes. Now I'm alone with the kids — I need to give not only emotional support but economic support," Chica said at a press conference in Brooklyn on Wednesday. "In one day, he's not here, just because he doesn't have the papers."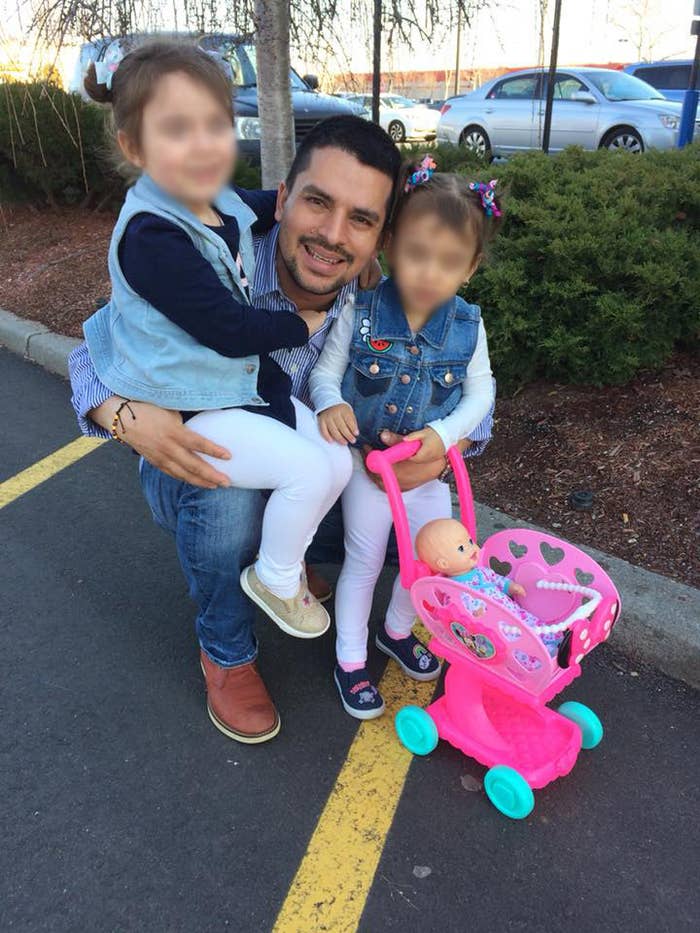 A spokesperson for ICE in New York told BuzzFeed News Villavicencio's application for a green card does not protect him from deportation.

"That doesn't affect whether or not he is removable. That case will remain pending even after removal, and if it's approved while he's out of the country he will be told as such and be able to come back," ICE spokesperson Rachael Yong Yow said.
Villavicencio was "granted voluntary departure" in March 2010, according to Yong Yow, but when he didn't leave the country by July 2010, "his voluntary departure order became a final order of removal, and he is an ICE fugitive."
Asked if his arrest and pending deportation could affect his green card application, Yow said, "I want to say it shouldn't affect that, but that is a [US Citizenship and Immigration Services] question. I have no idea if it affects that. But I know on our end that isn't one of those pending things that affects if they are removable."

According to USCIS, in most cases where a green card applicant is arrested and deported by ICE, USCIS terminates the pending application because they lose jurisdiction over the case.
Arwen FitzGerald, a spokesperson for USCIS, told BuzzFeed News they could not comment on individual cases.
"As a matter of policy, USCIS reviews each Application to Register Permanent Residence or Adjust Status, Form I-485, for proper jurisdiction as well as other eligibility criteria," FitzGerald said.
A friend of the Villvicencio family set up a GoFundMe page on Monday to help raise money for his wife and small children, who will lose his income if he is further detained or deported.

"Hi everyone [my] husband Pablo was arrested last friday while he was working. He went to a militar[y] base in Brooklyn and they asked him ID because he didn't have it they called ICE and they took him," Chica wrote on the page.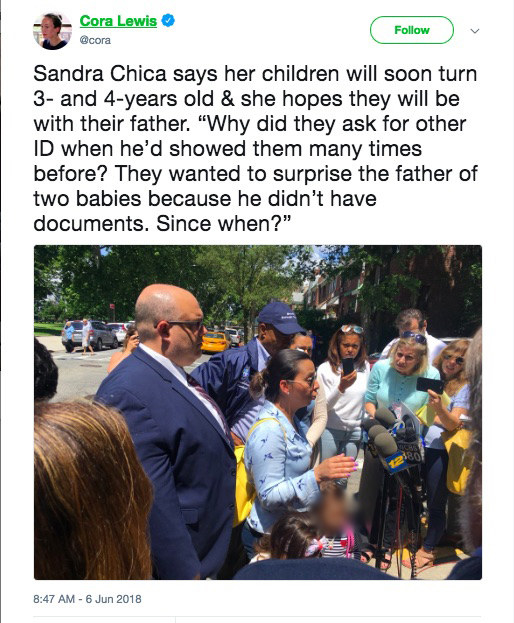 Chica's message contradicted that of the council member who said Villavicencio had produced an NYC ID.

"We are alone in this country, [we] have two daughters and we take care of them. Now Im by myself. I hope you can help us because its really hard you never know what you can feel until the day that you have to live this [kind] of situation. ... I hope we are not one more family separated or one more number in the statistics," she wrote on the page.
The ID NYC was introduced by New York City Mayor Bill De Blasio in 2015 and provides government-issued identification to all residents. The identification is recognized by NYPD and city agencies.
"Overbroad enforcement against immigrant New Yorkers does nothing to make us safer," Matt Dhaiti, Deputy Press Secretary at the Mayor's Office of Immigrant Affairs, told BuzzFeed News in response to Villavicencio's arrest. "We are disturbed by these reports and looking into this situation."
Villavicencio's case is in line with an uptick in ICE arrests of people with no criminal records.
Immigration advocates say that Villavicencio's arrest is another example of federal authorities targeting undocumented immigrants regardless of how long they've been in the US or what measures they're taking to try to find a path to legal status.
"ICE keeps looking for any excuse to attack our families — in this case, a father of two US citizen daughters with a petition in process to adjust his immigration status," said Javier H. Valdés, Co-Director of Make the Road New York, in a statement to BuzzFeed News.
"And now we have the tragic and ridiculous case of a military base being an accomplice to those ICE attacks, while Mr. Villavicencio was doing his job delivering pizzas to support his family," he said, calling for Villavicencio's release.
Valdés and local politicians have called for an investigation into the events that lead to the unusual arrest at Fort Hamilton.