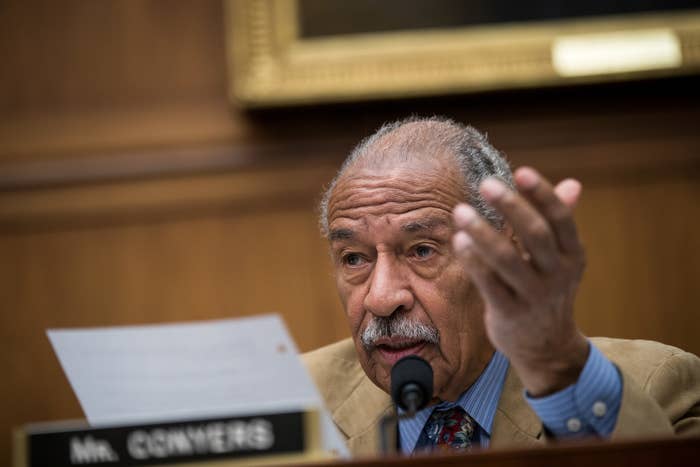 Michigan Rep. John Conyers says he will temporarily step down from his high-profile post as ranking member of the House Judiciary Committee while the House Ethics Committee investigates allegations, uncovered by BuzzFeed News last week, that he sexually harassed two women who worked for him.

"After careful consideration and in light of the attention drawn by recent allegations made against me, I have notified the Democratic Leader of my request to step aside as Ranking Member of the House Judiciary Committee during the investigation of these matters," Conyers said in a statement on Sunday, emphasizing that he denies the allegations.
"I very much look forward to vindicating myself and my family before the House Committee on Ethics," Conyers wrote in his statement. "To be clear, I would like very much to remain as Ranking Member."
House Democratic leader Nancy Pelosi said in a statement on Sunday afternoon, "Zero tolerance means consequences. I have asked for an ethics investigation, and as that investigation continues, Congressman Conyers has agreed to step aside as Ranking Member."
"As a woman and mother of four daughters, I particularly take any accusation of sexual harassment very seriously. Any credible accusation must be reviewed by the Ethics Committee expeditiously. We are at a watershed moment on this issue, and no matter how great an individual's legacy, it is not a license for harassment. I commend the brave women coming forward."
She said the House will hold mandatory anti-harassment and antidiscrimination training and called for changes to the Office of Compliance and the Congressional Accountability Act "to put an end to the days of secret settlements paid for by taxpayer dollars."
On Meet the Press earlier on Sunday, Pelosi would not say whether she would suspend Conyers or ask him to step down from the position, saying she believed Conyers would "do the right thing."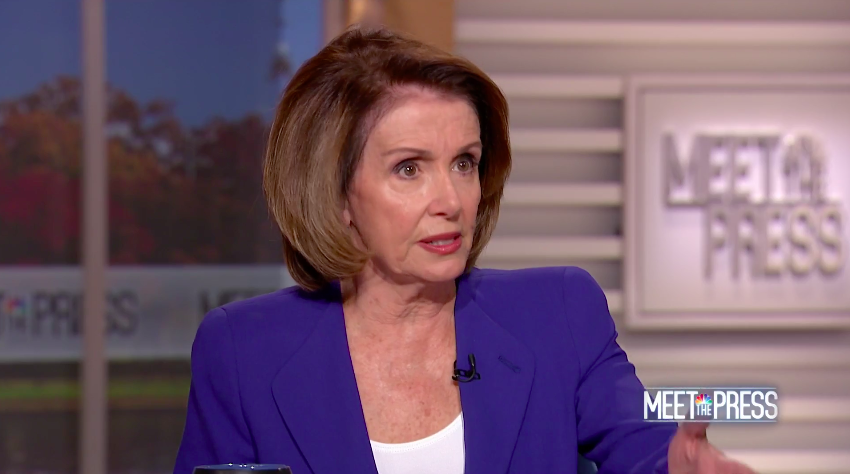 She said of the recent wave of sexual assault allegations emerging across the country, "Something very transformative is happening. Women are saying 'zero tolerance. No more. And we're going to speak out on it.' And this is so wholesome, so refreshing, so different," Pelosi said.
Chuck Todd asked what she meant by "zero tolerance" if she wouldn't directly take action to suspend Conyers or ask him to step down from his role on the Judiciary Committee.
"We are strengthened by due process. Just because someone is accused — was it one accusation, was it two?" she said, in response. "John Conyers is an icon in our country. He has done a great deal to protect women — the Violence Against Women Act."
Asked whether she believes Conyers' accusers, Pelosi said, "I don't know who they are, they have not really come forward."
Pressed on the question, she said, "That is for the ethics committee to review. But [Conyers] understands what is at stake here and he will do the right thing."
Coming to his defense, 12 women who had worked with the congressman released a statement describing him as a "gentleman" who "never behaved in a sexually inappropriate manner in our presence."
"We are women whose combined tenures span over thirty years working with Congressman Conyers in Washington, D.C. in a variety of capacities, including legal, communications, and executive support positions. We do not condone or justify sexual harassment and believe the ongoing national debate is important. While we do not pass judgment on the specific allegations reported in the press or the women who brought them, our experiences with Mr. Conyers were quite different than the image of him being portrayed in the media. Mr. Conyers was a gentleman and never behaved in a sexually inappropriate manner in our presence. He was respectful, valued our opinions, challenged our thinking, and treated us as professionals. Under his leadership, we worked in an environment dedicated to the advancement of human and civil rights, including women's rights, immigrants' rights, voting rights, and the intellectual property rights of creators. We believe in due process and support allowing the ethics investigation to run its course."





Carol Chodroff

Carolyn Donnelly

Lillian German

Martina A. Hone

Stephanie Y. Moore

Stephanie J. Peters

Rinia L. Shelby

Christal Sheppard

B. Nicole Triplett

Teresa Vest

LaShawn Warren

Kristin Wells
On Monday, BuzzFeed News revealed that Conyers had reached a settlement with a former staffer over a wrongful dismissal complaint in 2015. The woman alleged that she had been fired because she rebuffed Conyers' sexual advances. The representative did not admit fault in the settlement, and continues to deny the allegations.

In a statement to BuzzFeed News, Pelosi said on Monday that she was not aware of the settlement.
On Tuesday, court documents emerged showing that another woman had filed a lawsuit against Conyers after sexual assault allegations in 2015 and 2016. The woman withdrew the lawsuit because the court denied her request to seal the complaint.