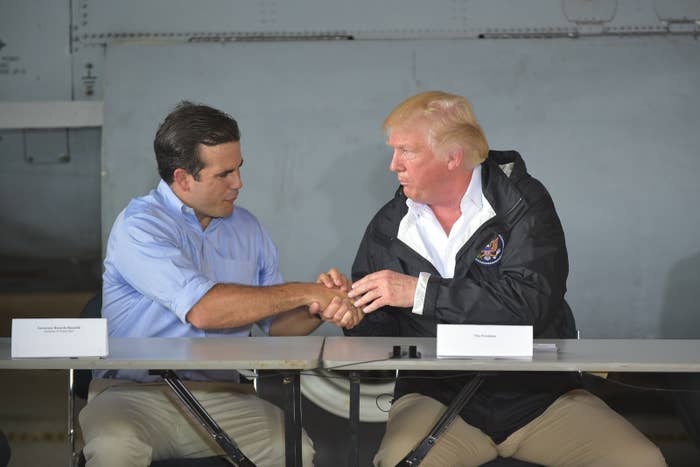 White House officials visited Puerto Rico on Thursday to help commemorate the one-year anniversary of Hurricane Maria, but made no mention of the nearly 3,000 people who died in the storm's wake — a death toll that the president has openly questioned.
On Thursday, HUD Secretary Ben Carson visited the island along with FEMA and White House officials to discuss the recovery efforts.
"On behalf of the president the vice president and this entire administration, I want to begin by thanking the government for working so incredibly hard," Carson said at a press conference in San Juan with Puerto Rico Gov. Ricardo Rosselló. "Today is really a time to reflect on how we have pulled together as one, island and the mainland alike."
Last week, President Trump said repeatedly that he does not believe the Puerto Rican government's official death toll, which they updated after months of media reports and scientific studies indicated that their original number was off by several thousand.
"3000 people did not die in the two hurricanes that hit Puerto Rico," Trump tweeted. He added that "This was done by the Democrats in order to make me look as bad as possible."
Rosselló admitted last month that approximately 2,975 Puerto Ricans died because of the hurricane, after saying for months that only 64 people had died.
FEMA director Brock Long continued to echo Trump's doubts that thousands of people had not died when he appeared on NBC's Meet the Press and Fox News Sunday over the weekend.
Representing the administration on the one year anniversary in Puerto Rico, Carson did not mention the lives lost because of the storm. A HUD spokesperson did not immediately respond to a request for clarification on whether Carson agrees with the president's position on the death toll.
Earlier in the day, the White House released a statement touting the administration's "Historic Recovery Effort," calling it "the largest and longest Federal response to a disaster in the history of the United States."
During his visit, Carson signed an agreement with Rosselló to release $1.5 billion of $7.4 billion in disaster recovery grants approved by Trump last September for all of the major hurricanes that hit the US in 2017. Those grants will go toward housing repairs, rental assistance, small business grants, and rebuilding infrastructure.
In November, Rosselló asked Congress for $94.4 billion in recovery funds. He said $19 billion would be required to rebuild the island's electric grid alone.