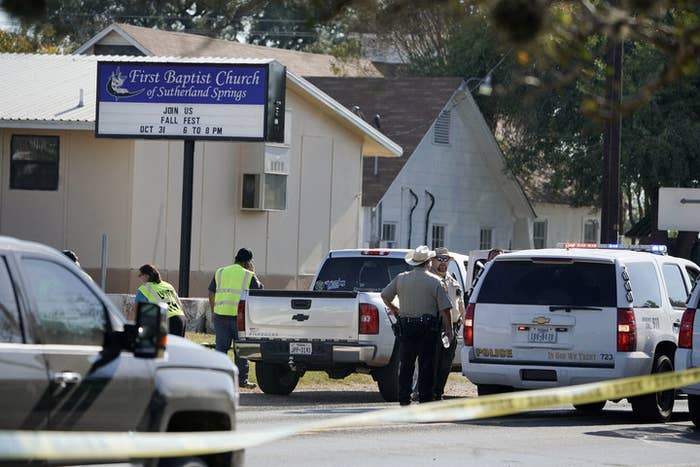 At least 26 are dead after a gunman opened fire during a Sunday service at the First Baptist Church in Sutherland Springs, Texas, making it the deadliest shooting in the state's history.
At 11:20 a.m., a man dressed in all black and tactical gear started firing at the small church, officials said at a press conference. He then crossed to the right side of the building, still firing, before going inside and killing 23 people and injuring dozens more. When he left the building, "a local resident grabbed his rifle and engaged that suspect," said Freeman Martin, regional director of the Texas Department of Public Safety.
Officials did not immediately release the suspect's name, saying only that he was a young white male, maybe in his early twenties. However, multiple media outlets identified the gunman as 26-year-old Devin P. Kelley, who was found dead inside his vehicle after it veered off the road while being pursued by authorities.
Twenty-three people died inside the church, two people were killed outside, and one person died from their injuries after being transported from the scene, Martin said. The victims' ages range from 5 to 72 years old.
"There's a lot of work to be done," Martin said. "We are only hours into this investigation, which is going to take significant amounts of time."
"We have the church, we have outside the church. We have where the suspect vehicle was located. We have been following up on the suspect and where he's from, his residence," the director said.

Officials cautioned that the death toll could rise.
"We ask for God's comfort, for God's guidance, and for God's healing, for all those who are suffering," Gov. Gregg Abbott said at the press conference. I ask for every mom and dad at home tonight that you put your arm around your kid and give your kid a big hug and let them know how much you love them."

Sandy Ward, whose four grandchildren and daughter-in-law were inside the church, told MSNBC News that her son saw "bodies on top of bodies."

"They were having to move the bodies to see if anybody underneath was alive or breathing or anything," she said.

Ward told the outlet that one of her granddaughters, a 7-year-old named Emily, was "not going to make it." Her 5-year-old grandson was shot four times and "has been in surgery for several hours."
Frank Pomeroy, the pastor of the church, believes his 14-year-old daughter is one of the victims. He told ABC News that "she was one very beautiful, special child." Pomeroy and his wife, Sherri, were not at the church when the shooting occurred, according to CNN and NBC News.

The CEO of Connally Memorial Medical Center, a nearby hospital, told BuzzFeed News the hospital had received eight shooting victims on Sunday, four of whom were transferred out to University Hospital in San Antonio. The four who remained at Connally Memorial were in stable condition — three of them have been discharged, he said. A staff member at the University Hospital in San Antonio said he could not provide any information.
Residents of the small town have been gathering outside the church and at a nearby community center, anxiously awaiting any news about friends and family members.
A spokesperson for the FBI's San Antonio field office, Michelle Lee, confirmed to BuzzFeed News that the agency is assisting local law enforcement in Sutherland Springs.

"We are responding to provide assistance, and there have been reports of multiple injuries and fatalities. We don't have those numbers yet," said Lee.

Texas Gov. Greg Abbott released a statement about the shooting via Twitter, indicating that the state Department of Public Safety would be responding to the incident. "Our prayers are with all who were harmed by this evil act. Our thanks to law enforcement for their response. More details from DPS soon."

In another statement released an hour later, Abbott wrote, "While the details of this horrific act are still under investigation, Cecilia and I want to send our sincerest thoughts and prayers to all those who have been affected by this evil act."
President Trump, currently visiting Japan, wrote on Twitter, "May God be w/ the people of Sutherland Springs, Texas. The FBI & law enforcement are on the scene. I am monitoring the situation from Japan."
This incident comes a month after a mass shooting in Las Vegas during which 58 people were killed and more than 500 injured when Stephen Paddock opened fire on a crowd of concertgoers near the Mandalay Bay Resort and Casino.
Las Vegas Mayor Carolyn Goodman wrote on Twitter, "With our greatest sorrow and compassion. Las Vegas stands with you with our hearts broken and ready to help in anyway we can."