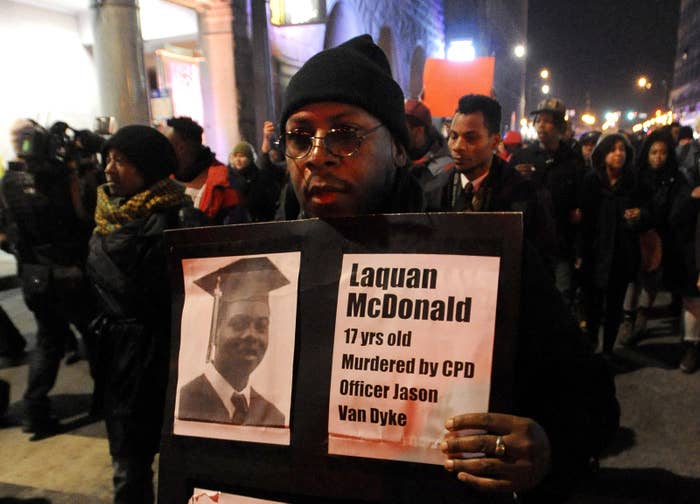 Three Chicago Police Department officers were indicted Tuesday on conspiracy, obstruction and misconduct charges related to the fatal shooting of Laquan McDonald in 2014, according to a special prosecutor assigned to the case.

The indictment alleges that the three "current or former" officers — identified as Detective David March and Patrol Officers Joseph Walsh and Thomas Gaffney — gave false reports and information, failed to correct false information, and failed to locate and interview three witnesses to the shooting, whose accounts contradicted their false reports.
In November 2015, dash cam video was released of the shooting showing McDonald being shot while he was running away from officers—leading to widespread protests in downtown Chicago.

McDonald, 17, was shot 16 times by Officer Jason Van Dyke — who was not one of the three indicted on Tuesday. Van Dyke has been charged with six counts of first-degree murder, official misconduct, and sixteen counts of aggravated battery. He's awaiting trial.
In November last year, a grand jury was convened to investigate allegations that Chicago police had covered up details of the incident to protect Van Dyke from criminal charges and internal discipline.
Chicago PD did not immediately respond to a request for comment on whether the officers charged Tuesday are still active members of the force. In August last year Chicago Police Chief Eddie Johnson recommended that seven officers accused of lying about the shooting be dismissed, based on a report from the city's inspector general. He did not release their names.
The three officers and others conspired immediately after the shooting "to conceal the true facts of the events surrounding the killing of LaQuan McDonald . . . to shield their fellow officer (identified only as Individual A) from criminal investigation and prosecution," the indictment reads.
A statement from Patricia Brown Holmes, the Special Prosecutor appointed by Presiding Judge LeRoy K. Martin, Jr. of the Circuit Court of Cook County, said the grand jury's investigation continues.

"The indictment makes clear that these defendants did more than merely obey an unofficial 'code of silence,' rather it alleges that they lied about what occurred to prevent independent criminal investigators from learning the truth," Ms. Holmes said in a statement to reporters.

The charges each carry fines of $25,000 and prison time of up to 3 to 5 years.
This is a developing story. Check back for updates and follow BuzzFeed News on Twitter.