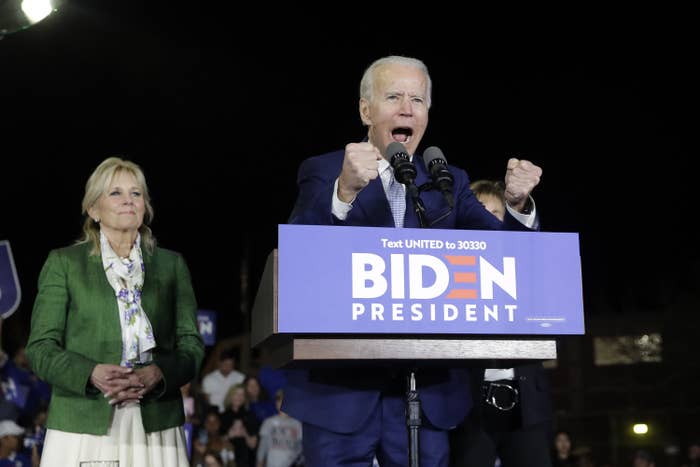 LOS ANGELES — Before the polls closed in California on Super Tuesday, and possibly days before the full results from the two largest states would be known, Joe Biden took the stage in front of an enthusiastic crowd to say he might have defeated Sen. Bernie Sanders.
"They told us when we got to Super Tuesday, it'd be over. Well, it may be over for the other guy!" he said to roars of approval in Los Angeles.
"We are very much alive," he shouted.
Biden soon settled into an abridged version of the updated stump speech he's been giving since his resounding win in South Carolina. In contrast to the long evenings he'd spent over the past 10 months sticking around to shake every hand and grasp every shoulder in relatively small crowds at his events, he stuck around to talk to many people Tuesday night but left dozens still clamoring to meet him as he wrapped up.
Not long after Biden left the stage, California's polls closed and the Associated Press immediately called the state — the biggest Super Tuesday prize — for Sanders. Biden, though, had the kind of night that was unthinkable for him three weeks ago, when he bailed out of New Hampshire hours before results would place him a distant fifth and raise doubts his campaign would last the day.
North Carolina, Virginia, Alabama, Tennessee, Arkansas, and Oklahoma all fell into the Biden column Tuesday. So did Minnesota, where he received a late assist from Sen. Amy Klobuchar, who suspended her campaign Monday and quickly endorsed his. And in Massachusetts, he beat both Sanders and the state's senior senator, Elizabeth Warren, in a total surprise.
Early Wednesday morning, Biden officially won Texas, the second-largest state on the map on Tuesday, and a state that Sanders badly hoped to win himself.
Biden's confidence, already on the upswing since South Carolina, was reinforced. After months when he could do no right, for the next 72 hours it seemed like Biden could do no wrong. In the days between primaries, he had scored endorsements from Klobuchar and Pete Buttigieg, another recent dropout, and from another former rival, former Texas representative Beto O'Rourke.
Aides to the former vice president could hardly contain themselves on Twitter. It was a somewhat ironic home run trot — over the first 10 months of his campaign, they often trashed the social media platform and wound up on the receiving end of its users' endless criticism and attacks. The real conversation wasn't happening there — the real voters weren't there, this logic went, and so the campaign would not be fooled into fighting its battles or getting too distracted there.
But there Biden's team was Tuesday night, tapping out #Joementum as fast as their fingers could. And, just before 9:30 p.m. ET, the candidate's Twitter account dropped an eight-second meme saturated in swagger.
"I ain't dead," the 77-year-old Biden, says — in footage from his interview for a New York Times endorsement he didn't receive. "And I'm not gonna die."
An animated pair of aviators then drops over Biden's eyes as the guitar riff and primal screeches of the Who's "Won't Get Fooled Again" plays and the image fades to black and white.
Before South Carolina, Super Tuesday stood as a prime opportunity for Sanders to skate out to a large delegate lead. Biden's distant fourth-, fifth-, and second-place finishes in the first three contests had given rise to Michael Bloomberg's self-funded candidacy and speculation that the race would soon be the democratic socialist Sanders versus the billionaire Bloomberg.
Suddenly, though, it's Sanders who's facing questions about whether he can grow a coalition capable of winning the Democratic nomination. And Bloomberg barely made a dent on Tuesday despite spending more than $500 million on his late-entry campaign.
A fuller account of how close Biden and Sanders are in the race for convention delegates was not clear late into Tuesday. The as-yet-unknown delegate splits out of California and Texas will offer a better picture of where things stand. But Biden's team started talking like winners early in the day — another change of direction from staffers who have spent the previous two months leading up to voting days and debates playing down expectations.
And though the Twitter chest-thumping is not new to the Biden camp, it's been more pronounced — and more self-congratulatory — since South Carolina. Biden staffers have taken aim at reporters who chronicled the campaign's early struggles.
"'will Joe even make it to Super Tuesday' - pundits," one posted Tuesday night on Twitter.
Greg Schultz, Biden's campaign manager, expressed validation after a rough stretch that saw Anita Dunn, a top Biden adviser, elevated to a higher position of authority after the candidate's weak showing in the Iowa caucuses.
"Nice to get some recognition that @JoeBiden campaign has had an actual delegate STRATEGY for ten months," Schultz tweeted Tuesday as results came in. "That is one of the reasons why we will be outspent by factors of 10 today on tv and still do really well tonight."
Schultz returned to Twitter a bit later to retweet the new meme.
"Make a plan + stick to it + build a team + remain focused = #Joementum," he wrote.