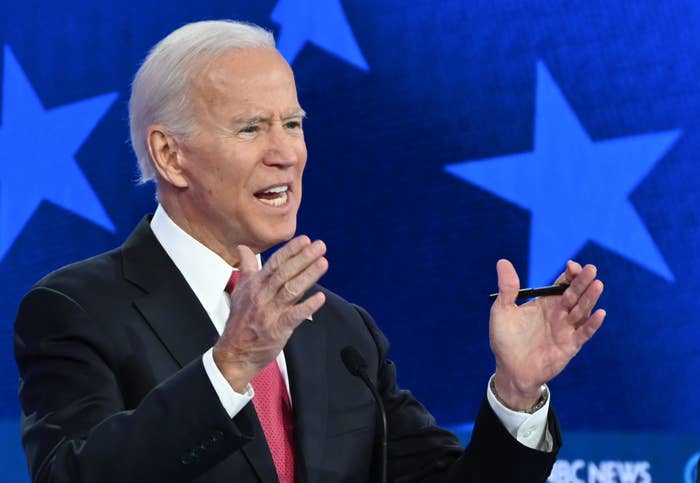 Former vice president Joe Biden said he would support the #MeToo movement as president by "punching at" domestic violence during Wednesday night's Democratic debate in Atlanta.
Biden was asked by moderator Kristen Welker if there were specific measures he would take as president to address sexual violence and sexual harassment.
"No man has a right to raise a hand to a woman in anger other than in self-defense, and that rarely ever occurs," Biden said. "And so we have to just change the culture, period, and keep punching at it, and punching at it, and punching at it." The comment got some incidental laughs in the audience, prompting Biden to say, "No, I really mean it."
He first pointed to his record of having authored the original Violence Against Women Act, and then said, "The fact is that what happens now, is that we have to fundamentally change the culture, the culture of how women are treated." He went on to talk about the "It's On Us" college campus sexual assault reform initiative aimed at young men, which he launched as vice president.
In focusing on domestic violence, he did not directly address broader sexual assault or harassment, the key issues of the #MeToo movement, in his response.
At the outset of his candidacy, Biden faced several accusations from women of inappropriate but not sexual physical contact, starting with Nevada Democrat Lucy Flores who wrote that he inappropriately touched and kissed the back of her head before a campaign event in 2014 when she was running for lieutenant governor. A Connecticut woman later made similar allegations about Biden's behavior at a 2009 fundraiser, and multiple women detailed similar allegations to the New York Times.
In April, during his first public event after those allegations, he appeared to make light of the issue, cracking jokes about consent.
Asked by reporters after the event if he felt he owed a direct apology to any of the women who have said he made them uncomfortable, he said, "I made it clear that if I made anyone feel uncomfortable, I feel badly about that. It was never my intention, ever, ever."
Pressed on whether he thought he owed them a direct apology, he said, "I'm sorry I didn't understand more. I'm not sorry for any of my intentions, I'm not sorry for anything that I have ever done. I've never been disrespectful intentionally, to a man or a woman."
Several Biden allies including Stephanie Carter, the wife of former secretary of defense Ash Carter, have defended Biden's behavior. Carter wrote about how Biden comforted them in trying or stressful moments. Former senator Jean Carnahan detailed on Twitter how Biden's physical contact and attention helped her after she lost her husband and son in a plane crash.