DECORAH, Iowa — Joe Biden vehemently defended how he handles criticisms of his son Hunter Biden's work in Ukraine on Friday night, one day after he got into a heated exchange with a man who asked him at a campaign event about his role in his son's work.
"Every time I've been asked about it, my response has been, 'This is about Donald Trump, period, period, period," the former vice president told reporters aboard his campaign bus in Iowa on Friday night when asked about his answers to questions about his son.
When a reporter pointed out that was not how Biden responded to a question about his son from an older man Thursday, he said the questioner "lied."
"He said I went out of my way to get my son the job. No one has ever said that. It is not true and I never did," Biden said. "My son speaks for himself. He's a 47-year-old man. He didn't do anything wrong."
Joe Biden had a tense back-and-forth with the man at a campaign stop Thursday after the man said Biden was "too old" to be president and questioned him about Hunter Biden's involvement in Ukraine, saying the former vice president "sent" his son there. Joe Biden called the man a "damn liar" and challenged him to an IQ test or pushup contest. At one point, Biden appeared to call the man "fat," something the former vice president later denied.
The man in part set Biden off by insinuating that he and his son had acted inappropriately in Ukraine. Hunter Biden was on the board of the gas company Burisma, and he's been the focus of President Donald Trump's efforts through his personal lawyer Rudy Giuliani to dig up dirt on Joe Biden. Those efforts are now central to Congress's impeachment inquiry into the president. There's no evidence that the former vice president acted inappropriately, and Hunter Biden recently acknowledged that serving on the board was "poor judgment" but that he "did nothing wrong at all."
Joe Biden referred back to those remarks by his son during a roughly 20-minute, wide-ranging conversation with reporters on his bus Friday night.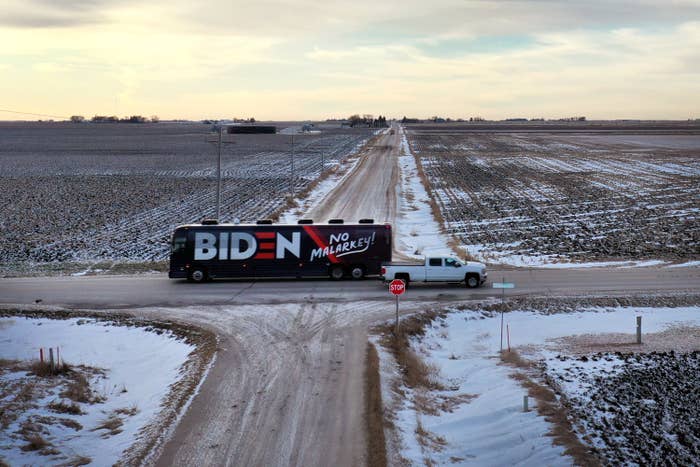 "Hunter Biden spoke publicly about it," the former vice president said. "He said that in retrospect, if he had thought about how it was going to be handled by Giuliani and company, he wouldn't have done it, but that nothing he did ... he did wrong. The appearance looked bad and he acknowledged that. And that's it, that's all I'm going to talk about."
Biden said he had "one conversation" with his son about the job. "I said, 'I hope you know what you're doing,' when I found out he was there. If you notice, nothing is said other than appearance that anything at all was done incorrectly by my son.
"I'm not going to comment on anything other than my son speaks for himself," Biden said. "He's a 47-year-old man. He didn't do anything wrong. He didn't like the way it appeared; he didn't rejoin the board."
Voters at Biden's events Friday repeatedly brought up Biden's back-and-forth with the man Thursday, with most of his supporters saying they generally approved of how he handled the situation. Still, even some supporters said he went a little too far.
Ann Gibny, 56, brought up the argument to BuzzFeed News at a campaign event in Elkader, Iowa. She said she'd consider voting for Biden next year "if he stops acting like Trump."
"We definitely want somebody who's not like Trump, who respects people," she said.
Asked specifically on the bus about how he responded Thursday and why his campaign isn't regularly showing him as more of an "ass kicker," Biden said it's because that's not what he wants his campaign to be.
"I mean, look, everybody, anybody who knows me in politics, including Trump, knows they're not going to be able to screw around with me. Not a joke," Biden said. "But that's not what this is about. I think what the American people want to know is how am I going to make their life better."
Biden was also asked if he would commit to not appointing donors to ambassadorships, something Sen. Elizabeth Warren has said she would do and other presidential candidates, like Mayor Pete Buttigieg, have not gone so far on. Biden did not make that commitment.
"I'm going to appoint the best people," Biden said. "Nobody, in fact, would be appointed by me based on what they contributed."
Biden also flaunted his polling strength with black voters when asked why he believes Buttigieg has struggled to gain black support.
"I think anybody could possibly broaden their coalition. All I'm saying is from the beginning, you all doubted that I had support from black communities," he said.
"I have more support from the black community than anybody, everybody combined," he added. "Because that's where I come from; my political base has been there."
Biden was also asked about Sen. Lindsey Graham, who, despite a long relationship with Biden, has joined in on questioning what Hunter Biden was doing in Ukraine and has requested documents about the Bidens' work in the country.
"Sen. Graham has his own political needs and dilemma," Biden said. "And I think he's going to have to work out for himself just how far he goes and what he thinks."
Biden still promised he'd be able to "work things out" with Graham if they both wound up together again in Washington, DC, after the election. "Nothing's gonna snap back; we're in a totally different world," Biden added. But he said he believed there will be "serious consequences" for the Republican Party as Americans reckon with Trump.
"It's not like there's going to be some great epiphany and people are going to wake up and go, 'Oh my god, I'm now a Democrat.' And if you hear people on the rope line saying, 'I'm a Republican,' I say, 'Stay a Republican.' Vote for me but stay a Republican, because we need a Republican Party."

He later added that he's concerned about what would happen if the Republican Party were totally "clobbered."
"I'm really worried that no party should have too much power," he said. "You need a countervailing force."