After a week of barbs traded on Twitter and on each of their shows, Jimmy Kimmel and Sean Hannity appear to have reached an uneasy truce in their feud over Melania Trump, with the Fox News anchor conditionally accepting the ABC host's attempt to de-escalate tensions Monday.
The drama started with a segment Kimmel did last Monday on his show mocking first lady Melania Trump's accent as she read a book to children at the White House's Easter Egg Roll.
A few days later, on Wednesday, Hannity criticized the segment on his show.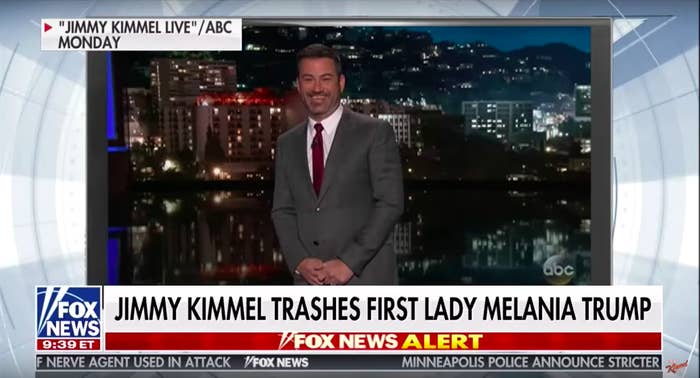 "This is brutal — liberal Jimmy Kimmel making fun of the first lady of the United States and her involvement in the White House Easter Egg Roll, even her accent. Jimmy, you're a despicable disgrace," Hannity said, calling him "Ass Clown Kimmel."
Kimmel then shot back with a four-minute monologue against Hannity on his own show the next night, calling out the Fox News host's support for former Alabama Senate candidate and accused sexual predator Roy Moore.
That prompted Hannity to air sketches of Kimmel on The Man Show that involved him asking women to "touch his pants." Hannity dubbed Kimmel "Harvey Weinstein Jr."
Kimmel shot back that those sketches were "televised comedy bits in which every woman was a willing participant."
Kimmel also brought up Hannity's past defense of President Trump's comments that his fame allowed him to grab women "by the pussy."
And the exchange continued, with Hannity again defending Trump's comments as "locker room talk."
The back-and-forth continued to go downhill from there, with Kimmel and Hannity trading jabs about their ratings and descending into anti-gay jokes about sucking up to Obama and Trump, respectively.
All of this culminated on Friday night when Hannity declared, "For me this is it. I'll just stay on this and I'll roll tape of Jimmy Kimmel every night for the rest of my career." He spent more than half his show that night talking about Kimmel.
On Sunday, Kimmel tried to put an end to all the drama, apologizing for the Melania Trump joke, as well as his anti-gay comebacks to Hannity.
"While I admit I did have fun with our back and forth," Kimmel wrote, "after some thought, I realize that the level of vitriol from all sides (mine and me included) does nothing good for anyone and, in fact, is harmful to our country."


He added that his family had been the subject of death threats during the feud.
Responding to Kimmel's somewhat conciliatory tweet on Sunday, Hannity wrote on Twitter that he will "have a full and comprehensive response" on his show tomorrow.
Hannity did indeed address the controversy Monday, dissecting Kimmel's apology for his viewers in the opening segment of his Fox News show.
"On the surface, I will be honest, it seems to be more of a forced Disney corporate apology directed more towards the LGBTQ community rather than about Kimmel's comments about the first lady," Hannity said. "But honestly, that's ultimately up to you to decide here."

But, he added, "I believe everyone should accept apologies...I choose to believe he is being sincere."
"I really do enjoy a good fight and I do agree with Jimmy in this sense it's time to move on," he said.
Hannity later invited Kimmel to appear on his Fox News show — and warned that he has fresh attacks ready if the late-night host decides to reignite their feud.
"Jimmy, if you do want to start up again, I promise I will punch back even harder," Hannity said, concluding the segment Monday. "My producer spent all weekend compiling a lot of your highlights or low lights in your career. They don't make you look too good. Instead of airing them, we will put them in storage."