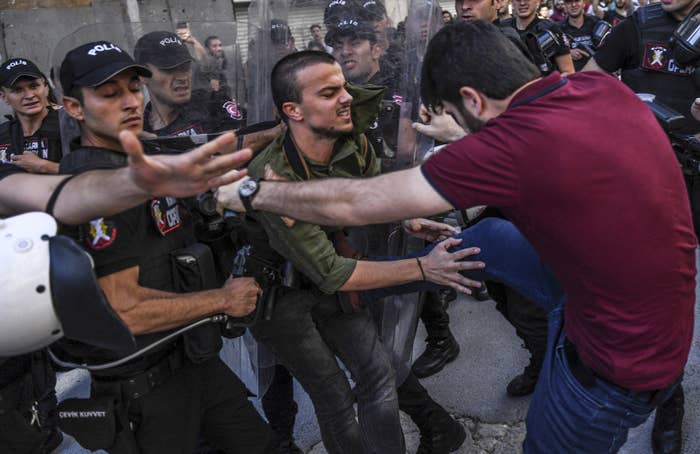 Police in Istanbul, Turkey, used plastic bullets, dogs, and some type of smoke to disperse people trying to gather for the city's annual pride parade, organizers told BuzzFeed News.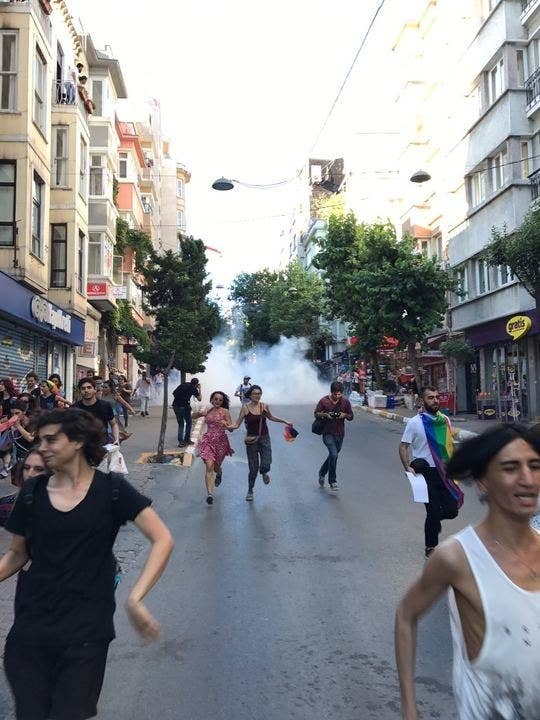 The parade was slated to begin at 5 p.m. local time, and an hour later, organizers released a statement saying police were preventing them from gathering and marching.
The parade was banned by Istanbul's city governor, which said in a statement it was not permitted because of safety and "public order" concerns.
"Additionally, it's also seen that there are very serious reactions against this call by different segments of society on social media platforms," the statement read.

Organizers say the parade was prevented because of pressures from Islamist groups, and that it's a violation of their civil rights.
"Because of the government's phobia against LGBTI+ individuals, they are using the feast as an excuse to ban our democratic rights for marching," said Lara Ozlen, an organizer with Istanbul Pride.
"People cannot gather. Police is attacking," said Ozlen. Activists tried to gather first in Taksim Square, which was cordoned off for Eid celebrations, and then along İstiklal Avenue, one of the city's main thoroughfares.
Organizers said police began ordering anyone identifiably affiliated with LGBTQ groups to move along, before using plastic bullets and dogs to attack people gathering on Mis Sokak, another street. A local LGBTQ rights group, SPoD, also said the police officers were using that type of force.
Ozlen said organizers have confirmed that at least 23 people were arrested while trying to gather for Pride — it's unclear if they were charged with any specific crime.

A local news outlet, Dokuz, also reported that police were using dogs to chase down journalists trying to cover the events.

Demonstrators are still trying to march in other parts of the city, according to organizers, who gathered in a side street and read their statement of protest at being prevented from marching.
One demonstrator who said she was hit by a plastic bullet was Ayşe Panuş, a member of Education and Science Workers' Union.
"What is defined as sensitivities of the public is Alperen Hearts therefore the Governor's Office is now associated with hate crime," she said in a statement to reporters, referring to a right-wing nationalist group which publicly announced its opposition to the parade in the lead-up to the Governor's ban.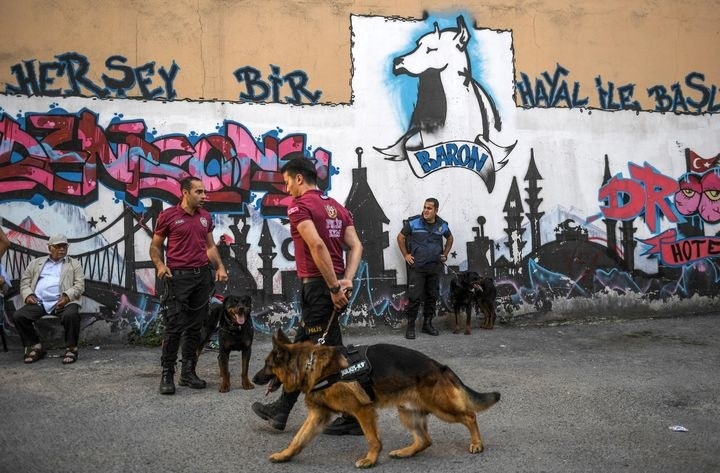 "Despite all this oppression the march took place and the press statement was read everywhere around Taksim. One more time there is state of emergency between us. Get used to us we are everywhere," she said.
Istanbul's Pride parade was banned for the first time in 2015, as the ruling Islamist AKP party was elected to power in the secular nation.

In the previous 13 years Istanbul Pride had gained a reputation as the largest celebration of LGBTQ identity in a Muslim-majority country.
Here are some more scenes from the demonstrations and police response in Istanbul on Sunday: