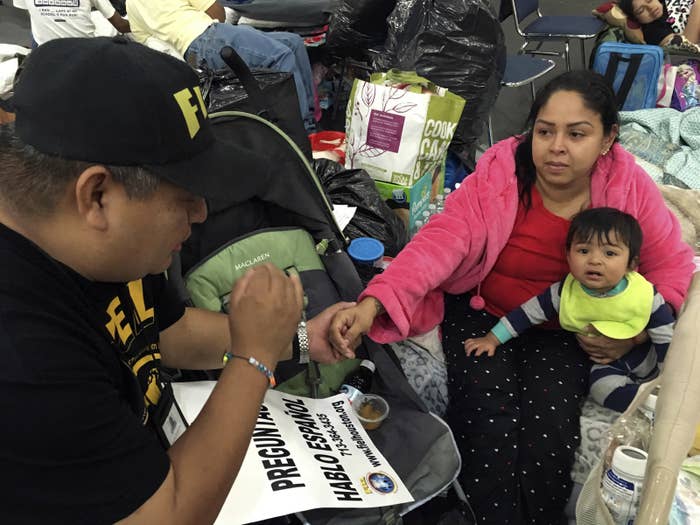 HOUSTON — As southeast Texas begins a massive effort to rebuild and move on from the historic flooding caused by Hurricane Harvey, undocumented immigrants living in the region are in a particularly precarious position with limited support from the government.

The storm wreaked $45 to $55 billion in damage to homes across the area, making rebuilding a costly and long journey for many. But undocumented immigrants face much bigger hurdles, as they may not be able to receive significant financial support from the government to rebuild.
Houston is home to the country's third-largest undocumented population in a metropolitan area, according to the Pew Research Center. Approximately 575,000 undocumented immigrants reside in the city and make up 8.7% of its overall population — more than double the national average for metropolitan areas.

"I don't think there's going to be a lot of benefits going out to illegal immigrants," White House Homeland Security Adviser Tom Bossert said during a press conference last week.
What that specifically means is unclear — and many undocumented Texans dealing with immense damage to their homes and livelihoods assume they won't be eligible for any help at all.

"Unfortunately we don't really qualify for that, because of our illegal situation. So we're not really looking forward to getting help from the government. We're pretty much on our own," said Mauro, 29, who didn't want to use his last name out of safety concerns. Mauro, an undocumented immigrant from Mexico, said his east Houston home was uninhabitable after the storm.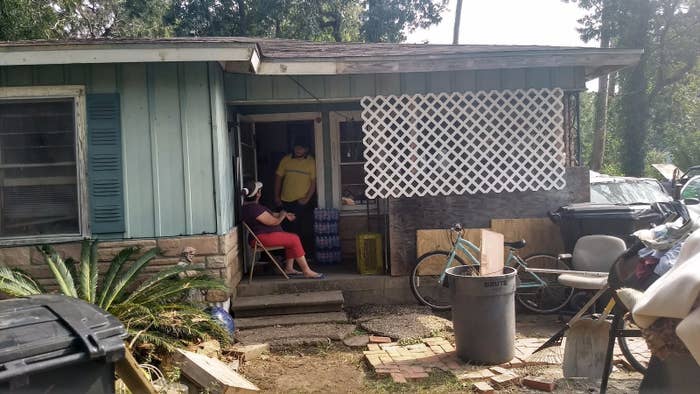 In a statement to BuzzFeed News, FEMA said that undocumented people could receive short-term non-cash assistance like vouchers for accommodation, food, water and medical care. But that doesn't extend to FEMA loans or assistance re-building their homes.

The federal agency stated that further financial assistance might be available for families who have at least one member who is a US citizen, resident, or "qualified alien." Recipients of Deferred Action for Childhood Arrivals (DACA) do not qualify.
"When a family or a household has members with varying citizenship status, assistance may be available if at least one household member, including a child, is a US citizen, non-citizen national or a Qualified Alien," the statement said.
FEMA directs residents to apply for benefits to find out what they may or may not be eligible for. An agency spokesperson said they could not comment on what specific assistance could be available to families with at least one citizen or documented resident.
Jironimo, sho didn't want his last name used out of concern for his safety, bought his house overlooking the Halls Bayou in northeast Houston five years ago. On Tuesday, more than a week after the water rushing over the bayou and a nearby lake forced him, his wife, and their three children to flee in chest-high water, he surveyed the damage left behind.
"I built it up when I bought it five years ago and I guess I'm going to have to do it again now," he laughed.

But on his construction salary of around $1,800 per month, Jironimo wasn't sure how he'd be able to afford rebuilding. And while he likely won't receive assistance from FEMA, he said he's planning to apply for help anyway.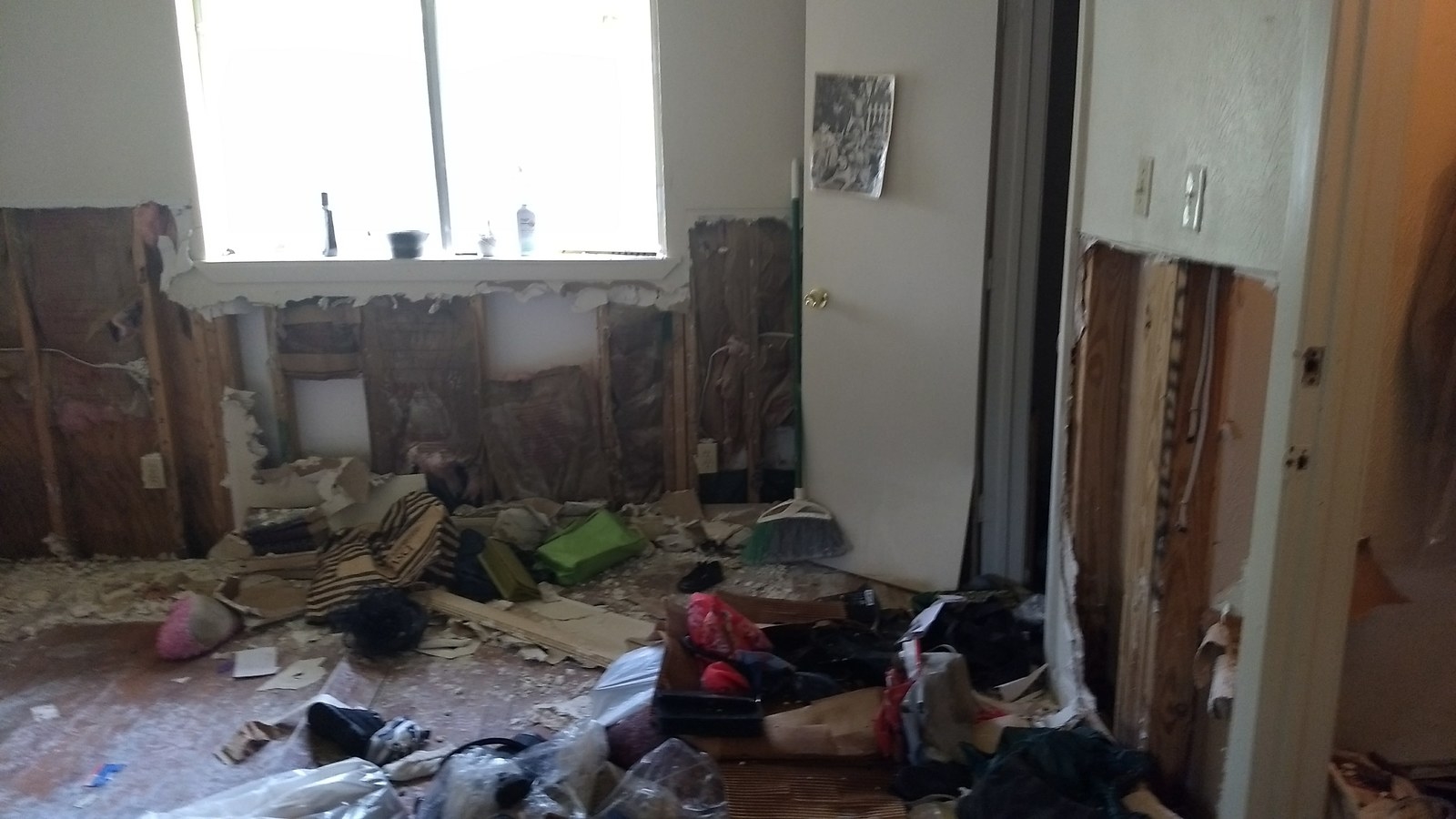 Since floodwaters from the storm devastated his home, Jironimo hasn't spoken to any city, county, state, or federal government officials — except for one city worker and one FEMA inspector, both of whom were in the area but only came to his house to ask to use the bathroom.

"They should come and help," he said. "It's been a week, right?"
Mauro said the prospect of reaching out to authorities during and after the storm has been daunting. He said he'd heard about Immigration and Customs Enforcement and Border Patrol helping FEMA during the disaster relief and wasn't confident in the agencies' assurances that "routine non-criminal immigration enforcement operations" would be suspended during the disaster.

"I did read that ICE agents sometimes work for FEMA, during disasters, and the same people who arrest people in their homes are the ones that help out later on. So we were concerned about that," Mauro said.
BuzzFeed News
A map shows the concentration of Latino residents in Houston neighborhoods. Circles show calls for help compiled by volunteer groups.
His family's home, a modest three-bedroom one-story house, has dramatically warped floor boards and extensive water damage on the walls. On Tuesday, the family was working on making the house habitable again for just long enough to find somewhere else to live. Since the storm, the family's landlord has not been in contact with them.
He said his family, which includes his parents and his younger brother, bring in around $3,400 salary in a good month. Around $600 of that goes toward rent. Mauro's parents are also undocumented, but his younger brother was born in the US.
Mauro said he had not heard anything about his family possibly being able to receive help from FEMA because of his brother's citizenship.

"I don't know what kind of help they can give him or if he does qualify," he said.
Mauro and his parents came to the US 25 years ago from Monterrey, Mexico, when he was three years old. He applied for DACA a few years back but was rejected because he lost his job during the 2008 recession and was unemployed for a year or two — meaning he lacked official paperwork to show that he remained in the country during that time. One requirement for DACA recipients is that they be able to prove five years of continuous residence in the US before they applying.
"It's frustrating," he said. "And I read today that Trump is going to cancel it, that's even worse."
Mauro is also about to lose his job at a factory nearby — he was given 30 days' notice just before the storm hit. He thinks it'll be even harder to find one now as the Trump administration targets undocumented immigrants for deportation.
"I guess if I can't find another job I'll have to go work where my dad's at, which is very harsh labor, out in the sun, working on construction," he said.
Logistical issues related to the storm are also threatening to further complicate matters for undocumented Houstonians. One lawyer who has been working with immigrants at Houston's George R. Brown Center evacuation shelter told BuzzFeed News that many people she's spoken to have lost important immigration paperwork or are worried about missing court dates for legal procedures. Lacking the right kind of documentation may only make it more difficult for undocumented immigrants to apply for the limited federal assistance they are eligible for.
"There's just a heightened sense of anxiety, especially because there are so many authorities everywhere," said Anne Chandler, executive director of the Tahirih Justice Center's Houston office. Mauro said that when he knew his family needed to evacuate, they grabbed important documents and carried them through the rising water in sealed tubs.
Outside the convention center over the weekend, Border Patrol agents helped local authorities respond to the natural disaster.
The agency said their staff would not be targeting immigrants, but the presence of CBP uniform-wearing men outside the shelters was a deterrent for anyone already afraid of being deported. And part of the problem, Chandler said, is that people are not always aware of what relief, even temporary, they could be eligible for.
In East Houston, many residents — not just those who are undocumented — feel neglected by the city. The neighborhood, which houses two of the city's garbage dumps and is an industrial corridor where major supermarket chains have distribution centers, often feels like a neglected corner of the city when it comes to services, locals said.
For people in East Houston who also have immigration concerns on top of financial worries, this past week has been particularly exhausting.
"We just have to hope and, like they say, pick yourself up by your bootstraps," said Mauro. "It's the irony that they don't really like us, but their ideal image of a person is like, don't take welfare, don't rely on support, just work hard."