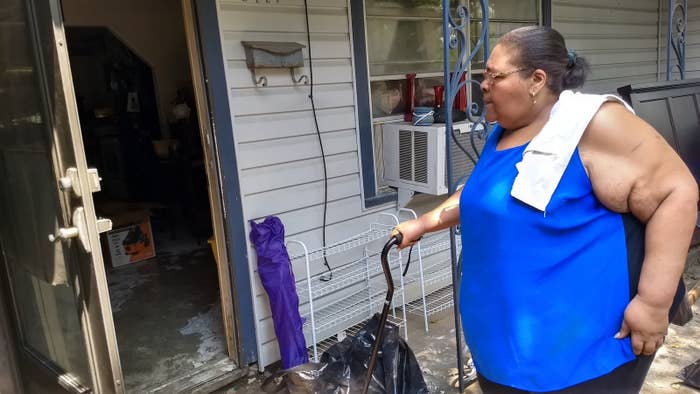 HOUSTON — Mary Melton struggled to hold onto her walker as she waded through water that was chest-deep at times to escape from the flooding that rushed into her home in northeast Houston.

Melton, who uses a walker or a cane to get around, pushed her way through the water for a mile and a half before reaching relatively dry ground, and taking shelter at a friend's house.
"I felt like, 'am I going to be able to do it?,'" the 59-year-old recalled. "But then I said, 'god, I'm going to have to be able to do it.'"
Nearly a week later, she returned to her home for the first time since leaving in the early hours of Sunday. Though the water has receded in this part of town, it's left a visible trail of destruction.
The interior wall in Melton's front room stood exposed, stripped bare because of water damage. Her floors were partly ripped up and what few belongings remained in the house were piled high on tables.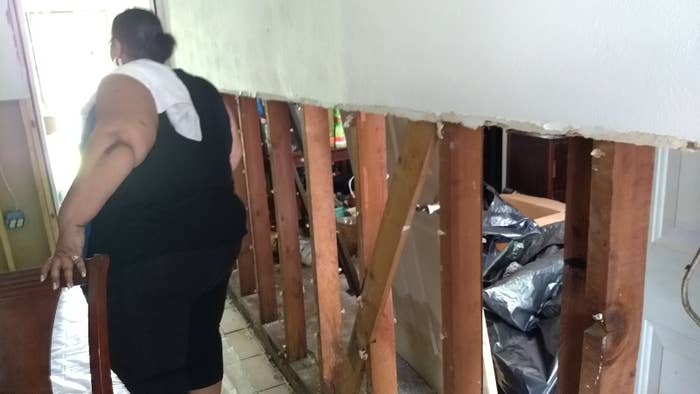 "It makes me feel like just giving up. It's just too much. Just let it go. Find another state and move. Just let it go," she said, peering into her waterlogged home.

Like many Houstonians, Melton doesn't have flood insurance. She survives off her disability payments and isn't sure if she can afford to make her home livable again. She's dealing with both the uncertainty over what will become of her house and the trauma of evacuating last week without much assistance.
"It makes me want to cry when I start to think about it because we saw no help," Melton said. "To go out in my area, I thought I'd see somebody come to help me. When you think about it, it just hurts because this is so typical for our end of town. It's just hard when you can't do anything about it. When you own your property, you want to stay and hold on to what you have. We are always left out, unless it's churches or local businesses."

Melton's 37-year-old son, Travis Curtis, happened to be in town from Salt Lake City when Hurricane Harvey hit Houston. He's been clearing out the house and stripping the walls, and plans to fix as much of his mother's house as he can in the next week.

In Trinity Gardens, the predominantly black neighborhood where Melton lives, and in neighboring Kashmere Gardens, the extent of the storm's damage varied greatly from block to block. But returning a week later, it was clear that most of Melton's neighbors had lost the bulk of their possessions, and that many didn't have insurance or a financial safety net to help repair their homes. The median income for Kashmere Gardens residents is $21,492 per year. In Trinity Gardens, it's $25,409.
Both neighborhoods are lined with modest, one-story homes. On Saturday in Trinity Gardens, piles of furniture and personal belongings were stacked on the curbs lining Melton's street, giving off a strong, musty odor under the Houston sun. Some FEMA inspections have begun, but many are still waiting for an assessment of the cost of the damage and how much the government might help.
The city of Houston did not immediately respond to a request for comment on what services and resources it is providing to the neighborhoods in the wake of the storm.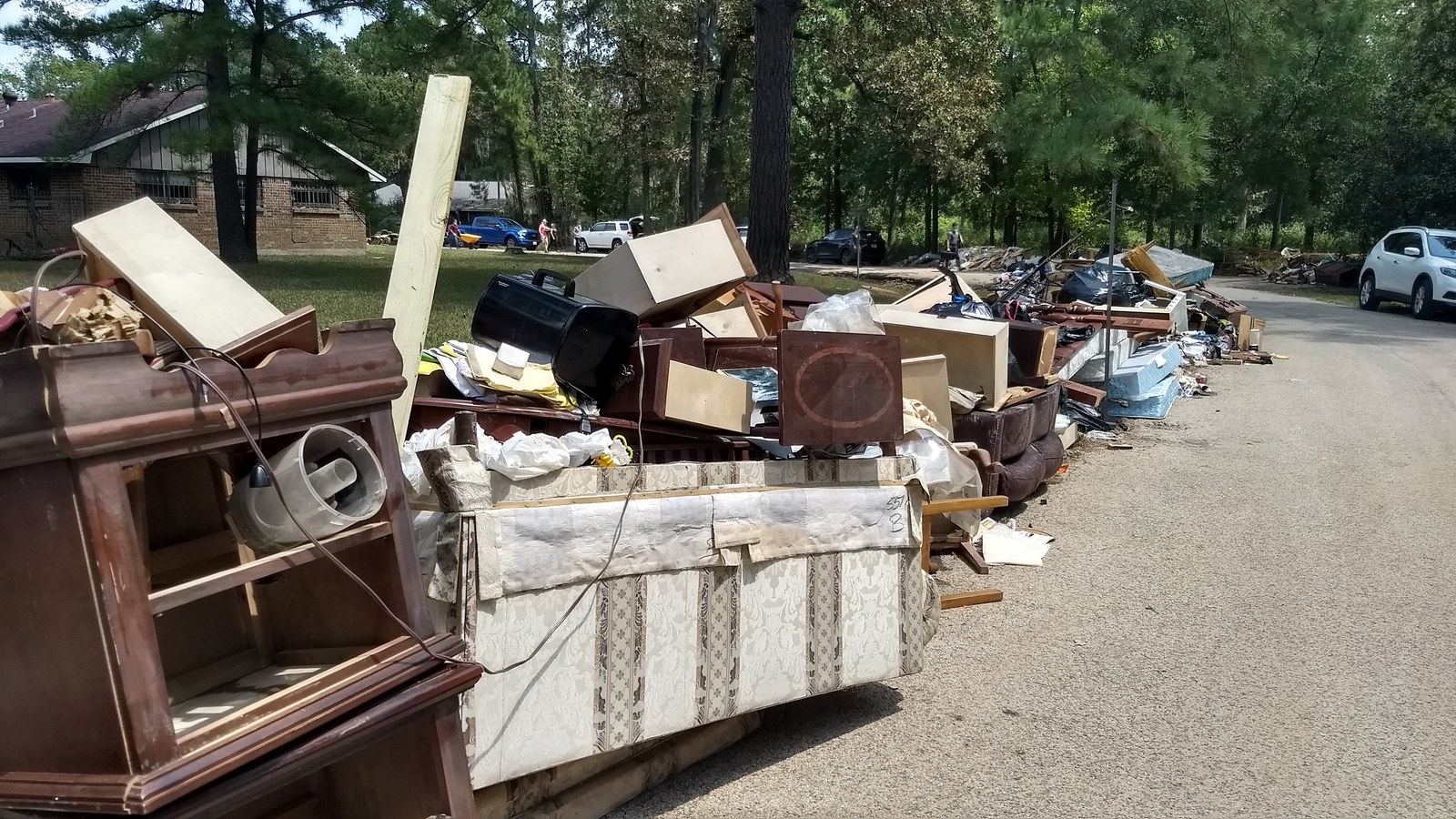 Next door to Mary Melton's home, her sister Lydia Melton, 57, sat on her front porch with a dust mask lifted up to her forehead. Taking a break from the exhausting work of cleaning and gutting her house, she looked out at the mountain of furniture and clothes on the curb in front of her.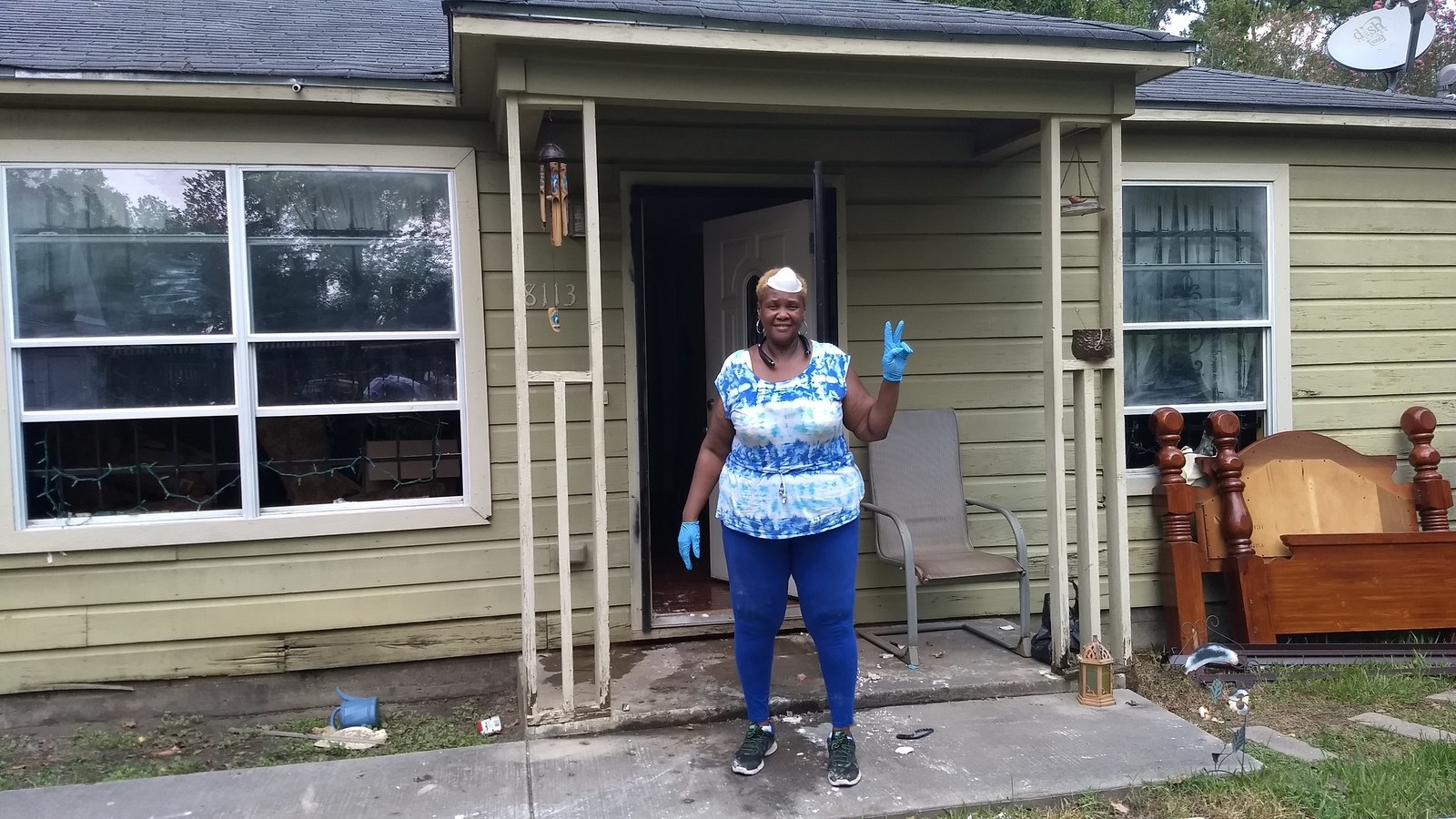 "I had that stuff for 25, 30 years and it hurt me so much to get rid of it," Lydia Melton said. She didn't have flood insurance either, and has no idea how much assistance from FEMA she might receive. Melton also survives off disability benefits, of about $1,900 per month.
One neighborhood over, in Kashmere Gardens, 75-year-old Sarah Williams sat on her back porch as volunteers from a church group heaved wet carpet and furniture out of her home.
Williams' house took in about two feet of water during the historic flood that inundated much of the city. Right across the road, her sister's home remained mostly dry. That's where she went last Sunday after waking up to find water shin-deep in her bedroom.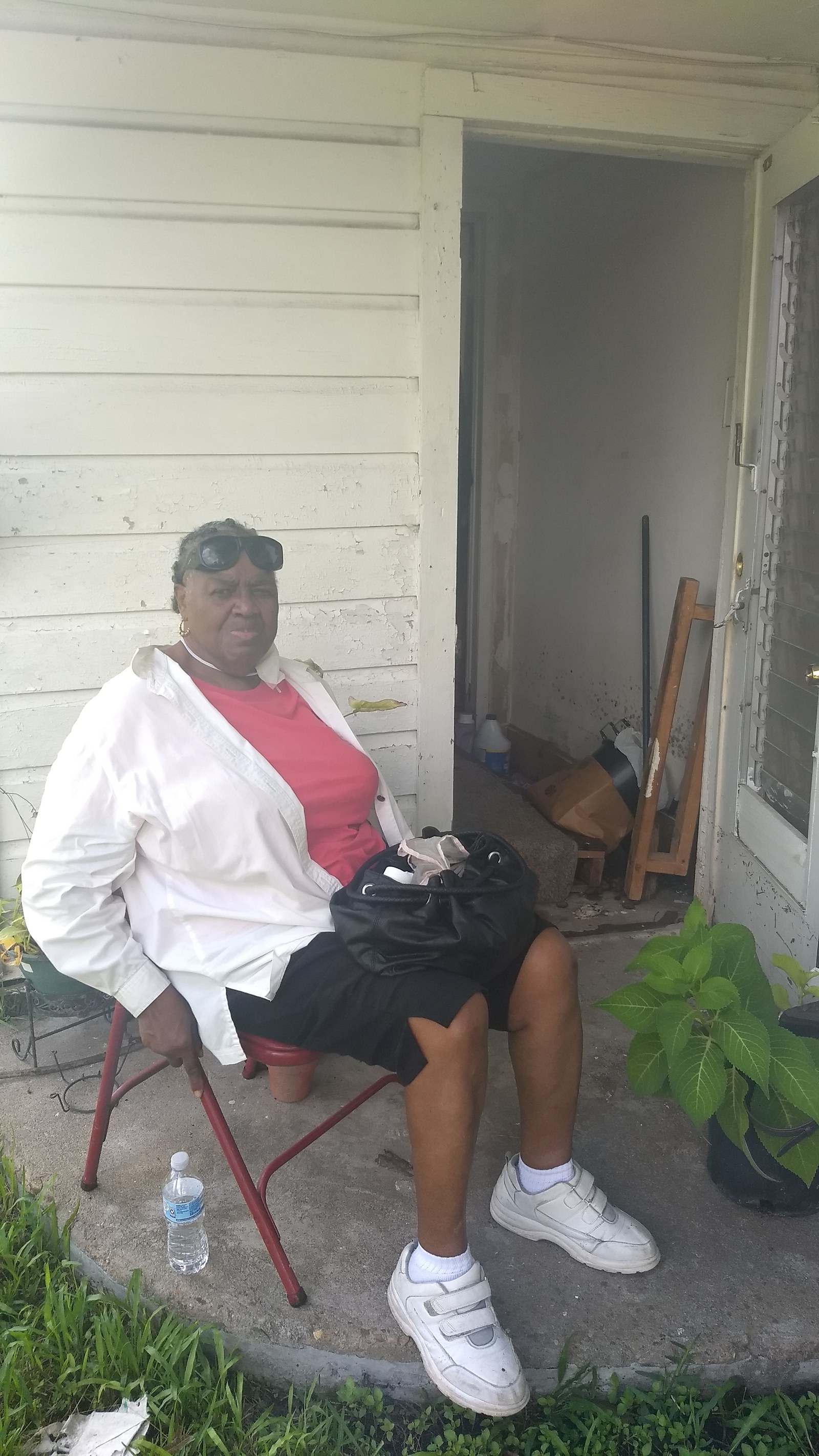 Williams later returned to realize the full extent of the damage to her home and belongings.
"When you would just walk up on my porch you would smell it," she said. "I can't take breathing in there."
Williams rents her house — her landlord has insurance but she's struggling to submit the forms. And she says FEMA told her it needs an insurance claim number before they can continue processing her case. Her only source of income is Social Security, which provides $968 per month, of which $550 goes toward rent.
"It's tight even when it's not flooded," she said, laughing.
Down the road from her, Mary Benford and her mother Oveta watched the floodwaters begin to enter the house where three generations of their family were raised.
They dialed 911 and waited several hours, before Mary went outside to try to flag down help. What she found was a young man pulling a floating refrigerator through the floodwater. She waved him over — he loaded Oveta into the refrigerator and, with the help of Mary's son, floated her to a nearby library that was serving as a temporary shelter.
"This is devastating. I've never seen anything like this in my life," said Oveta Benford. "It was lucky that little boy came through with the refrigerator."
For Mary Benford, this storm couldn't have come at a worse moment — in May, she lost her job as a human relations manager at a hospital. And her mother's house was not insured.
"That flood insurance was too expensive," Mary Benford said. But now, she's contending with being unemployed and temporarily homeless.
"I feel like I'm in the twilight zone," she said, adding that her part of the neighborhood always floods when there's heavy rain. "Our area always lacks services. Our drainage needs to be flushed out."
Residents in Kashmere and Trinity Gardens have learned not to depend on services from authorities arriving when they're needed.
At the Trinity Gardens Church of Christ on Saturday, Melton helped volunteers hand out food and basic supplies to flood-affected people coming in from all over the area, partly to give herself a purpose outside of worrying about her own home, and partly because she knew the community needed help.

"This seems to be the forgotten section of Houston even when it's dry. So it's neighbors helping neighbors," said Keith Downey, incoming super neighborhood president for Kashmere Gardens, who's helping coordinate efforts at the church.
Downey had been tweeting for help for people in the area who had become stranded during the storm, helping facilitate the rescue of at least half a dozen people from their homes.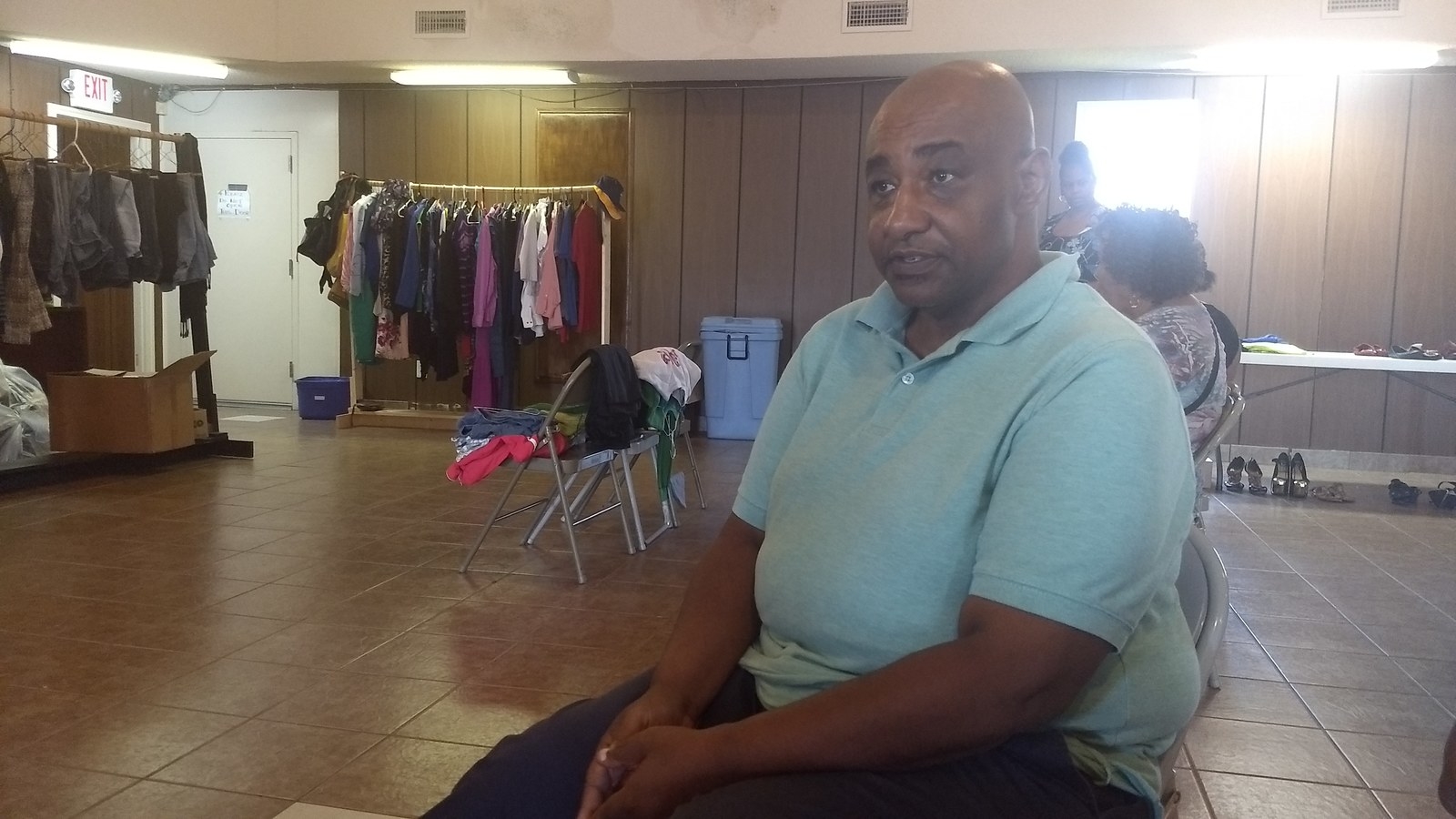 He says that while the city has handled the storm and its aftermath as well as they could have, these communities are always the last to receive resources.
Trinity Gardens super neighborhood president Huey German-Wilson, who's also responsible for coordinating efforts for the communities since the storm hit, said the neighborhoods haven't received as much consideration as other areas, but the damage is real and harder for residents with limited resources to deal with.
"We're not getting any attention out here, because people are like, you guys didn't flood. But we did. This area over here flooded. Every community had pockets of flooding," she said.
Bridgette German, Huey's sister, recalled surviving Hurricane Carla 56 years ago as a child, and the lack of support her community received to help with recovery.
"We are always left out. I remember this from fifty years ago. And then this happened and I thought, how are we still here, fifty years later?" she said.
While they wait for supplies and resources from government agencies to begin rebuilding, community leaders are putting together volunteer teams, handing out donations, and starting to map the damage in their neighborhoods themselves. On Sunday, between services, the Trinity Gardens Church of Christ will have computers on site to help people register with FEMA.

"We feel very alone," said German-Wilson, sitting among racks of donated clothing at the church. "But we're making it work."
If you've been impacted by the storm in Texas or have a tip about rescue, relief, government, or aid efforts, call the BuzzFeed News tipline at (646) 589-8598. Find us on Signal, email, SecureDrop, and more here.