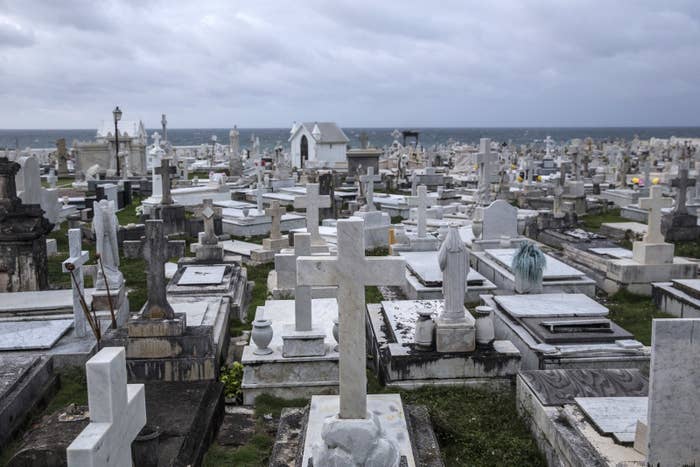 After a year of uncertainty about the real number of people who died as a result of Hurricane Maria, the House overwhelmingly passed a bill on Wednesday that aims to create a national standard for how deaths are counted in the aftermath of a disaster.

The bill requires the Federal Emergency Management Agency to work with the National Academy of Medicine to study best practices on how to count deaths after disasters, and to come up with policy recommendations for federal agencies.
Currently, there are no national standards on what to count as a disaster-related death, just a list of CDC guidelines on how to fill out forms correctly after making that decision.
The death toll is a measure of the severity of a disaster and the effectiveness of the response, but it also has direct financial implications for families who lost loved ones who can lose out on some federal assistance if those deaths are not counted.
That was true in Puerto Rico, where in the weeks and months after Hurricane Maria, BuzzFeed News and the Puerto Rican Center for Investigative Journalism reported that there were inaccuracies in the death toll. Puerto Ricans who had lost family members both directly and indirectly as a result of the storm said they weren't being counted in the official death toll. Funeral home and crematorium directors told BuzzFeed News they had received no clear instructions on how or when to report a death they thought was caused by the storm.
In December, three months after the hurricane hit, Puerto Rico Gov. Ricardo Rosselló's administration said that 64 people had died as a result of the storm. The governor and officials in his administration repeatedly denied that there was any problem with their death toll counting at that time.
But in August of this year, Roselló finally admitted that his administration's death toll had been inaccurate because they did not have a clear system for deciding which deaths were hurricane-related during and after the storm. He requested an independent analysis, which was conducted by a team of independent researchers at George Washington University. Last month, the administration updated the death toll to 2,975, based on the GWU estimate.
As a result of the initial inaccurate death toll following Hurricane Maria, thousands of Puerto Ricans have no official document confirming that their loved ones died because of the hurricane and are thus losing out on some federal assistance. Earlier this month BuzzFeed News reported that of 2,431 applications for funeral assistance after the storm, just 75 had been approved by FEMA by the end of July.
"All this has to be part of this discussion because it's just not right," New York Democratic Rep. Nydia Velázquez, who sponsored the bill, told BuzzFeed News. "How can you think that families are going to go and apply for this kind of federal assistance if they don't have proof that their relatives died? It's just one after the other; how much more pain can be inflicted to those who lost loved ones?"
The House passed the bill to create standards for disaster-related death tolls on Wednesday, two weeks after President Trump said he doesn't believe Puerto Rico's count. "3000 people did not die in the two hurricanes that hit Puerto Rico," he tweeted, adding that "This was done by the Democrats in order to make me look as bad as possible."
FEMA director Brock Long also cast doubt on the Puerto Rican governor's updated death toll. In letters to members of Congress he also repeatedly said that local authorities are the ones who determine death tolls, and that FEMA plays no role in counting deaths. But the bill passed by the House Wednesday would require his agency to help create new standards for doing so.
Velázquez said that if the president is going to question the death toll, his administration should also "get FEMA to work in setting up federal standards that will provide accuracy in terms of the death toll after disasters strike, direct and indirect."
Wednesday's bill was passed after being incorporated into bipartisan legislation to fund the Federal Aviation Administration. It's likely to pass the Senate easily as well and then head to Trump's desk for his signature. (A companion bill was introduced in the Senate by Democratic Sen. Kamala Harris in June).