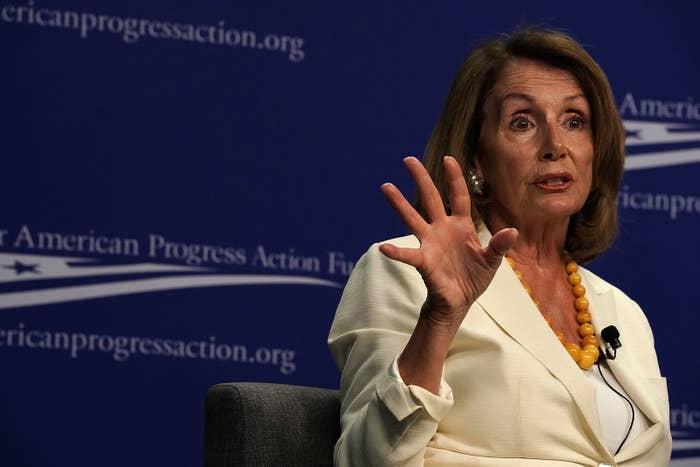 Now that they've won back the House, Democrats say they will investigate Donald Trump's finances and his actions in relation to Russia, the Mueller investigation, and separating families at the border when they take control of the chamber in January.
First on the agenda: investigating why the president forced Attorney General Jeff Sessions to resign and protecting special counsel Robert Mueller.
"The firing of Jeff Sessions will be investigated and people will be held accountable. This must begin immediately, and if not, then a Democratic Congress will make this a priority in January," New York Rep. Jerry Nadler, who is likely to head up the House Judiciary Committee, said in a statement Wednesday afternoon.
A Nadler staffer added that House Democrats will also push for legislation to protect special counsel Mueller as he carries out his investigation into Russian interference with the 2016 election.
Maryland Rep. Elijah Cummings, in line to chair the House Oversight and Government Reform Committee in January, echoed Nadler's call for Congress to investigate Sessions' resignation.
"President Trump waited until just hours after the midterm elections to make this move, which had been rumored for months," Cummings said in a statement. "Congress must now investigate the real reason for this termination, confirm that Acting Attorney General Matthew Whitaker is recused from all aspects of the Special Counsel's probe, and ensure that the Department of Justice safeguards the integrity of the Mueller investigation."
On Wednesday morning, House Minority Leader Nancy Pelosi said that while Democrats won't "go looking for a fight," she expects committee chairs, including the heads of the Judiciary and Oversight committees, as well as Democrats on the Intelligence and Homeland Security committees, to launch investigations where they think it's necessary.
"That will be the work of our committees. Every committee has oversight responsibilities," Pelosi said at a press conference Wednesday, adding that if the president or members of his administration do not cooperate with investigations, and if subpoenas are necessary, "So be it."
Trump called Pelosi to congratulate her on winning back the House on Tuesday night, but then tweeted Wednesday morning, "If the Democrats think they are going to waste Taxpayer Money investigating us at the House level, then we will likewise be forced to consider investigating them for all of the leaks of Classified Information, and much else, at the Senate level," he wrote. "Two can play that game!"
House Democrats on a range of committees including Judiciary, Ways and Means, and Homeland Security said on Wednesday the House will likely pursue investigations and request information on contentious Trump administration policies as well.
And, after more than two years of calling for Trump to release his tax returns, House Democrats will now have the ability to request them directly from the IRS. Massachusetts Rep. Richard Neal, who will have that power as the likely incoming leadership of the Ways and Means Committee, said at a press conference Wednesday that he will request Trump's returns.
But, he said, "I hope that the president would do this on his own, largely because every president since Gerald R. Ford has voluntarily done this," adding that he would expect to face a drawn-out lawsuit challenging his request.
Washington Rep. Pramila Jayapal, another member of the House Judiciary Committee, said that the first priority would be "to protect the special counsel's investigation and today's news of the firing of Jeff Sessions is deeply concerning."
"I think that is a number one priority for us in Judiciary even right now in the lame duck session, and then I think we want to pass legislation that would protect the Special Counsel's investigation in any scenario," she said, adding that legislation should also ensure that the results of the Mueller investigation are made public and sent to the Judiciary Committee.
Democrats' second priority, Jayapal said, will be to investigate the president's potential conflicts of interest under the emoluments clause of the Constitution, which makes it illegal for people in public office to receive benefits from foreign governments. Democrats had already begun that work once Trump took office, but will have much more power to pursue those investigations next year.
"I think that we have asked for information before. We haven't come to conclusions, but we certainly need to have a set of hearings on that. And we can and should use subpoena power if the president refuses to provide certain documents," Jayapal said.
Cummings brought up the security clearance processes within the White House, as another avenue the Oversight Committee will look into, in a statement Wednesday. He also noted an interest in investigating financial conflicts of interest and ethics violations by administration officials, including "President Trump's decisions to act in his own financial self-interest rather than the best interests of the American people."
Pelosi said during her press conference that legislators on the Homeland Security Committee could investigate the administrations' family separations policy, which resulted in thousands of children being separated from their families as they arrived in the US, many of them seeking asylum after fleeing violent and unstable conditions in their home countries.
A senior Democratic staffer on the Homeland Security Committee said they do plan to conduct oversight on the family separations policy, in addition to "all aspects of border security/immigration (wall, troop deployment, family separation, zero tolerance, travel ban, DACA), election security, Hurricane Maria, and others."
"We will be doing the rigorous oversight the Republicans have not done, we have tried to do, and they have stopped us from doing. Too often they have done the bare minimum to give cover to the Administration," the staffer said.
Cummings' and Nadler's offices both said the family separations policy will also be a priority for them in their respective committees.