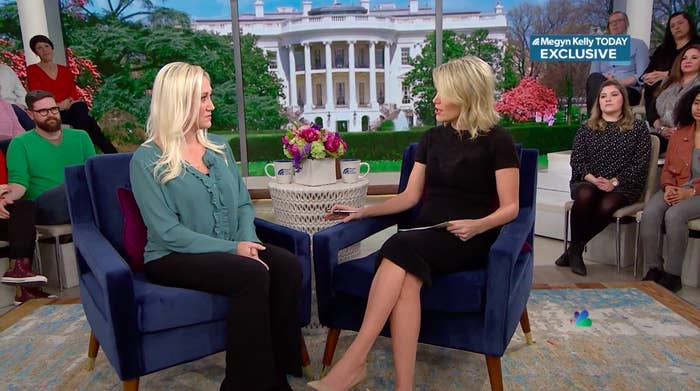 A friend of adult film star Stormy Daniels said on Tuesday that Daniels told her in 2006 about going to Donald Trump's hotel room after meeting him at a golf tournament in Lake Tahoe.

Appearing on NBC's Megyn Kelly Today, Alana Evans said that Trump and Daniels invited her to join them in Trump's hotel room but she didn't go.
She said Daniels told her she had met Trump earlier that day, and that around 10 p.m. Evans started getting calls from her asking her to join Daniels and Trump in his room. Evans said Trump got on the phone and said, "Come hang out with us. Come have fun. Let's party."
Eventually, Evans told Kelly on Tuesday, she stopped responding to the calls and turned off her phone.
The next morning, she said, she asked Daniels about the evening.

"Having her tell me the next day how did it go, and she says, 'Well, picture this: Donald Trump chasing me around the bedroom in his tighty-whities isn't something that you ever forget,'" she said. "And at that point it was so much info for me that I really didn't want to ask any more questions."

The White House did not immediately respond to a request for comment about Evans' interview.

Evans' account of the evening in Lake Tahoe comes after the Wall Street Journal reported last week that former Trump Organization lawyer Michael Cohen allegedly negotiated a nondisclosure agreement worth $130,000 with Daniels, whose real name is Stephanie Clifford, in October 2016.
In that same month, another adult film star, Jessica Drake, came forward with allegations that Trump forcibly kissed her and offered her money to go to his hotel room at the same golf tournament in Lake Tahoe in 2006.
That agreement, according to the Journal, bars Daniels from speaking about her alleged affair with Trump in 2006. Trump married his current wife, first lady Melania Trump, in 2005.
On Friday, the New York Times reported that Daniels told Slate editor-in-chief Jacob Weisberg about a 2006 affair with Trump and the $130,000 nondisclosure agreement proposed by his lawyer, Cohen, in the lead-up to the election in 2016. Weisberg told the Times that Daniels said she had agreed to the deal but was considering going public because Cohen was late in paying her.
The White House issued a statement to the Times on Friday that said, "These are old, recycled reports, which were published and strongly denied prior to the election."
In a statement to BuzzFeed News on Friday, Cohen said, "These rumors have circulated time and again since 2011. President Trump once again vehemently denies any such occurrence as has Ms. Daniels." He also provided a signed statement from Daniels.

"When I met Donald Trump, he was gracious, professional, and a complete gentleman to me and EVERYONE in my presence," Daniels' statement said. "Rumors that I have received hush money from Donald Trump are completely false. If I indeed did have a relationship with Donald Trump, trust me, you wouldn't be reading about it in the news, you would be reading about it in my book. But the fact of the matter is, these stories are not true."