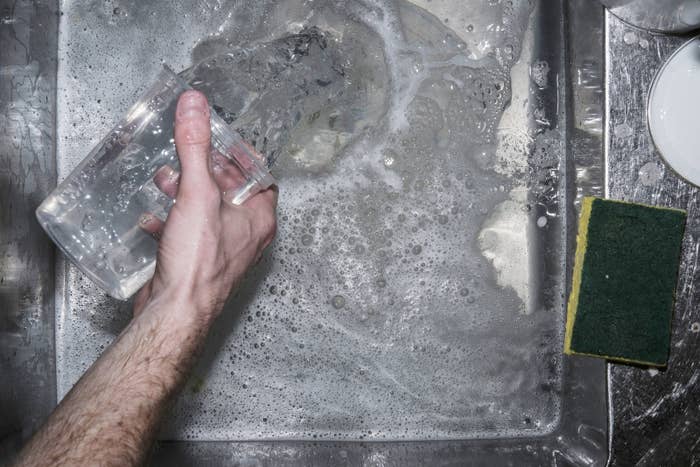 FLINT, Michigan — Five years after Flint's water turned brown and acrid, leaching lead out of old pipes and carrying other contaminants into people's homes, Carma Lewis still can't bring herself to drink from the tap. There's a filter on her faucet, but her pipes have not been replaced, and she isn't risking her health again after being lied to repeatedly by officials at all levels of government about the water's safety.
"There may be people who might not trust the water ever again. That's just a part of reality," she told BuzzFeed News.
The people of Flint have, in every presidential cycle for the past two decades, seen their city used as a campaign stop for candidates looking to boost their credibility by showcasing the working-class grit of the Midwest.
So far this year, though, the presidential candidates have been completely absent except for former housing secretary Julián Castro, who visited last weekend. Lewis — and several others in the city who spoke to BuzzFeed News this past weekend — say they're tired, and they're skeptical of both politicians and the media as they continue to contend with the water crisis that's deeply altered their lives. But they want candidates to come to Flint if they come with concrete plans and commitments, something beyond the photo ops and listening tours they've been through many times before.
"Don't come here if you just want a soundbite. Because I will call you to the carpet. If you come here talking BS and you don't mean it, you will be called to task," said Marseille Allen, a local activist who also works as a probations agent, adding that candidates need to talk to residents and activists who have experienced the crisis firsthand, not just politicians, when they visit.

Residents are wary of their city, first seen as the hardworking birthplace of General Motors and then as emblematic of postindustrial decline and rising violent crime, being used as a symbol yet again in yet another political cycle.
"People here are tired of talking about water to people who really don't care," Allen said.

People in the city, where 54% of residents are black, are still dealing with the crisis's fallout: children whose neurological development may have been irreversibly damaged; pregnant women who had miscarriages after drinking the contaminated water — the number of miscarriages spiked by 58% after the water was switched; people whose trust in their elected officials and reliance on the infrastructure that runs through their city has been turned upside down; and corroded lead pipes on the main water lines and in people's homes that have yet to be replaced.
On Thursday the state threw out criminal charges against eight people involved in the water scandal, including the former head of Michigan's Department of Health and Human Services. State officials said there would be a renewed investigation into what happened to the city's water supply.

"We are experiencing what I call water fatigue," said Kent Key, a public health expert at Michigan State University's College of Human Medicine. "They're emotionally and psychologically tired. They're tired physiologically with their health because of the effects of it. People are fatigued, and the last thing we need to do is waste any of our energy on something that's not going to be productive."
During Castro's one-day visit to the city last weekend, he heard repeatedly from locals who said that they're glad he's paying attention, but he needs to remember that passing through is not enough.
"Will you just make us a promise that, win, lose, or draw in 2020, that we won't just be a campaign stop? Because we saw a lot of that in 2016, and we have not seen a lot of those people," Chia Morgan, a local activist and social worker, told Castro.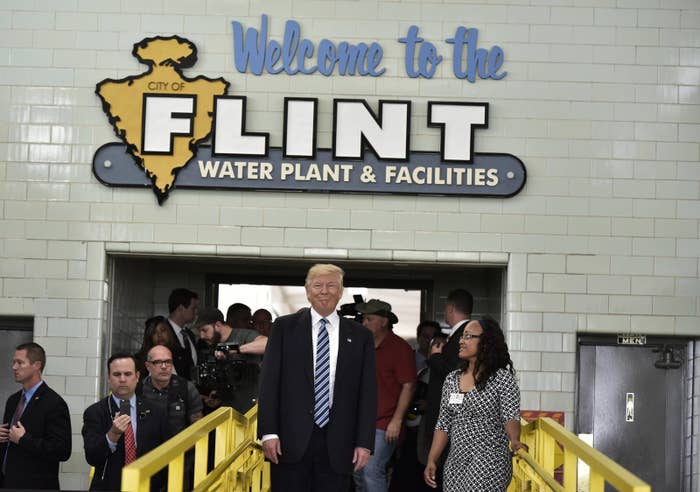 National politicians only really started paying attention to Flint's crisis in 2016, two years after the crisis began. Then-president Barack Obama visited the city and declared a federal emergency, which provided some emergency resources to the city but fell short of what would have been available under a disaster declaration. A federal law currently prevents man-made disasters like the water crisis from qualifying as national disasters.
Presidential candidates then began coming through town. Hillary Clinton and Bernie Sanders held a debate in Flint in April 2016. Donald Trump visited, and got a frosty reception, in September.
Sanders went back to Flint in February 2018 and met with local leaders working on the recovery. He often brings up his time in Flint on the campaign trail this year. "One of the most emotional meetings I ever had in my life was in Flint, Michigan, talking to the parents whose kids were poisoned by the lead in the water there," he said at a May stop in South Carolina. "Very hard meeting to deal with."
Marseille Allen remembered the Clinton-Sanders debate in the lead-up to the 2016 election, and said she's disappointed she hasn't seen Clinton return to Flint since.
"To my sister Hillary, come back. Because you said you were coming, I need you to come back," she said. "Come and talk to the people who did the work."
"Even those who didn't win the election have resources; they could have come back and helped," Key said.
Representatives for Clinton and Sanders did not respond to requests for comment.

The progress on replacing water infrastructure damaged by the corrosive water has been slow. The city needs to examine for damage some 28,000 pipes leading from the streets into people's homes and to check if they are made of lead or galvanized steel, which would mean they need replacing.
Of those, 21,617 have been checked so far, Flint Mayor Karen Weaver told BuzzFeed News, and 8,496 of those needed replacing and were replaced. The city still has around 7,000 pipes to examine. But even when that process is done, there is no organized process for replacing the pipes actually inside people's homes.
"In-home, I can't tell you because I don't have a count of how many actually need to be replaced," Weaver, who was elected in 2015, said. "That's one of the things we've been fighting with the state and federal government about. We know that some people's in-home plumbing was damaged."
"Until we address these physical issues and psychological issues, the trauma that this crisis has caused, we're going to be in it for the long haul," Key said. "Each candidate that comes here, they need to be exposed to this."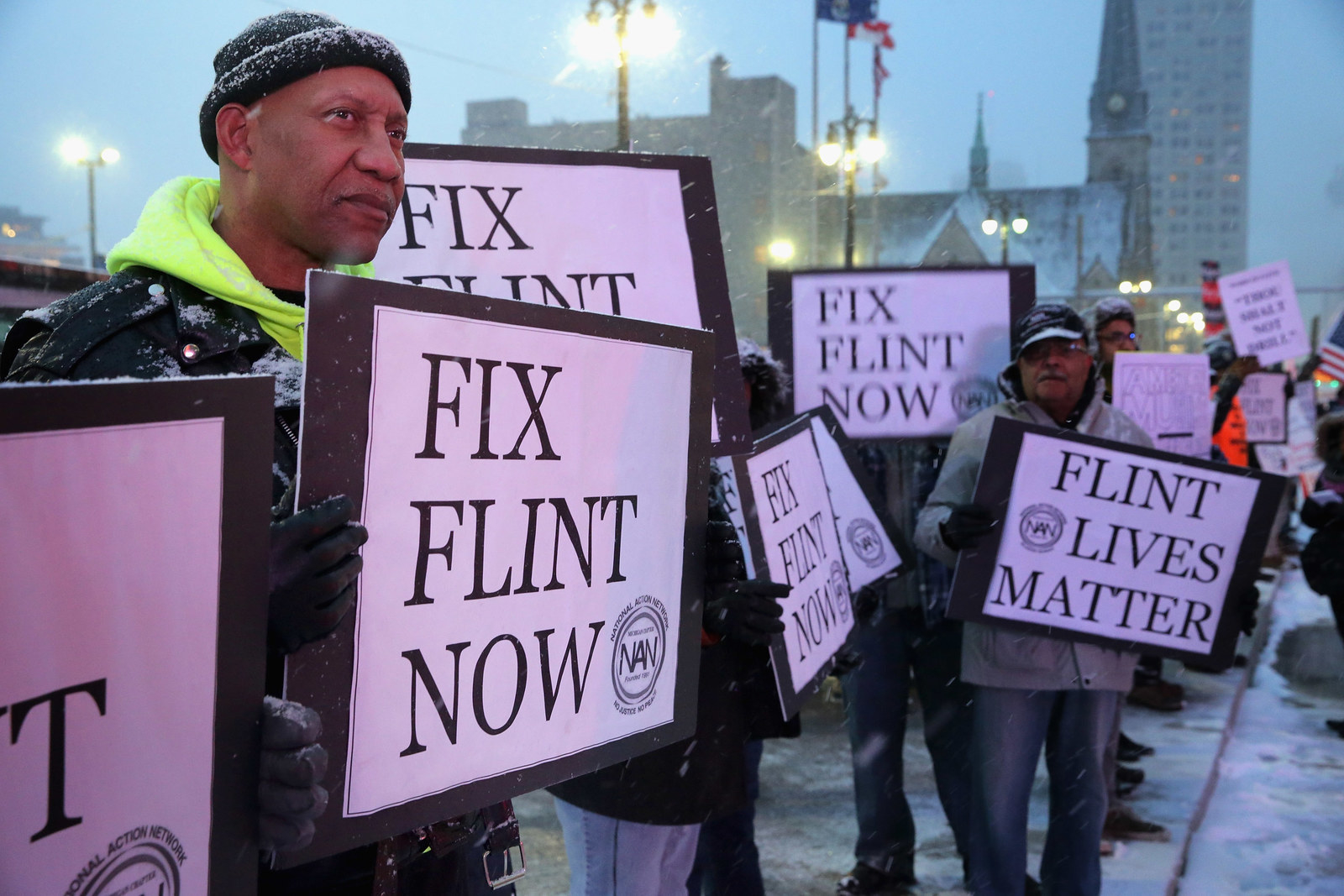 Allen said she's been avoiding getting her blood tested for lead because she's nervous about what's going to show up. She has already had skin problems because of copper contamination in her water and sometimes experiences what she called "electric" headaches.
"I joke about not having kids. This is the first time I will admit it's because I'm scared that I have lead in my bones," she said, adding that she knows there are other young women in Flint who feel the same way, especially after seeing the spike in miscarriages.
Rep. Dan Kildee, a Democratic member of Congress whose district includes Flint, told BuzzFeed News that he'd like to see more presidential candidates follow Castro's lead and visit the city to understand firsthand what people there are up against.
"Flint, I think, is a real poster child of what happens when communities are marginalized, and it's important that they hear that and understand what our needs are," Kildee said after meeting with Castro on Saturday. "I wouldn't wish on any community what Flint has gone through, but if it means that we have this sort of iconic image people are aware of and it means they come here, it makes a difference."
There have been other recent developments that continue to fuel anxiety and distrust of politicians for residents in Flint. Last week, EPA Administrator Andrew Wheeler declared that Flint water is "safe to drink" without a filter because in recent tests, 90% of the water no longer violates the EPA's safe-lead-level standards. Weaver called Wheeler's statement "premature" and said she would not be comfortable declaring the water safe until the excavation work on all pipes is complete and a panel of local doctors, scientists, and engineers signs off after seeing consistent test results over a longer period of time.
"I was out today in the city taking pictures and checking on the contractors that were out there changing pipes, and when people were saying, 'Well, my pipe has not been checked; how can you sign off and say it's safe?'" Weaver said.
"That builds mistrust; we're trying to reestablish trust. So when they make those kinds of comments, not only does it continue to keep the mistrust there, but it keeps the anger there as well," she added.
The other recent incident that's weighing on people's minds is the death of 30-year-old Jassmine McBride in February. McBride was the 13th person to die of Legionnaires' disease from contaminated water, after initially contracting the infection in 2014, according to the Michigan state health department. A PBS investigation this year found that the number of Legionnaires'-related deaths could actually be closer to 33.
The unreliable response from state and federal government and inconsistent interest from national media have added to residents' sense of being forgotten until they're politically useful.
"I'm kind of mad that you're even calling me right now," said Nayyirah Shariff, another resident and activist. "Because candidates are coming through now, suddenly, 'Oh yeah, Flint's still there.'"
Given all of these ongoing issues, Chia Morgan said she wants to know that presidential candidates "actually care about Flint, not just because the people of Flint will likely vote for [you] because [you've] been here."
"Really get on the front lines with us. You have a busy schedule, but send some of your staff to be on the front lines with us," Morgan told Castro, sitting down with the candidate in a back room at the First Trinity Missionary Baptist Church after a tour of the water purification boxes Jaden Smith donated to the church. "Wherever you are, mention Flint: 'Send 10 cases of water.' Ten cases of water from every state adds up, you know."
Morgan and others said they want the next president to amend the Stafford Act, the law that prevents Flint from receiving some emergency aid because it cannot be declared a national disaster.
She later said she thought Castro took her message seriously. Castro released a plan Monday to address lead poisoning nationally, including proposals to amend the Stafford Act, expand Medicaid for people diagnosed with lead poisoning, allocate federal funds to replace lead pipes, and do preventive lead testing.
"I look forward to demonstrating my real commitment by showing up again, but if elected president, working with Congress to make the investments we need to make here in better water infrastructure, in better job training and economic-development opportunities, in those things that can truly help Flint and other communities like it," Castro told BuzzFeed News at the end of his visit.
While candidates have passed through the city over the past two decades, Key said that Flint residents are paradoxically suffering the consequences of their own political power being stripped away: The decision to switch to contaminated Flint River water was taken by a state-appointed "emergency manager" installed by then-governor Rick Snyder in 2011 in response to the city's financial crisis. The emergency manager was given the power to override all of the city's elected representatives.
"First it was a democracy crisis, with an emergency manager put in place that took away the people's democracy and their voice," he said. "That led to a decision by the emergency manager and the governor to switch the water source. That created a water crisis. And now that the water has been switched back over, we are in a long-term public health crisis."