The Wife Of The Pizza Delivery Man Arrested By ICE Made A Father's Day Plea For His Release
Pablo Villavicencio was arrested while delivering pizza to a military base in Brooklyn.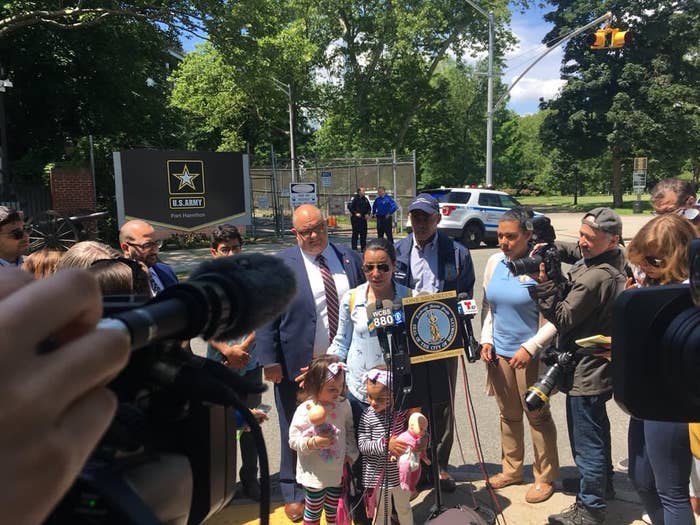 More than two weeks after Pablo Villavicencio was arrested at the Fort Hamilton military base in Brooklyn, his wife is pleading with officials to release him while he fights his immigration case.

Sandra Chica, Villavicencio's wife and the mother of their two daughters, wrote an op-ed in the New York Daily News on Sunday pleading for Villavicencio to be released, writing, "His daughters need him. I need him. Our family should not be separated. His absence leaves a huge hole in the hearts of our family and our community."
Chica, who along with her daughters is a US citizen, wrote, "Today is Father's Day, and this is the first time my two little girls will spend it without their father, Pablo Villavicencio. They made handwritten cards and drawings telling him how much they love him, but sadly they won't be able to give them to him."
Villavicencio, who is undocumented, was in the process of applying for his green card. He was arrested by ICE agents during a delivery run to the Fort Hamilton military base after staff called the agency when he couldn't provide a secondary form of identification beyond his IDNYC card.
According to his employer and his wife, he had delivered to the base several times before using just his IDNYC card and had never had a problem in the past.
"Pablo has no criminal record. He is not a flight risk. He is not a danger to anybody. He is a good man, loving father and devoted husband," Chica wrote. "We are trying to make sure that our family remains united by pursuing his green card application. His continued detention serves no real purpose other than to punish me and my daughters."
One of the couple's daughters is about to turn 4 years old, Chica said in the op-ed: "On Wednesday, our oldest daughter will celebrate her fourth birthday. Pablo will likely not be there, and she'll be wondering why. I'm sure that all fathers reading this can imagine the pain they'd feel missing these important days with their beautiful children."
Villavicencio is being held at New Jersey's Hudson County Correctional Facility. On June 9, a judge granted an emergency petition to stay his removal from the US. His case will be heard on July 20, according to court documents.
"ICE can make this right, and they have the authority to release Pablo at any moment they choose, so that he can continue working on his immigration case from home, not from jail," Chica wrote in her op-ed. "This is my plea to ICE: Release Pablo back to his family immediately."
ICE did not immediately respond to a request for comment on Chica's letter.
CORRECTION
Hudson County Correctional Facility was misnamed in an earlier version of this post.