Protesters were taken into custody Thursday by police outside a federal building in Manhattan where activist Ravi Ragbir was detained by officials and told he will be deported.
You can see BuzzFeed News's previously live footage of the protest above.
Ragbir was detained during a routine check-in with Immigration and Customs Enforcement (ICE) on Thursday morning.
"People are outraged. Give people the space to be outraged that their friend, their colleague, a father, a husband, whose wife is here, who has a US citizen daughter, is not going to come home," Linda Sarsour, an organizer of the Women's March who was at the protest, told BuzzFeed News.
New York City police arrested 18 people outside the building, an NYPD spokesperson confirmed to BuzzFeed News, including NYC Council Members Jumaane D. Williams and Ydanis Rodriguez. The NYPD did not confirm whether those arrested had been charged.
Rodriguez alleged that officers used an illegal choke hold on him while detaining him—he posted this photo to Twitter:
City Council Speaker Corey Johnson told reporters during a press conference later on Thursday that several protesters, including himself, were "suddenly and without warning or provocation shoved and pushed."
"I was shoved and I was not obstructing anyone, I was not blocking anyone, I was not resisting in any way. I was shoved," he said. "Dozens of other people were aggressively pushed to the ground as video will show you."
An NYPD spokesperson told BuzzFeed News that "extensive video" of the incident is being reviewed.
"At this point, it appears the police were clearing a path for an ambulance with a patient inside that was en route to a hospital," Sergeant Jessica McRorie, the NYPD spokesperson, said in a statement. "The NYPD was attempting to clear a path for that ambulance, which was purposely and repeatedly being blocked."
Here's video of Williams being taken into custody:
Protesters outside the federal building in Manhattan were also advocating for changes to immigration policy to give legal status t undocumented immigrants whose parents bring them here as young children, subject of intense negotiations in D.C. this week.
President Trump told Democratic legislators that if they support the building of a wall on the Mexican border, he may support a bill to protect the 800,000 undocumented young people who were eligible for protection under DACA before he moved to cancel that program.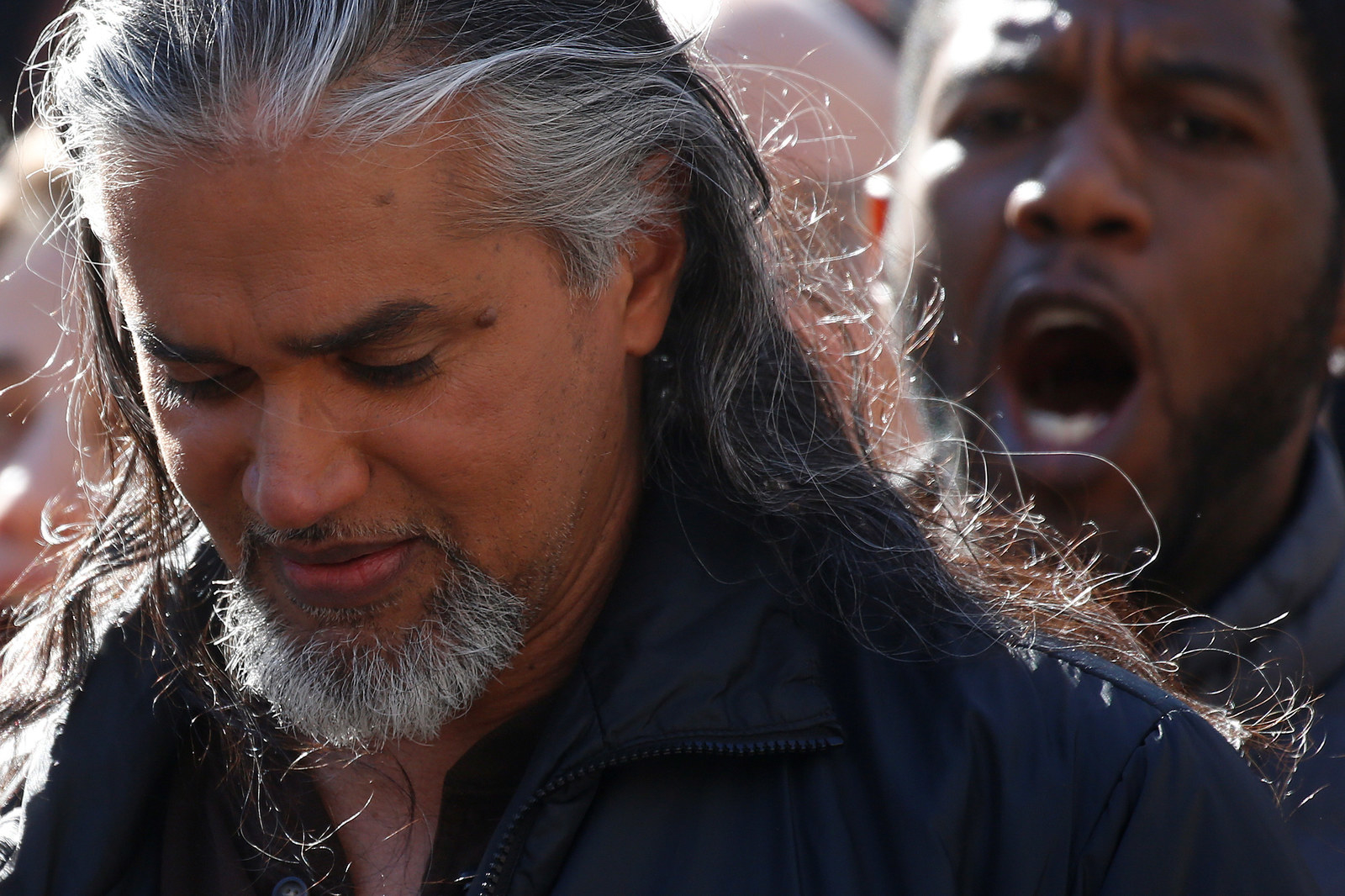 Ragbir's lawyer, Alina Das, told BuzzFeed News he has multiple legal challenges to his deportation underway, and should not have been detained by ICE today.
"They just simply said that they could. They said he has a deportation order which of course he's had for many years that we've been trying to challenge," Das said. "Now today at a routine check on they tell us it doesn't matter, that they are just making the decision to enforce the deportation order."
"We've been told that he will be processed and taken to a detention facility, they will not tell us where."
Ragbir is facing a deportation order over a 2001 conviction for wire fraud — he was sentenced to 30 months in jail. His attorneys are seeking to have that conviction vacated and, separately, plan to challenge the legality of the deportation order based on that conviction.
In a statement to BuzzFeed News, ICE Public Affairs officer Rachael Yong Yow said that Ragbir's case has gone through multiple judicial reviews over the past 12 years and that "In each review, the courts have uniformly held that Mr. Ragbir does not have a legal basis to remain in the U.S."
She added that "In an exercise of discretion, the agency had previously allowed him to remain free from custody with periodic check-ins, while his case was under court review."
"He has since exhausted his petitions and appeals through the immigration courts, the Board of Immigration Appeals, and the U.S. District Court. He will remain in custody pending removal to Trinidad," Yong said.
Advocates say Ragbir's strong community ties and history of complying with ICE check-ins should be taken into account by ICE.
"The fact that ICE has taken him as if his spirit, family ties, and contributions to the community mean nothing is inhumane," said Kaji Dousa, senior pastor of Park Avenue Christian Church and co-chair of Ragbir's immigrant rights group, the New Sanctuary Coalition of NYC.
He immigrated to the US from Trinidad in 1991 and became a permanent resident in 1994, but an immigration judge placed an order of deportation on him in 2006 on the basis of his fraud conviction.
ICE officials issued Ragbir a stay of removal in 2011, which has been renewed since. That stay, which his lawyers are seeking to extend, is due to expire next week, on Friday 19 January.
Ragbir was taken to a nearby hospital after he collapsed when he heard the news of his deportation, his lawyer said:
He was revived and checked by a nurse, who found he had low blood pressure. She said authorities called an ambulance to take him to a nearby hospital before taking him into detention.