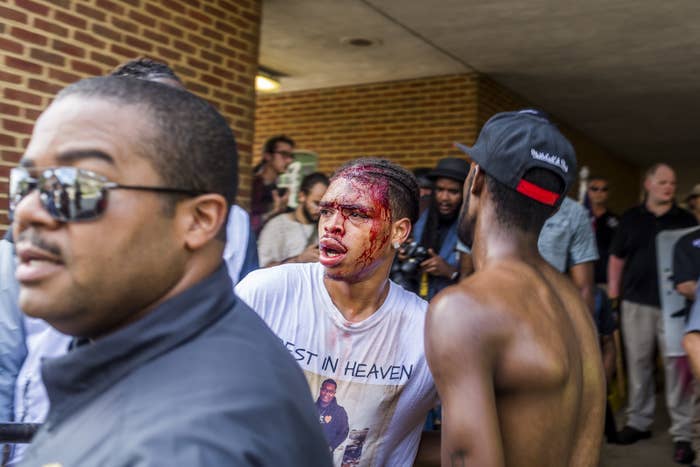 A white supremacist was found guilty of attacking and severely injuring a black man during the "Unite the Right" rally in Charlottesville, Virginia, last year.

Jacob Scott Goodwin was among a group of men caught on camera repeatedly kicking and hitting DeAndre Harris in a parking garage during the rally.
A jury on Tuesday found him guilty on one count of malicious wounding, and recommended a sentence of 10 years in prison and a $20,000 fine.
The beating left Harris with a concussion, spinal fracture, eight staples to his head, multiple gashes, and a chipped tooth.
Videos of the attack show Harris running away from a group of men and into the parking garage, where he collapses to the ground before being beaten by Goodwin and three others.
The men were chasing Harris after he swung a heavy torch at white nationalist leader Harold Ray Crews, who appeared to be attacking Harris's friend with a sharpened flagpole.
In October, Crews sued Harris, accusing him of assault and battery. Harris was found not guilty in that case in March after the presiding judge ruled that he swung the flashlight to defend his friend, not with the intent to harm Crews.

Throughout the trial, Goodwin insisted that he thought he was in danger and was defending himself from Harris when he kicked and hit him repeatedly each time Harris tried to get up.
Neither attorney on Tuesday brought up the issue of race during the trial, the Washington Post reported. But during closing arguments, Goodwin's lawyer, Elmer Woodward, told the jury, "They want you to convict this man because he's white, and DeAndre is a black man."
Harris's attorney, Nina-Alice Antony, reportedly objected, saying she had avoided making the case about race. In her closing arguments, she showed the jury a photo of Goodwin on the day, dressed in a helmet, shield, and goggles.
"Does Jacob Goodwin see someone over there and go help? Or does he outfit himself for battle and run in to do battle?" she asked.
In April, Goodwin and his family were the subjects of an NBC documentary exploring his involvement with a white nationalist group called the Arkansas ShieldWall Network, which advocates for a white nation in the Midwest.
The group aims to "build the ethnostate" by moving white people from "darkening Louisiana, Mississippi, and south Arkansas to the Ozarks." The group released a statement in response to Goodwin's guilty verdict, saying it wasn't clear what message "the anti-White system was trying to send."
"Were they trying to frighten White people off the streets, to intimidate Whites from holding peaceful public gatherings?" the group asked.
Goodwin is the first of four men facing trial over the attack. Alex Michael Ramos, Daniel Borden, and Tyler Watkins Davis face various charges of assault and malicious wounding. Ramos's trial started on Wednesday, while Borden and Watkins will be on trial in the coming months.
At the same rally in August, white supremacist James Alex Fields allegedly drove his car into a crowd, resulting in dozens of injuries and the death of counter-protester Heather Heyer. Fields will face trial in November on charges of first-degree murder and nine other felonies.
Blake Montgomery contributed reporting.