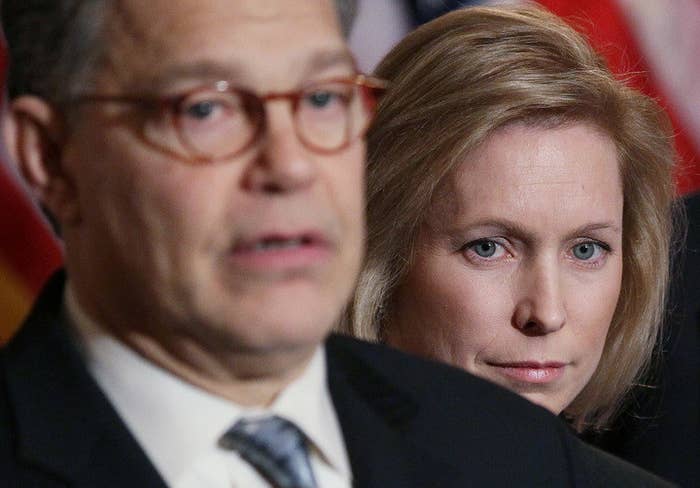 Several Democratic senators called on Sen. Al Franken to resign Wednesday after several women came forward to accuse him of sexual misconduct.
The calls for Franken's resignation came hours after the latest allegation, when Politico reported that a seventh woman — a former Democratic congressional aide — accused Franken of trying to forcibly kiss her in 2006 while he was the host of a radio show. He has denied the latest accusation.
The pressure from members of Franken's own party is immense. Franken's office said he will make an announcement on Thursday.

Talk radio host Leeann Tweeden first accused the senator on Nov. 16 of forcibly kissing her and groping her while she was asleep during a USO tour of the Middle East in 2006. In the past three weeks, six other women have come forward.

There is currently a Senate Ethics Committee hearing into the incidents, and Franken has said he will cooperate with the investigation.

A group of six female senators, Sens. Gillibrand, Hassan, Hirono, Harris, McCaskill, and Murray, were the first to issue statements in a short period of time on Wednesday, saying Franken should resign. They were soon joined by several colleagues and DNC Chair Tom Perez.
"Obviously there were new allegations today, and enough is enough. I mean, this is a conversation we've been having for a very long time, and it's a conversation that this country needs to have," Gillibrand said at an event Wednesday. "And I think when we start having to talk about the differences between sexual assault, and sexual harassment and unwanted groping, you are having the wrong conversation. You need to draw a line in the sand and say none of it is OK. None of it is acceptable."
She went on to say she doesn't think "Congress is equipped, I don't think they have the tools, to do the kind of accountability the American people are searching for."
On Wednesday evening, Senate Minority Leader Chuck Schumer joined the calls for Franken to resign.
Sen. Amy Klobuchar, who represents Minnesota with Franken, tweeted that "sexual harassment is unacceptable," and that she is "confident" Franken "will make the right decision."

Sen. Chris Murphy said in a statement: "The increasing number of women coming forward suggests a pattern of repeated harassment and unacceptable behavior that is impossible to ignore. Senator Franken has denied some of these allegations and has the right to continue to seek a process through the Ethics Committee, but I believe the best course of action for him right now is to step down, as I expect he will do tomorrow."
Mitch McConnell, a Republican who is the highest-ranking member of the Senate, also called on Franken to step down on Wednesday.
Lissandra Villa and Emma Loop contributed to this report.