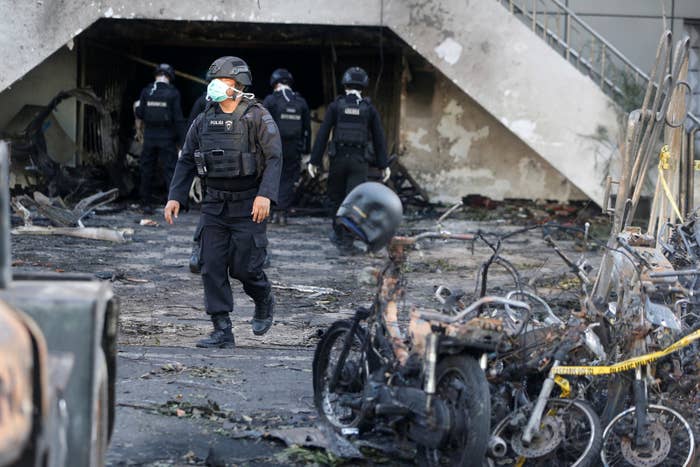 Three Christian churches in the Indonesian city of Surabaya were bombed on Sunday morning, leaving at least 13 people dead and injuring more than 40, according to Indonesian police.

Among the dead were a family of six who police believe carried out suicide bombings on the three separate churches in Indonesia's second-largest city, the Associated Press reports.
Indonesian Police Chief Tito Karnavian told reporters that investigators believe the attacks were carried out by a single family — a couple and their four children, aged 9, 12, 16, and 18. The explosions occurred within minutes of each other, starting at around 7:30 a.m., as people were arriving at the churches for prayer services.

Karnavian identified the father as Dita Futrianto, adding that authorities believe he was the head of the local branch of Jamaah Ansharut Daulah, a terrorist cell with connections to ISIS. A few hours after the bombings, ISIS claimed responsibility for the attacks, the Jakarta Post reported.
The police chief told reporters the family had been in parts of Syria under ISIS control and that they were among a group of Indonesian families deported from Turkey for alleged ISIS connections.
"The husband drove the car, an Avanza, that contained explosives and rammed it into the gate in front of that church," East Java police spokesperson Frans Barung Mangera told reporters on Sunday, according to Channel News Asia.

Mangera said the mother, identified as Puji Kuswati, and two daughters allegedly attacked a second church, and that the couple's two sons rode a motorbike with bombs into the third church.

Indonesian President Joko Widodo said in an address that the attacks were "very barbaric and beyond the limit of humanity," after visiting the bomb sites on Sunday.
Nahdlatul Ulama and Muhammadiyah, Indonesia's two largest Muslim organizations, condemned the attacks along with other religious leaders in the country.
The bombings are the deadliest attacks in Indonesia since the 2005 Bali bombing, in which 23 people were killed.
CORRECTION
Sunday's bombings are the deadliest attacks in Indonesia since the 2005 Bali bombing, in which 23 people were killed. An earlier version of this story misidentified the last terrorist attack of this magnitude.