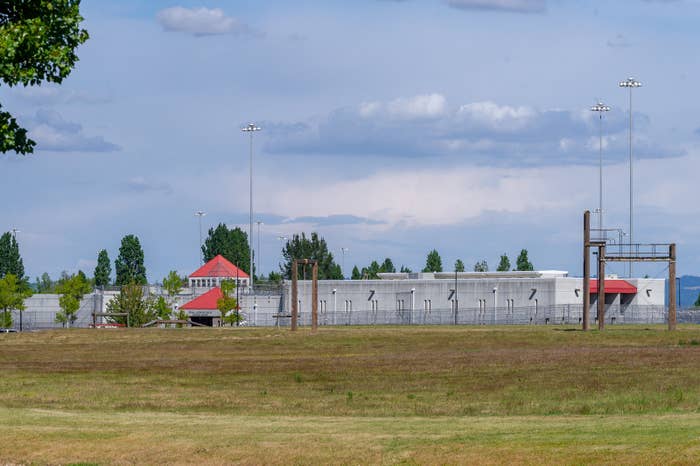 Asylum-seekers being held at a federal prison in Sheridan, Oregon, are being denied access to religious items and time and space for prayers, according to the Oregon public defender's office.

The public defender, Lisa Hay, filed lawsuits on behalf of dozens of asylum-seekers at the Sheridan Federal Correctional Institution on Thursday, alleging that prison authorities are denying detainees, many of whom are Sikh and Hindu, religious accommodations.
"The Sikh detainees have not been allowed to wear turbans and instead have either been uncovered or forced to make do with towels, t-shirts, hats, or other inadequate coverings," wrote William Teesdale, chief investigator for the public defender's office, in the lawsuit. He added that Hindu detainees have not been given access to their sacred texts in Hindi.
The asylum-seekers are part of a group of 123 men originally transferred to the federal prison by US Immigration and Customs Enforcement on May 31 after being taken into custody at the southern border. They are from India, Nepal, Bangladesh, Mexico, Guatemala, Honduras, and other countries.
Thursday's filing is the latest in a series of legal actions taken by the public defender and the ACLU of Oregon on behalf of the asylum-seekers, who they say were held with the general population of the prison and denied access to lawyers for nearly a month after they were moved there.

The Federal Bureau of Prisons said Friday it had no comment on the habeas corpus petitions or subsequent filings.

A spokesperson for ICE told BuzzFeed News on Thursday that 110 ICE detainees remained in the prison; nine were relocated to be deported, and four were transferred out to the Northwest Detention Center to receive specialized medical care.
The detainees were were among 1,600 asylum-seekers moved to federal prisons at the end of May, when ICE said that immigration detention centers were at capacity after the implementation of the Trump administration's "zero tolerance" policy at the border. In an earlier court filing, an adviser to the Sheridan prison warden said officials were told just one day before the move that they would be receiving around 130 ICE detainees.
An ICE spokesperson told BuzzFeed News the agency does not comment on pending litigation.

"The detainees express anguish in response to several significant limitations imposed by BOP staff and policies," Teesdale wrote in an affidavit, including being forced to pray in their prison cells next to an open toilet and in a space also used as a barbershop where hair is cut, which goes against Sikh practices.

The men are not allowed by prison guards to remove their shoes during prayers, had religiously significant items confiscated by Customs and Border Protection when they arrived in the US, and prison guards remove even their makeshift head coverings while they're praying, according to the lawsuit.
Lawyers have been able to meet with the men since June 26, the day after a court ordered the Bureau of Prisons and ICE to allow them access — but for weeks leading up to that lawsuit, lawyers were denied access.
"We were turned away multiple times by Bureau of Prisons staff. We submitted a letter to the warden of the BOP Sheridan facility as well to the regional director of ICE to request access, which did not result in any changes. We decided to move forward with legal action," said Victoria Bejarano Muirhead, a legal expert at the Innovation Law Lab, which is assisting the majority of the asylum-seekers with their immigration cases.
Muirhead said the men are now going through their credible fear interviews, one of the first steps toward being granted asylum in the US. At least 50 of the men in detention have passed that test so far.
Thursday's filing alleges that the Bureau of Prisons and Immigrations and Customs Enforcement are violating the First Amendment, the Religious Freedom Restoration Act, and the Bureau of Prisons' own guidelines on religious freedom.
Religious leaders also say they had been trying to reach men at the prison for weeks but were turned away by prison staff several times.
Rev. Ron Werner Jr., an organizer at the Interfaith Movement for Immigrant Justice, said he was allowed into the prison for the first time on Wednesday to lead a Christian service, but was not permitted to minister to individual detainees. He said Sikh leaders were granted entry once last week.
"I just jumped through every hoop they gave me for the last six weeks," he said, adding that he's been able to access ICE detainees held at a local county jail far more easily than those at the federal prison.
"It kind of speaks to why this facility is not equipped to handle individuals who are detained through ICE," he continued.
Last week, Hay filed 74 petitions on behalf of the asylum-seekers, citing overcrowded cells, a lack of adequate medical care, and meals that violated religious restrictions. The petitions asked for immediate relief from those conditions and for the asylum-seekers to have their cases heard by a judge.
The pubic defender's office collected testimonies after they gained access to the detainees last month. The asylum-seekers said they were held in cells for up to 22 hours per day, expected to eat in their cells next to open toilets, strip-searched in front of other detainees, and not given changes of clothes for several days on end.
"Here we have come to save our lives but I think we will die here in jail," one asylum-seeker said, according to Teesdale's affidavit in that filing.
"Criminals live along with us," said another man. "We were very afraid of them. I had wrapped towel on my head but it was taken off from my head. It is violation against our religion."
Teesdale said in Thursday's filing that while "many of the conditions have improved since the end of June" when they were moved out of the general population and into a separate block of the prison, "detainees continue to report significant limitations on their ability to practice their faith."