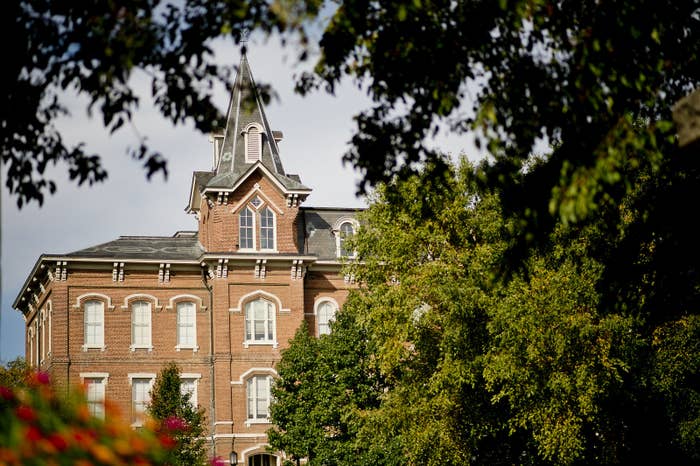 Comedian Andy Gross said he was "oblivious and naive" that part of his show would be considered lewd and inappropriate, and said he would no longer perform in college campuses after students at Purdue University walked out during one of his performances Saturday night.
In a statement to BuzzFeed News, the comedian apologized for his show, but maintained that he had performed the same bit at multiple venues without being accused of sexual misconduct.
"Andy Gross is profoundly sorry that students at Purdue University were offended during his show this past weekend," read a statement from Gross. "Andy was oblivious and naive about the current environment on college campuses, and he sincerely regrets causing any offense or discomfort to any student participating."
Several students walked out of an orientation week performance by Gross Saturday night, protesting a part of the show that they said was lewd and inappropriately targeted a student participant from the audience.

Several students tweeted after the show that the comedian had "sexually harassed" the student during the act, prompting a response from two of the university's offices.
Students told BuzzFeed News the comedian was performing as a closing act at the school's Boiler Gold Rush orientation week. At one point during the Saturday show, he picked a student leader out of the crowd to be a volunteer and asked her to stand directly in front of him before making a joke about his genitals, according to students who were in the audience.

"He insisted the woman from the crowd keep inching closer and he proceeded to do a voice throwing technique while staring down at his midsection, saying, 'Let me out of here!' insinuating his penis was talking to the girl," Jeff Terpstra, a sophomore who was in the audience, told BuzzFeed News on Sunday.
Terpstra said the performer then made the student stand back to back with him and told her to "get closer, like cheek to cheek" before instructing her to put her hand on his thigh while he did a card trick.
"He then purposely failed the card trick and said, 'Well, at least I got a free feel-up out of it,'" Terpstra said.
In a statement, a representative for Gross said he had performed the same routine at the Laugh Factory, the Comedy Store, the Improv, and dozens of other venues in the country.
"Andy has never before been accused of sexual misconduct or harassment," the statement read. "Again, Andy Gross sincerely regrets causing offense or discomfort."
Gross, his representative said, would be changing parts of his routine that upset students.
In a letter to students on Sunday afternoon, the executive director of Purdue's Student Success Programs, Dan Carpenter, apologized for Gross's performance, telling students, "I share your outrage at the way he interacted with and spoke to students during his act."
Two other students recounted the same actions to BuzzFeed News. Matthew Bryn, a freshman, added that Gross then made a joke about Matt Lauer, the former NBC host who was fired over accusations of sexual assault and harassment.
Bryn said he was especially disturbed by the routine because there were several events and speeches throughout the week before highlighting Purdue's "free zone," which encourages treating people with respect and acknowledging their experiences.
"It's just ridiculous, especially [after] having 'free zone' speeches all week. Purdue did send out a notice to all the team leaders ... that said that they in no way supported it," Bryn said. "But I feel like they could have done more. They could have shut his mic [off] or pulled him [off] stage but instead they let him keep going."
A spokesperson for the college told BuzzFeed News in a statement on Sunday that Purdue does not condone the comedian's routine and will not be working with him again in the future.
"Some portions of the performance were clearly inappropriate and contrary to the university's values of respect and support for all," the statement said. "We will not work with this comedian again and are proud of our students who are standing up and voicing their concerns about the performance."
Another freshman, Amanda Bolen, told BuzzFeed News that she doesn't blame the school, and that the student leaders at the event and her resident adviser were apologetic during and after the event.
"I'm hopeful for this university/generation because of how many people walked out in protest. People realizing this is wrong proves that efforts to spreading awareness about sexual assault are working. Andy is just a pig who is making jokes that were probably 'funny' when he was in college," she said.

Purdue's Center for Advocacy, Response, and Education, which is overseen by the school's dean of students, tweeted immediately after the performance and offered counseling and support services to students. The office said it had been received comments about the performance, which "was described as [being] harassing and offensive."

Read the letter to students from Dan Carpenter, the executive director of Purdue's Student Success Programs, in full below:

Dear BGR Participants:

I am writing to share with you my personal regret for our use of the comedian Andy Gross and allowing him to be a part of Boiler Gold Rush 2018. The performance was not at all what we expected from Mr. Gross, and the Orientation Staff and I share your outrage at the way he interacted with and spoke to students during his act. Portions of Mr. Gross' performance were clearly inappropriate and contrary to the university's values of respect and support for all. I want to applaud those of you who expressed your personal values by refusing to interact with him and/or by simply walking out. I congratulate you for acting in a way that reflects the things that BGR attempts to instill in Purdue students. We will never work with Mr. Gross again.

The Orientation staff and I are committed to continued support for you as you begin your academic journey. If you wish to discuss the situation or seek assistance, you can call Counseling and Psychological Services after hours contact line at 765-494-6995, press 1. In an emergency, you can call 911 and ask to speak to a Purdue Police CIT (Crisis Intervention Trained) officer.

Sincerely,

Dan Carpenter
Executive Director
Student Success Programs
Purdue University