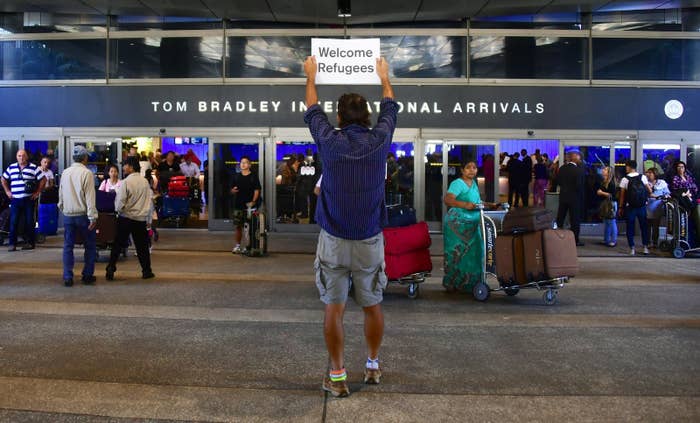 Refugees with approved documents and travel booked to arrive in the US will now be allowed to enter the country up to July 12, two refugee agencies told BuzzFeed News, pushing the original deadline back from July 6.
President Trump's travel and refugee ban executive order includes a full 120-day halt to the refugee resettlement program except for those who, as the Supreme Court ordered, have "a credible claim of a bona fide relationship with a person or entity in the United States.

Refugee agencies' working relationships with refugees won't be considered sufficient to pass that "bona fide" test, according the Department of Homeland Security said in an FAQ released last week.

The new July 12 date — which was included in updated guidance that the agencies said they received from the Department of State's Bureau of Population, Refugees and Migration on Monday — would apply to those with no such "close familial relationship."
The agencies said they weren't clear why the date was changed, but that it could have something to do with the Trump administration's cap of 50,000 refugees for this financial year is met.

On Thursday morning a state department spokesperson confirmed that the administration's latest guidance is tied to the 50,000 cap on refugee arrivals for the year.
"In consultation with DOJ, we have advised our refugee resettlement partners that they should proceed with the resettlement of refugees who are scheduled to travel to the United States until the date on which we reach the ceiling of 50,000 refugee admissions for FY 2017," a State Department spokesperson told BuzzFeed News in a statement. "We anticipate that will occur on or around July 12. After we reach 50,000 refugee arrivals for FY2017, only those individuals who have a credible claim to a bona fide relationship with a person or entity in the United States will be eligible for admission through the U.S. Refugee Admissions Program."

The Department of Homeland Security referred questions to the State Department.

As of June 30th, the admitted refugee count to the US stood at 49,225, according to State Department figures.
One agency told BuzzFeed News the new guidance could help some refugees who have been through the vetting process enter the country — but that it still leaves many others who don't have family connections in the US at risk because they are scheduled to arrive after July 12.
Additional reporting by Chris Geidner and John Hudson.