Leading Indian Magazine In Crisis Following Accusations Of Sexual Assault
"We are reporting on all the ills of the world, but inside our organizations all these same issues are just hidden under the carpet," one Mumbai-based journalist said.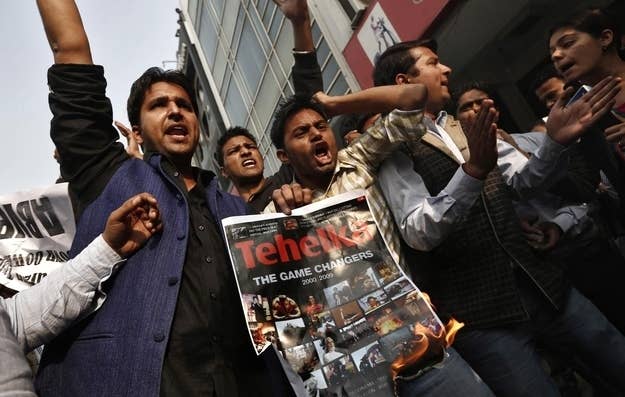 NEW DELHI — "I cannot stay one day longer in an institution headed by a perpetrator of rape." With those words, Revati Laul quit her job last Tuesday as political correspondent at Tehelka, an investigative Indian newsmagazine where an unfolding rape scandal has called into question the credibility of a liberal media devoted to exposing gender violence outside its office walls and apparent indifference to complaints within them.
The case has also raised questions about the efficacy of Indian law in handling sexual harassment and assault in the workplace.
Five more employees at the magazine have quit, including the victim, since the scandal first broke last week amid allegations that the magazine's editor-in-chief, Tarun Tejpal, sexually assaulted an employee twice during Thinkfest, a beachside festival he hosts in Goa. Beyond the incident itself, whose details have leaked into the Indian press, the magazine's handling has come under scrutiny. Tehelka is not just any outlet in India — it has built a reputation as an investigative powerhouse, exposing corruption and abuse of power. Its coverage in the aftermath of the Delhi gang rape in December last year was widely commended.
That coverage was spearheaded by managing editor Shoma Chaudhury, a charismatic and highly lauded journalist who has spoken out on women's issues over the course of her career. Now Chaudhury has become the target of criticism that accuses her of covering up the alleged assault and allowing Tejpal to take a six-month recusal instead of stepping down permanently. The incident highlights an apparent contradiction: the magazine's indifference to workplace sexual harassment even while it has drawn attention to gender violence in India through its reporting.
"In the media profession, we are reporting on all the ills of the world, but inside our organizations all these same issues are just hidden under the carpet," said Sameera Khan, a Mumbai-based journalist and member of the National Women in Media network. "Obviously if you're in an industry that demands accountability from others — politicians, lawyers, activists — then you have to have some accountability yourself."
In an interview, Laul said she had long wanted to quit Tehelka, bothered by salary issues, lack of benefits, and a general sense that management was not exactly on her side, but Chaudury convinced her to stay. When she spoke to her friend and colleague last Monday, she was shocked at her friend's revelations of sexual assault against Tejpal. The details were later leaked to Indian media, via an email the victim sent to Chaudhury last week. The victim was working with Tejpal at Thinkfest, a lucrative annual cultural festival he co-presents with Chaudhury, which showcases international celebrity speakers. (Part of her job was helping to host Robert DeNiro, who was attending the festival and was profiled in the Nov. 19 issue of the magazine.) Chaudhury, who often speaks and writes on gender violence, had presided over a panel entitled "The Beast in Our Midst: Rape Survivors Tell Their Stories."
In the leaked email, the victim said Tejpal sexually assaulted her on Nov. 7 and Nov. 8 in a hotel elevator. She has not been available for comment.
The incident reflects a level of impunity for perpetrators of sexual harassment based on a workplace culture of indifference that cuts across industries. What is worse, former employees and media critics say, is the management's response. After speaking to the victim, Laul said she became convinced that Chaudhury was "batting for the perpetrator, not the victim," she said. Chaudhury's stance, she said, shocked her more than the rape allegation itself, and she tendered her resignation immediately. Neither Chaudhury nor Tejpal responded to numerous requests for comment. A staffer said that the magazine's next issue, which will appear on newsstands Friday, will contain a response to the crisis by Chaudhury.
In a letter to Chaudhury released by Indian media on Monday, the victim reportedly wrote of her disappointment in what she deemed a "cover-up" of the assault, which included Chaudhury telling reporters that the victim was satisfied with the institutional response and by Tejpal claiming that the encounter was consensual.
"Over the past years," she wrote, "we have collectively defended the rights of women, written about custodial rape, sexual molestation at the workplace, spoken out harshly against the culture of victim blame and the tactical emotional intimidation and character assassination of those who dare to speak out against sexual violence. At a time when I find myself victim to such a crime, I am shattered to find the Editor in Chief of Tehelka, and you — in your capacity as Managing Editor — resorting to precisely these tactics of intimidation, character assassination and slander."
Chaudhury responded late Monday during an interview with the news program Times Now, saying that she had Tejpal apologize even while she knew he did not agree with the victim's version of events.
"I have got an unconditional apology out of an editor when I know there is a different version because I was standing up for my feminist principles," she said. "I
I will put out a detailed response to her resignation letter, which will make everybody understand that this" — referring to allegations of a cover-up — "is a lie."
Jay Mazoomdar, a contributing editor who wrote articles on the environment, said that the institution itself had come into question by the response to the alleged assault.
"The way they handled it they ended up dragging the brand into it and damaging its credibility seriously. I didn't see there's a point in continuing my association with the organization," he wrote in an email, adding that, "if you are accused of forcing someone and you have admitted to the crime then you can't decide your own punishment."
Ishan Thankha, a photo editor at Tehelka, sent in his resignation on Monday, and sources inside the magazine said that Shougat Dasgupta, the literary editor, also resigned but stayed to make sure that an inquiry committee would be set up to probe the case. Magazine staffers sat in a two-hour-long meeting Monday evening with senior management addressing the crisis. Rana Ayyub, a senior editor covering politics, announced her resignation on Twitter today.
The scandal has also called into question India's legislative capacity to deal with sexual harassment and assault. The country's guidelines governing sexual harassment and assault in the workplace date back to 1997, when the Supreme Court began to enforce the Vishaka guidelines, a set of practices that apply to all companies, public and private. The guidelines were adopted after the rape of a social worker in Rajasthan and are designed to safeguard a woman's right to work. A major component compels companies to set up an internal sexual harassment complaints committee where the majority of the members are women. Many have neglected to do so, including Tehelka.
This year, President Pranab Mukherjee signed into law the Sexual Harassment in the Workplace Act, making complaints committees mandatory for all companies and specifying a punishment for failure to comply, which Vishaka never explicitly did. However, the law has not yet been notified by the Ministry of Women and Child Development, meaning the administrative details of its implementation and enforcement are as yet unconfirmed, hence the law is technically not in effect.
Also this year, an amendment was added to a section of the Indian penal code to include and explicitly define sexual harassment. It was under these expanded laws that Goa police issued a first information report, a charge sheet representing the first step in a criminal investigation, charging Tejpal with the new sexual harassment crime, and additionally under rape and rape by a person in a position of control or dominance over a woman, also a new amendment to the penal code.
Journalists and writers have weighed in across the board to reflect on what the case means for the profession and the country. Arhundati Roy, an activist and author of God of Small Things, and a good friend of Tejpal's, published an article Monday condemning him for both the assault and his reaction to its revelation.
Some employees decided to stick by the magazine through the crisis, which many are portraying as a make-or-break moment for Tehelka.
"I was thinking of stepping down because of it, but I didn't, because I think an institution is much more important than a person," said Ankit Agrawal, a reporter. "A person faces charges for his crime, and he will."
Agrawal also took issue with the media coverage of the case, which he characterized as a "lynching," saying that media organizations with links to conservative political party were leading the fury of coverage against Tehelka.
Tejpal himself has suggested as much. In a report in The Indian Express, he said that political forces were aligned against him. He hired a high-powered lawyer to defend him, and Wednesday, he will attend a hearing at the Delhi High Court for anticipatory bail, an action allowed to a defendant anticipating arrest. In his plea, he denied the allegations of assault, recast it as "lighthearted, drunk banter," and said that the chief minister of Goa was supervising the case as part of a personal political vendetta against him.
The chief minister of Goa is a member of the BJP, which has suffered under one of Tehelka's most famous exposés regarding murky defense deals under the BJP-led government of Atal Bihari Vajpayee 12 years ago. Several politicians were forced to resign after the report, and some have suggested that the party has had a vendetta against the newsmagazine ever since.
Many have pointed out that regardless of the political motivations of the investigating agencies, the alleged crime is one that deserves prosecution, especially from an organization committed to exposing criminal behavior by others. "This is a moment of looking within," said Agrawal. "It's a moment of reflection for the media and for other organizations."