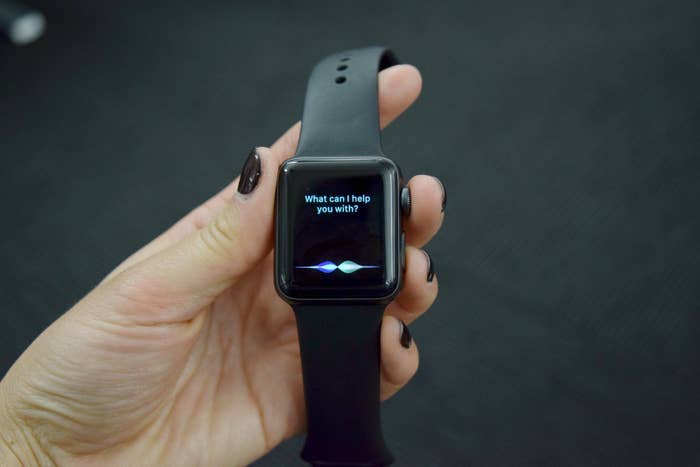 Apple is finally opening up its intelligent personal assistant on the Apple Watch to developers. Tucked away in the latest software update for Apple Watch, watchOS 3.2, are new third-party capabilities for Siri that bring even more functionality to Apple's smallest screen. The update is available now.

Google Now on Android phones, Cortana on the Windows Phone, and Alexa on Amazon Echo allowed third-party services long before Siri. Apple's "intelligent personal assistant" did not support app integrations until last September, with the release of iOS 10 for iPhone, iPad, and iPod – but Siri on watchOS remained limited to opening apps or performing tasks for the smartwatch's built-in apps, like Clock, Workout, Phone, and Messages.

Before the update, you could say "Siri, send a message to Bae," but you couldn't say "Siri, send a WhatsApp message to Bae," in which case Siri would simply offer to launch WhatsApp on your iPhone for you. With the new update, third-party app developers will be able to integrate Siri on the watch, but only for fitness, payments, ride-hailing, and messaging.
Since launching third-party "extensions" in iOS 8, Apple's mobile platforms have been increasingly open to developers. But Siri remains significantly more restricted than its Android, Microsoft, and Amazon counterparts, despite its head start.
Siri launched in October 2011 and was followed by Google Now in July 2012 and, finally, Alexa and Cortana in 2014. Google's artificial intelligence software, renamed "Google Assistant," can be found on iPhones in the cross-platform Allo app, in the company's new smart speaker Google Home, in Android Wear smartwatches, and, now, just about any device running the latest version of the Android software. Amazon's Alexa, on the other hand, was found in nearly every gadget under the Las Vegas sun at this year's CES. It's clear that Apple's Siri needs to work with more services in more places if it hopes to keep up with its competition in the space.
Here are some developers updating their apps to support Siri once watchOS 3.2 is available:
Lyft is Uber's main ride-hailing rival in the US. You can say, "Hey Siri, order me a Lyft," in its app update, coming soon.

Ace Tennis is a new app that helps improve players' serves. Before training, you'll be able to say, "Hey Siri, start serving with Ace Tennis," or, "Measure my serves with Ace Tennis."
Fitso is a mobile coach that offers workouts and meal plans based on your fitness goals. You will soon be able to pause and resume Fitso workouts with Siri.

MySwim Pro provides analytics, tracking, and workouts, and you can now ask Siri to start recording a swim without having to fiddle with the screen.
RunGo creates running routes and offers GPS voice navigation. You'll be able to ask Siri to "pause RunGo" or "start running with RunGo."
Seven includes a variety of seven-minute workouts. Say, "Hey Siri, start today's weight loss workout with Seven" to start exercising.
Slopes tracks and records speed, vertical, distance, and lift versus trail time while you ski or snowboard. Siri can now stop, pause, and resume recording while you're on the mountain.

Streaks Workout helps you establish habits and stay on track. Now you can begin and resume workouts you want to record in the app.

Zones helps visualize your exercise intensity, so you know whether or not you're pushing yourself. Siri lets you start and stop a Zones workout, hands-free.

Zova is an app that provides full-body workouts and coaches you through runs. You can control the workout with Siri.