Over the past few months, updated privacy policies have likely flooded your inbox.
So. Many. Emails.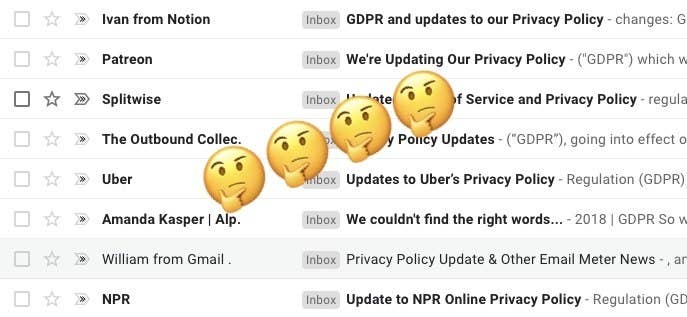 You've probably seen new privacy and cookie notices on websites, too.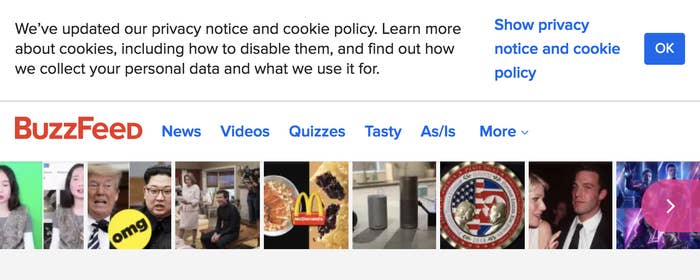 Some random apps also seem to be shutting down, out of the blue.
Twitter's apps for Roku, Android TV, and Xbox are no longer available. Klout, Favstar, and a multiplayer game called Super Monday Night Combat are dead.
Instapaper is temporarily shutting off access to European users, while an online game called Ragnarok Online is shutting down European servers after a decade in operation and Unroll.me, the inbox declutter app, is closing its service to European users. A Chinese smart home company named Yeelight even disabled its Wi-Fi-connected lightbulbs.
If you're wondering why all of this is happening, it's because of a new European law, called the General Data Protection Regulation (GDPR for short), that's very easy to understand.
Companies with European users are sending emails with updated privacy policies, in order to comply with GDPR.
Companies are desperate to comply with GDPR, because if they don't, there's a fine of up to 4% of their global revenue or 20 million euros (whichever is higher).
To put that into perspective, last year Apple made $229.2 billion (or 195,553,440,000 euros) in revenue, and 4% of that is $9-ish billion.
So, what the heck is GDPR? The first thing you need to understand is that apps and websites collect all sorts of data — or personal information — about you.
That data can include things like your name, gender, marital status, age, or where you live. Collecting that information, and using it to show you targeted advertisements, is how a lot of apps and websites offer their services for free.
But data collection can easily go overboard. In 2010, Facebook invited app developers to make games and apps on its platform and gave them access to extensive user data. Your notes! Your friends' names! Your religion! Your chat online status! It was a data free for all! They could suck up everything related to you and your friends. That was at the heart of the Cambridge Analytica scandal, in which up to 87 million Facebook users had their data inappropriately accessed.
The second thing you need to understand is how GDPR is supposed to protect you.
Companies like Facebook and Slack are creating new GDPR-compliant tools to easily view and remove collected data.
In an emailed statement, a Facebook spokesperson said, "Our recently expanded tools for accessing your information will allow people to see their data, delete it, and easily download and export it. These tools are available globally, although we designed them to comply with GDPR too. We've also updated our Activity Log on mobile to make it easier for people to see the information they've shared with Facebook from their mobile device. (Again, global)."
So, anyway, that's why you're getting a bunch of emails.
You should really check those emails, too. Some companies are requiring you to actively give your consent, and may remove you from their mailing lists if you don't.
And if you still don't understand GDPR, maybe this will help.