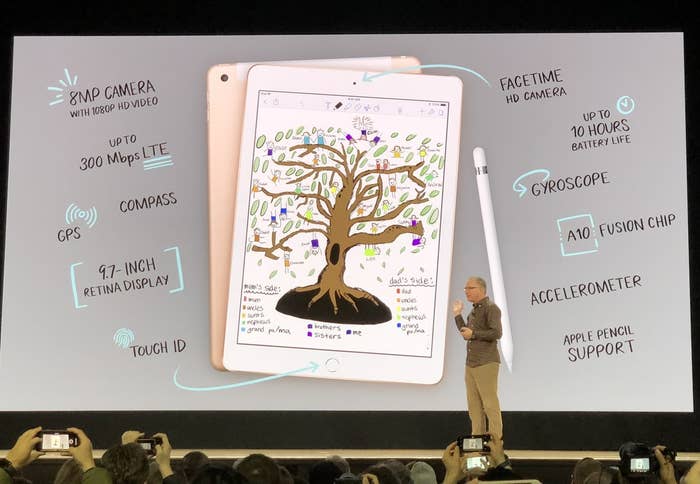 Today, Apple announced a new, education-focused iPad tablet aimed at students and teachers that works with the Apple Pencil stylus.
Its price starts at $329 for consumers and $299 for schools. The new iPad comes with stylus-compatible educational software onboard — including "Smart Annotation" in the Notes app for teachers to mark up students' documents, as well as digital book creation tools.
While the Apple Pencil price remains $99, Apple is also selling a third-party stylus by Logitech, called Logitech Crayon, for $49. Schools can purchase Apple Pencil for $89 (a $10 discount). Apple is also upgrading iCloud storage for education from 5GB to 200GB. The amount of free iCloud storage for consumers will remain at 5GB.
At 9.7 inches, the new iPad is the same size as the current entry-level iPad, which was also offered at a $329 price point.
The new iPad Wi-Fi model with 32GB is $329, and the Wi-Fi and LTE version with 32GB costs $459. It shares most of the same technical specifications as that previous entry-level iPad model, with the addition of Apple Pencil support, as well as an A10 Fusion processor, which Apple claims is more powerful than "virtually every Chromebook." It has 40% faster CPU and 50% faster graphics performance than last year's model. The new updated iPad, however, does not have a Smart Connector, which allows for easy pairing to accessories like keyboards.
While the new processor may offer higher performance, the $299 iPad and $89 Apple Pencil may not be as compelling to cost-conscious schools as Chromebook laptop-tablet hybrids, which start at around $250 for consumers and come with detachable keyboards, as well as unlimited Google Drive storage.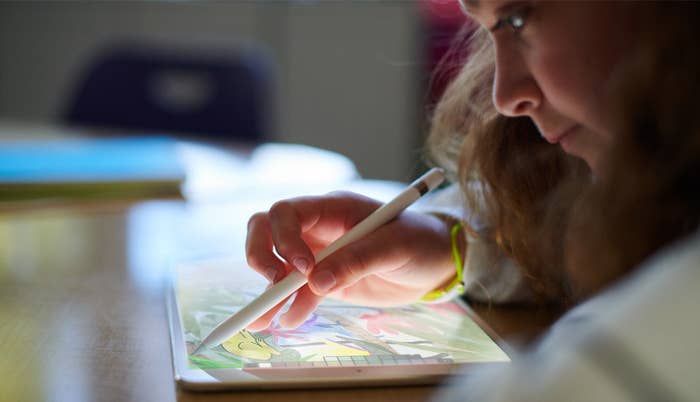 The iPad is available to order today and starts shipping later this week. Updates to Pages, Keynote, and Notes app are available today, as well as updates to GarageBand music software and Clips video editing software.

Previously, the only devices compatible with the Apple Pencil stylus were the company's high-end — and much pricier — iPad Pros (available in 10.5-inch and 12.9-inch models, starting at $649, not including the $99 Apple Pencil). With the new relatively low-priced education iPad, the company hopes more people will start using the low-latency (20 milliseconds) Apple Pencil. While the new iPad has Apple Pencil-compatibility, it does not have ProMotion, which is the iPad Pro's screen responsiveness technology.
In addition to the hardware and software updates, the company announced a new program called "Everyone Can Create," which offers free Apple-developed teaching resources for four disciplines: music, video, photography, and drawing. The resources include lessons in image composition and video editing.

The Classroom app, which allows teachers to manage the iPads in their classroom, is launching for Mac (it was previously available only on the iPad); it will be available in beta in June. An updated version of ClassKit API for developers will also be released in June to let teachers assign specific activities from apps to students with the Schoolwork app, and chart their completion progress.
Apple typically hosts press events in Northern California, closer to its massive new Cupertino, CA-based "spaceship" campus, Apple Park, but the new tablet was announced in an entirely new venue: Lane Tech College Prep High School in Chicago, where a number of teachers and high school journalists were in attendance.
The school setting highlighted Apple's renewed ambitions for the education market.
Tech companies compete to get young students hooked on their products early, with the goal that kids will keep buying their devices and services as adults. Mac computers were once the number one device used in classrooms, but today, Google's low-cost Chromebook laptops, which are designed to run Google's web-based software like Docs and Chrome, have overtaken Apple's devices. Chromebooks now make up more than half of mobile devices shipped to schools.
Apple's last attempt at integrating iPads in school ended in disaster.
In 2013, Apple struck a deal with LA Unified for the purchase of over 40,000 iPads using bond funds. It was part of a $1.3 billion plan to hand out tablets to every teacher, student, and administrator in the school district, and included a three-year math and science curriculum license from education software company Pearson. But according to the district, only a sample version of Pearson's curriculum was delivered, and that the software was rife with technical glitches. Apple eventually refunded the district $4.3 million, and the district received a $6.4 million settlement from Pearson.
After the LA Unified iPad debacle, Apple doubled down on its efforts to teach students how to code — but in a programming language that only works on Apple and Linux devices. Last Fall, Apple released curriculum of its own, called Everyone Can Code, through which aspiring developers can learn to make apps using Swift, a language developed by Apple that only works on iOS, Mac, watchOS, and TVOS apps. Apple also announced a partnership with Chicago schools, which will begin teaching Swift in the spring.
If Apple can put more iPads in classrooms, it'll boost its tablet sales, and help the company grab a piece of the multi-billion dollar education tech market.