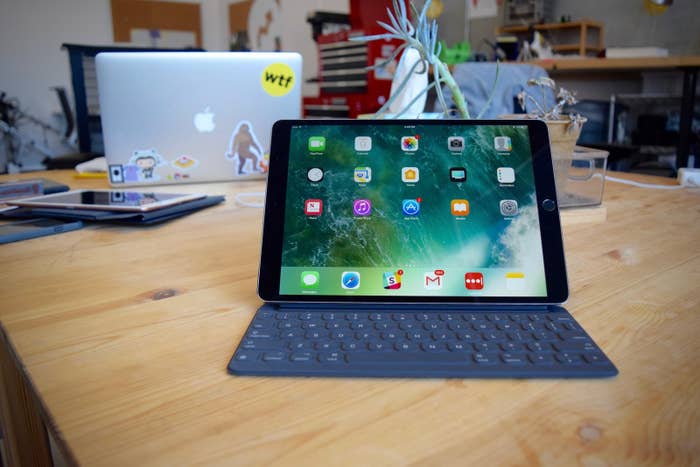 A new iPad Pro hits stores this week. Its display is bigger, brighter, and less reflective than last year's Pro tablet, but it's somehow the same weight and just as thin. It's a hell of a lot faster, too.
And, as one would expect of an Apple product, it's pretty expensive (starts at $649, but you can spend well over $250 on accessories if you want an Apple Pencil stylus and a keyboard) — more than an iPhone, but less than a MacBook. This pricing makes sense because an iPad, especially the Pro, can *do* more than an iPhone but, in many ways, falls short of a Mac. In other words, the iPad is an in-between device. People don't *need* a tablet in the same way they do a smartphone and, for some, a computer.
So, who is this high-performance not-just-a-tablet-but-not-quite-a-laptop for, exactly?
The short answer is: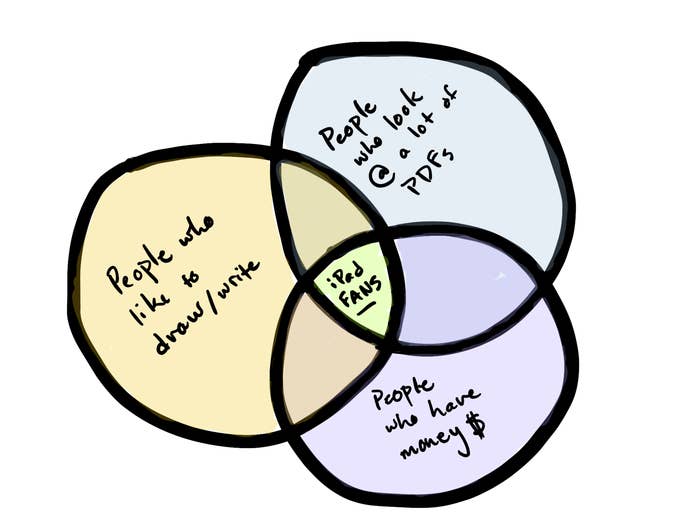 Last year's 9.7-inch iPad Pro corrected many of the flaws of the original GigantiPad Pro.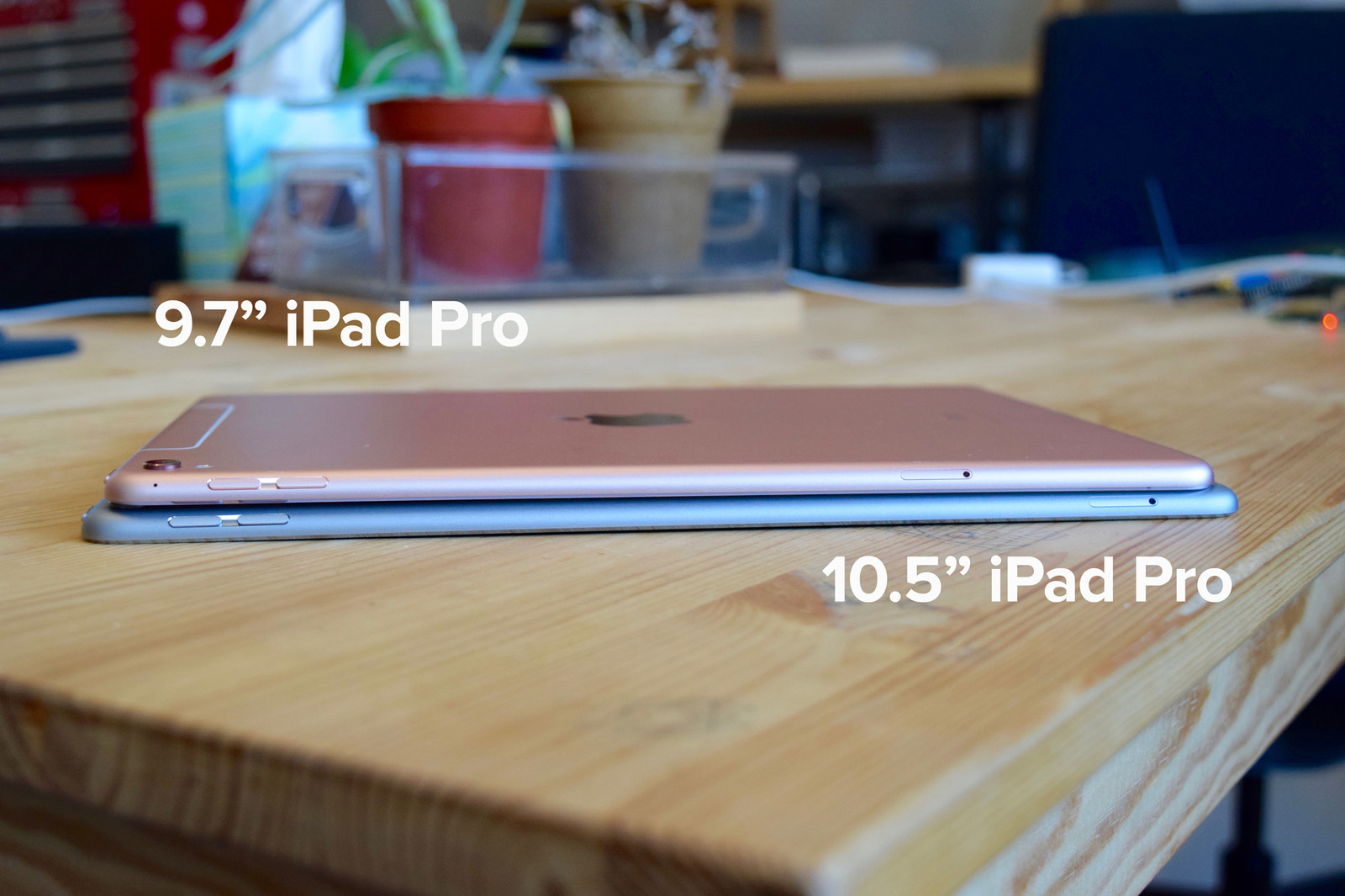 Let's start with the Big News, which is that this new iPad Pro is literally bigger than the previous model.
The iPad's roomier 10.5-inch display can accommodate a full-sized keyboard onscreen as well as off, on Apple's Smart Keyboard cover (though you can technically use any Bluetooth keyboard with it). This makes typing more comfortable and more laptop-like, and makes the iPad Pro more deserving of its "pro" moniker.
That bigger screen is also brighter at 600 nits (lol, what a name for a spec) versus 500 in last year's model, and has a new anti-reflection coating that makes the tablet easier to work with in direct sunlight, especially outside. I used it next to a bright window, and the iPad display was still perfectly visible, but started to heat up with the brightness turned up to max.
The battery life is about a day and a half with regular, but not constant, use.
Apple says the battery life is 10 hours, and the iPad Pro ate through about 10% of battery per hour, which is close to Apple's claims. In my three days of testing, with regular use, I got about a day and a half out of the battery. That includes a lot of word processing, internet browsing, Slack-ing, and Hulu watching. (People don't actually use their iPads for 10 hours straight, do they??)
The camera has better aperture for low-light conditions, and is AR ready.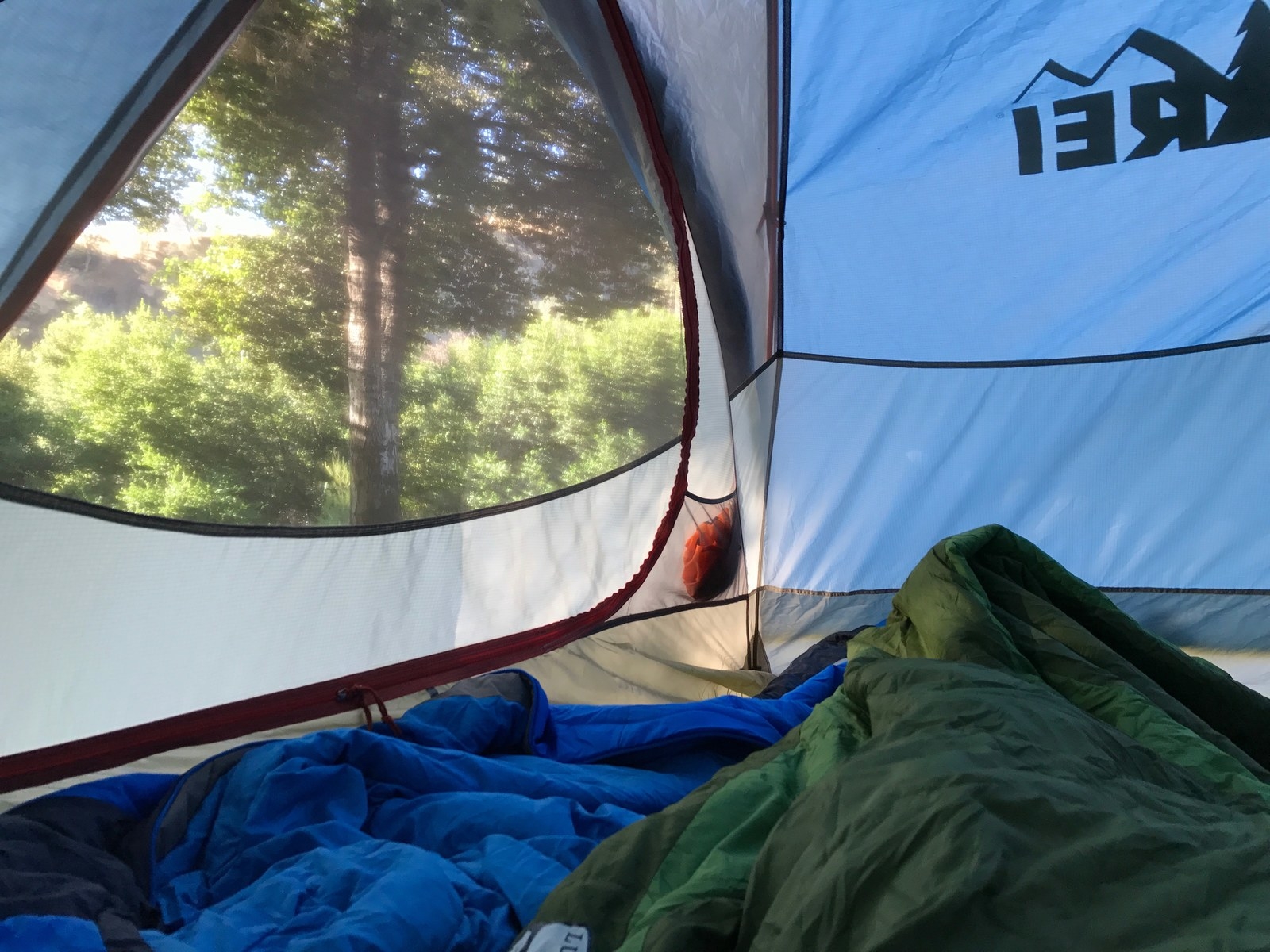 The iPad got a huge (like, yuuggeeee) bump in computing power.
This iPad Pro is a beast. It has Apple's latest chip — the A10x Fusion — which boasts 30% faster CPU speed and 40% faster graphics, compared with last year's devices.
Everything feels really smooth and fast, from zipping in and out of apps to playing graphics-intensive games like Samorost 3. I used the iPad as a primary computer for two days, and it handled running Slack and Google Docs side by side, with constant switching between all the other apps I need — Twitter, Notability, Safari, Gmail, Calendar, and LastPass — very smoothly.
But that doesn't really put the Pro's capabilities into perspective. Numbers do.
This performance upgrade defines everything around it, thanks to a new feature called ProMotion.
Nicole N / BuzzFeed News
The new iPad Pro's most significant update is one you can't see: a new technology called ProMotion. The feature improves anything that's moving onscreen, including zooming and drawing. So when you scroll really fast through a web page on Safari or pan around an immersive 3D game, the movement feels more smooth and detailed.
With ProMotion, the 10.5-inch iPad Pro can support a refresh rate of up to 120Hz. That's updating the screen 120 times per second, which is on par with many high-end 4K TVs (but it's not always running at 120Hz — only when it needs to — to save battery).
It's not just apps that feel faster either: The Apple Pencil's latency is now down to 20 milliseconds, thanks to ProMotion.
It's an impressive feat, but, for the already-impressive Pencil, the difference in performance between an iPad Pro with ProMotion and one without is nearly imperceptible to the untrained eye.
I switched back and forth between this year's Pro and last year's and didn't notice a difference for quick note taking and document markup. But when you're writing fast, with small print, or sketching a detailed drawing, you start to see not only where latency's been reduced, but also how much iOS's prediction capability, which tries to anticipate where the Pencil is going, is at work.
Overall, however, unless you're working on something that's seriously demanding – like 4K editing or 3D rendering – it's not obvious where ProMotion is helping. ProMotion makes the entire iPad experience zippier for everyone, but only subtly so. It's the pros, the content creators — people who are using the iPad as a drawing and editing tool — that will really reap its benefits.
The Apple Pencil is still the best stylus I've ever used, but after a year with it, it's not the pen replacement I'd hoped it'd be.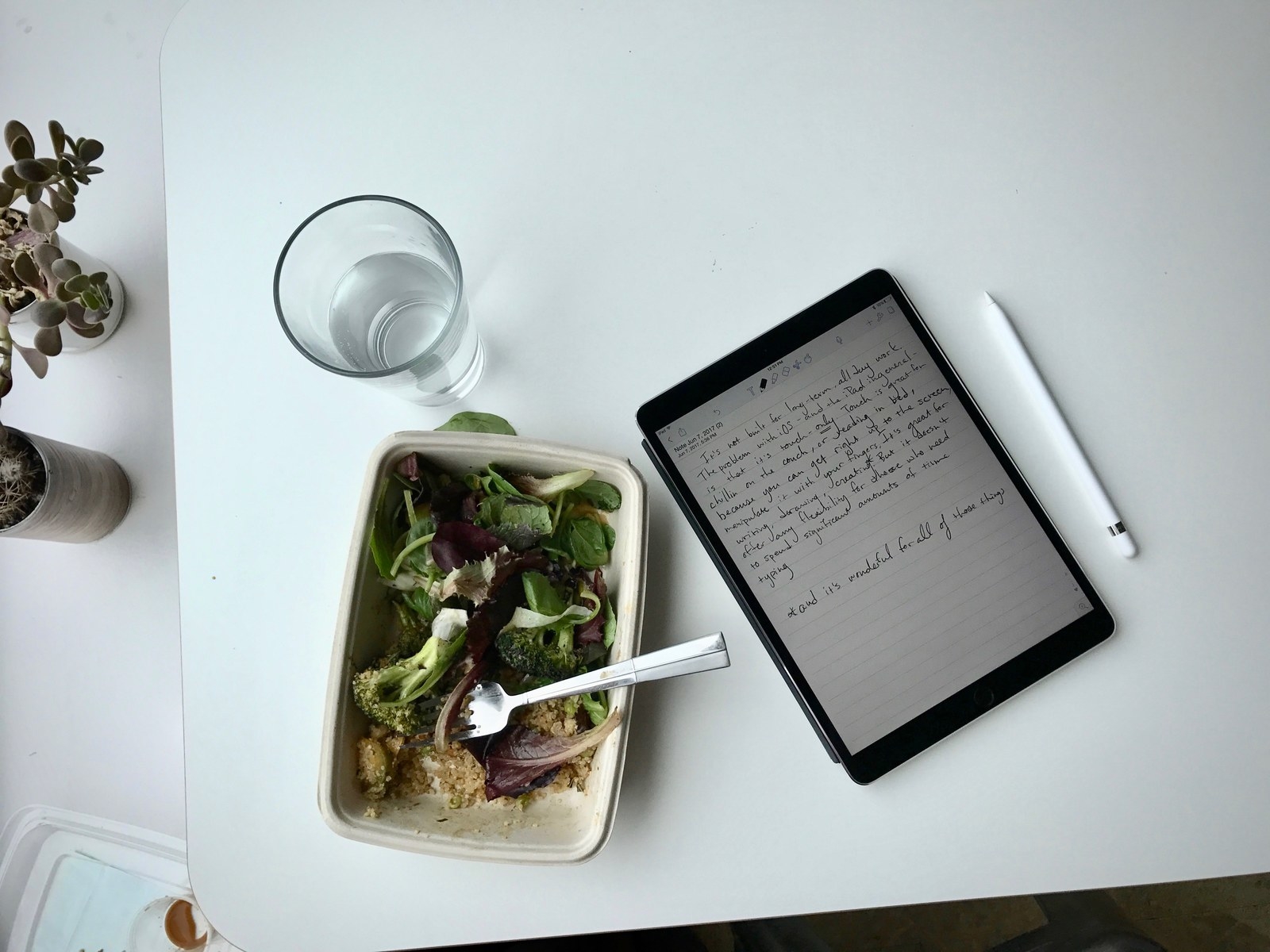 This is the iPad of Very Incremental Changes — at least until iOS 11 arrives this fall.
This iPad's release is coming at a strange time. For starters, Apple will only say the tablet ships "this week," but won't say exactly when. Secondly, it arrives ahead of the newest mobile operating system, iOS 11, which is full of iPad-centric updates.
So, now that the iPad is as powerful as some laptops, can it replace a laptop? I'm not so sure.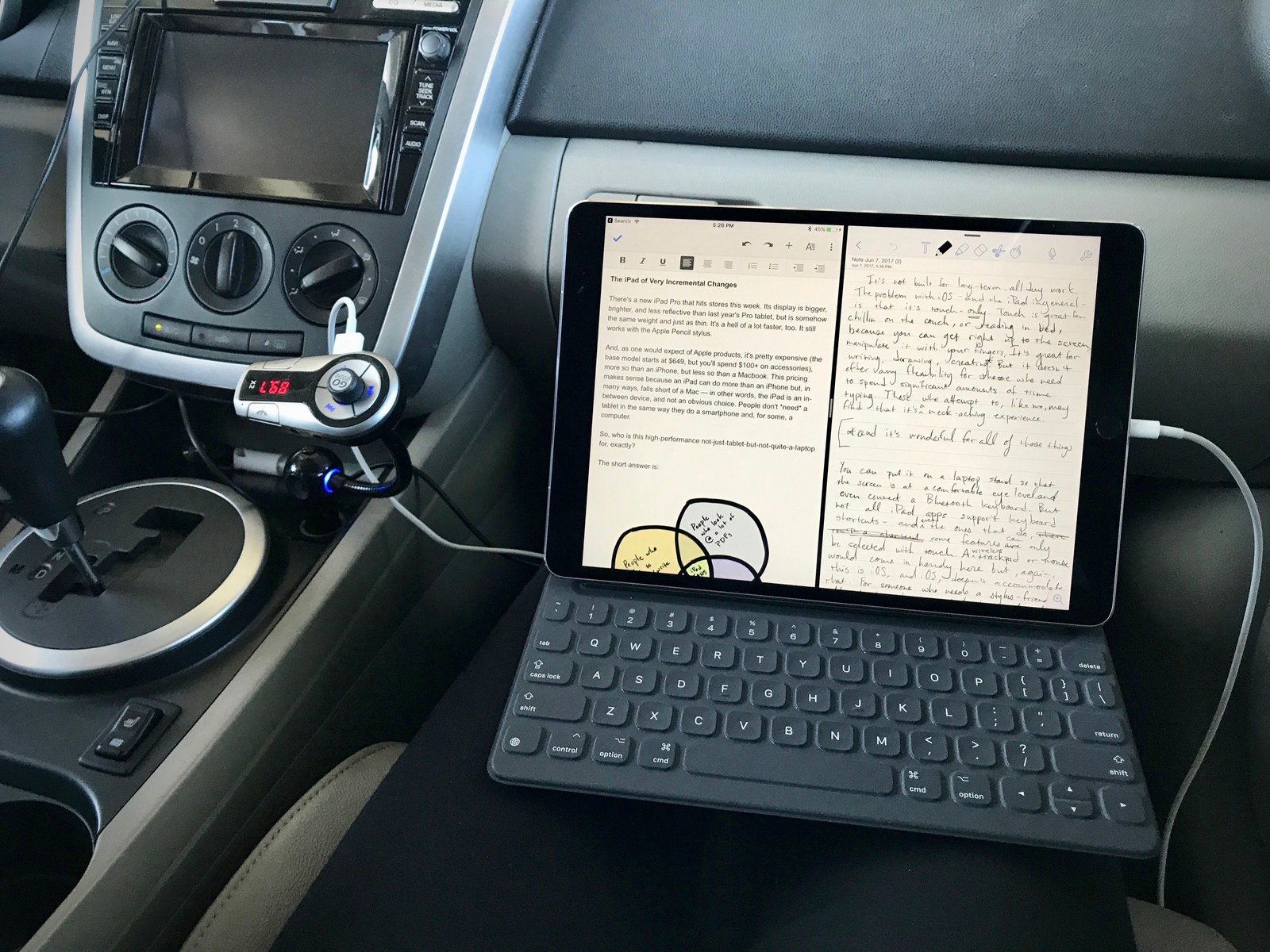 But the iPad is not built for all-day, 9-to-5 kind of work.
The problem with iOS is that it's touch only. Touchscreens are ideal for chillin' on the couch, or reading in bed, because you can get right up to the screen and manipulate it with your finger. It's great for writing, drawing, creating, too — and truly wonderful for all of those things. But it doesn't offer any flexibility for those who need to spend a lot of time typing. Those who attempt to, like me, may find that working on an iPad is a neck-aching experience.
You can put the iPad on a laptop stand, so that the screen is at a more comfortable eye level, and connect it to a Bluetooth keyboard. But not all iPad apps support keyboard shortcuts, which means constantly lifting your arm to touch the screen. Even the apps that do have keyboard support have some features that can only be selected with touch. A wireless trackpad or mouse would come in handy here but, again, this is iOS, and iOS doesn't accommodate peripherals like Macs do.
For someone who needs a stylus-friendly display that can turn into a desktop computer for longer stints, you're better off with something like a Surface, or a Chromebook Pro, both of which can connect to mice and trackpads. The new iPad, as fast and beautiful and perfectly sized as it is, can be a workhorse for some types of digital work, but not all types of work.
And it's not just bad ergonomics. iOS is a quirky operating system for productivity. You can use Split View to put two apps side by side, but you can't put two windows of the same app next to each other, unless it's Safari, even in iOS 11.
Apps don't automatically support Split View; developers have to work to integrate it. And some don't — most notably, Gmail — which means you can't check email and your calendar (or any other app) at the same time. (You can't use browser extensions either, which probably isn't a deal breaker for most people.)
The iPad can do most things I need to do, but it's not always fun or easy or the most productive way to do it. There's something about a full desktop OS that works a little better for what I do.
It's a different story, though, for people who are reading more than writing.
For students with digital textbooks or lawyers combing through hundreds of PDFs, a tablet can be an even better choice for productivity than a laptop. Highlighting text, adding notes in the margins, and zooming in and out of diagrams is all amazing on a tablet. Being able to work on documents, draw on them, and handle them feels nearly as natural on the iPad as it is on paper. There are plenty of apps — like Notability and Readdle — that handle PDF markup really well. Plus, the updated Notes app in iOS 11 will offer those features for free.
Reading books and longform is — and has always been — what it felt like tablets were designed for. The new 10.5-inch iPad Pro is light enough to hold above your head while you're in bed. The Kindle app for iPad is (still) fantastic, and TrueTone and Night Shift (a feature that reduces a screen's blue light, which may inhibit your ability to fall asleep) make the very bright display easy to look at for longer reading sessions. For enjoying content, the iPad is the ultimate device — and it always has been.
You'll save a couple hundred bucks by getting last year's 9.7-inch, which is perfectly fine for most people.
But if you're doing demanding work, you'll want the 10.5-inch.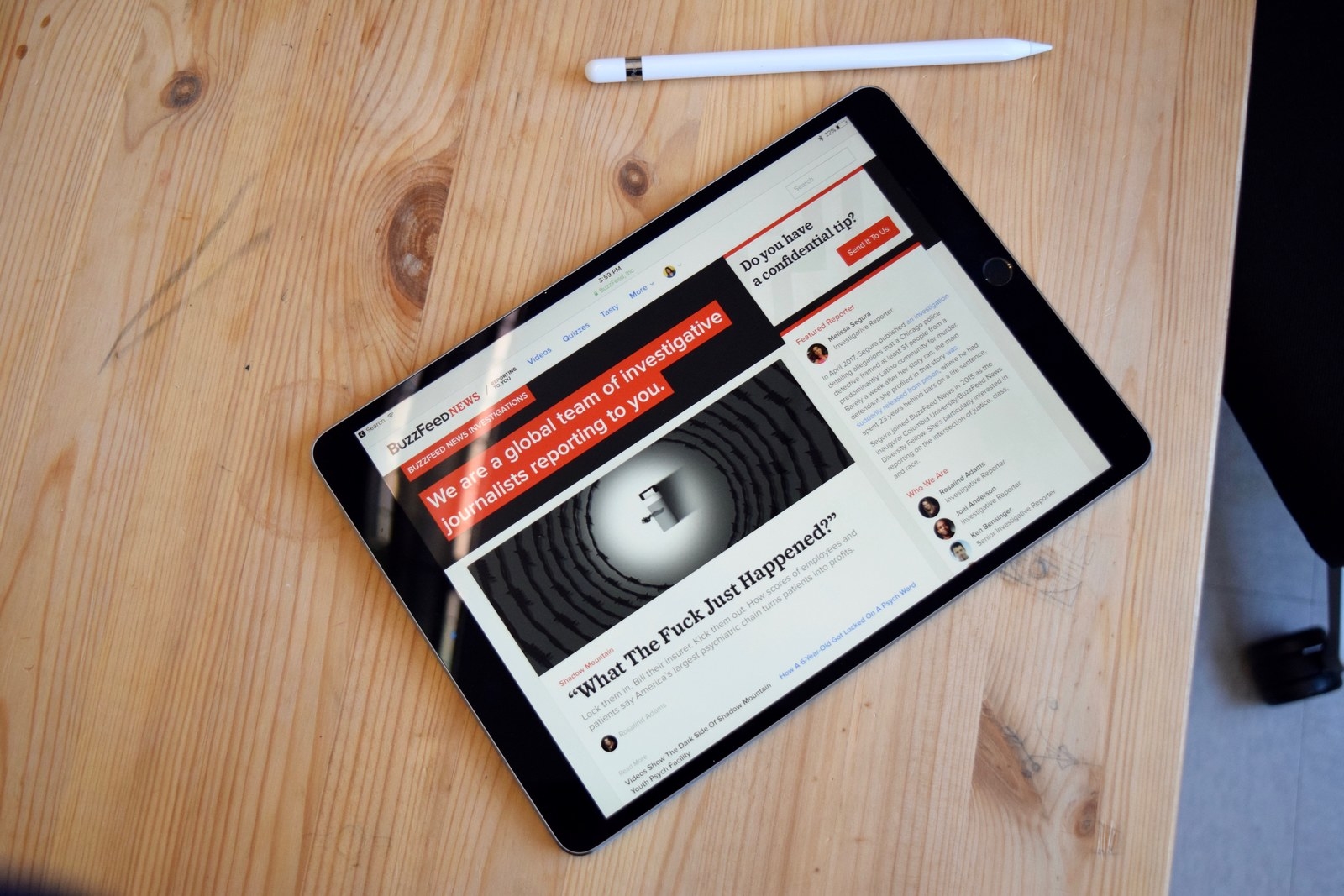 So, which iPad should I buy?
It depends on your use case. If you use cloud services (Google Photos, Dropbox, Netflix, etc.) and have plenty of access to Wi-Fi, then you should be fine with either 32GB (the 9.7 base Wi-Fi model) or 64GB (the 10.5-inch base model). If you are constantly traveling and without internet access, you'll probably need to download a lot of media offline, like books, music, movies, and will want higher storage capacity. The 256GB model will be fine for most, but you can go up to 512GB if you want, which is the same amount of storage you'll find in laptops. You might want to consider getting the cellular version also (but note that it's slightly heavier and significantly more expensive).
I recommend against engraving. It lowers your iPad's resale value when you eventually want to upgrade to something newer and better.
If you don't need a keyboard, the leather cover with an Apple Pencil holder is really luxurious. It's a beautiful accessory but, like most beautiful things, impractical. Chances are you're going to want a keyboard case, too. I'd recommend the all-in-one Logitech solution, for whichever iPad Pro you opt for. At $130, it's cheaper than Apple's $159 Smart Keyboard, which doesn't come with the Apple Pencil holder (and would require you to get the $129 leather sleeve, too).
The Logitech Slim Combo has a place for your Pencil, and comfortable, bouncy backlit keys. It's heavier than the Smart Keyboard cover but more protective, plus it uses the Smart Connector to pair, so you don't have to fuss around with Bluetooth. And it has keyboard shortcuts for brightness and sound, making the iPad feel more Mac-like.
My takeaway is this: If you already have an iPad, wait until iOS 11 rolls out in the fall and feel out the new productivity features before you decide on something new.